More Messages:
1
2
3
4
5
6
7
8
9
10
11
12
13
14
15
16
17
18
19
20
21
>>
THE Hot Bait Right Now!!! Sworming Hornet Fish Head Spin - February 27, 2015
Looking for the Sworming Hornet Fish Head Spin? We ordered in all we could find since we expect these to be a little hard to get for awhile after the recent Bassmaster Classic victory. Grab them before they're gone since we don't know how soon we will have them back in stock. Supplies are limited!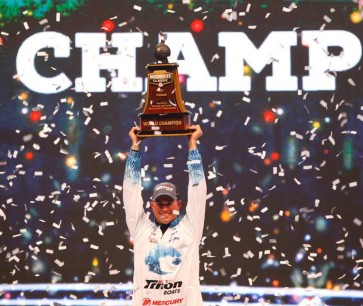 2015 Bassmaster Classic Winner - February 27, 2015
Casey Ashley got it done this past weekend at Lake Hartwell in his hometown of Greenville, South Carolina. He won the 2015 Bassmaster Classic on his sixth try with a three-day total of 50-1, and credited his success to a fish-head spinner rigged with a Zoom Super Fluke Jr. Congratulations to Casey!


20% OFF!!! Gary Yamamoto Senkos - February 27, 2015
20% off Weekly Special for a limited time only on 4 and 5 inch Gary Yamamoto Senkos!!! (Excludes bulk packs)



NEW!!! Spro BBZ-1 Rat - February 26, 2015
2014 ICAST New Product Showcase Award Winner for Best of Show in the Hard Lure category!

SPRO's Pro Staff member Bill Siemantel has been working on a BBZ project the last 2 years and on the opening day of ICAST 2014 all that hard work paid off. Spro's newest BBZ addition to the family, the BBZ-1 Rat won Best of ICAST in the hard lure category. The SPRO Rat is designed for those larger predator fish that every angler is looking for. It entices awesome surface strikes by triggering the instinctive reaction that those larger fish are looking for. When the fish are hungry the SPRO RAT is the real meal deal!


Having trouble finding Rayburn Red? - February 26, 2015
We are too! But while we're waiting we got our hands on the next best thing. Don't miss out on the last of these discontinued XCalibur Rattle Bait Real Craw Series baits. Quantities are limited so once they're gone they're gone for good!:

XR50CF01# Rattle Bait Real Craw Series 5/8oz - 01 Sunrise Craw
XR50CF02# Rattle Bait Real Craw Series 5/8oz - 02 Moss Back Craw
XR50CF04# Rattle Bait Real Craw Series 5/8oz - 04 Ditch Craw
XR50CF06# Rattle Bait Real Craw Series 5/8oz - 06 Creek Craw



Check Out BC Lures - February 26, 2015
These high quality jigs are made with the finest components, superb color options, and they will not break the bank adding a bunch to the tackle box! Give them a look.



Quantum Smoke PT-A Baitcasting Reel - February 20, 2015
Now in stock, The all-new Smoke PT for 2015 features our new PTX frame design that reduces overall weight and adds rigidity. Choose from either a 7.3:1 or 6.1:1 gear ratio to suit your fishing style. The new slim line ACS external centrifugal cast control has a total of 13 new settings for an even wider drag range.



Five New Lews Baitcasting Reels - February 20, 2015
Now in stock and new for 2015, check out the:

Lews Tournament MB Speed Spool LFS Series
Lews Team Lew's LITE Speed Spool LFS Series
Lews BB2 Pro Speed Spool Baitcasting Reel
Lews Tournament LITE Speed Spool Baitcasting Reel
Lews BB2 Inshore Speed Spool Baitcasting Reel

Click to read the full descriptions and specs.



New 2015 Lews Spinning Reels - February 20, 2015
Now in stock.. the Lews Tournament Pro HP Spinning Series Reel and Lews Laser Lite Speed Spin Series Reel. Rebates available for both!



Three Lews Fishing Lines - New for 2015 - February 20, 2015
Feel the difference of Lew's Advanced Performance Technology Speed Line. Lew's line is tested and designed to stand up to every situation you present it with.


2015 Lews Rods - February 20, 2015
Now in stock... The Lews Custom Speed Stick Spinning/Casting Rods. And the David Fritts Perfect Crankbait Speed Stick Casting Rod. mail-In Rebates for these rods!


Dry Creek Outfitters Money Grubbers - February 20, 2015
Experienced anglers know what makes a great grub! Check out the characteristics of this money making grub!



Picasso Shock Blade - February 20, 2015
Available for pre-order, shipping around March 10th... The Picasso Shock Blade is manufactured to bring you the very best in innovation and technology. The Patent Pending design creates a lot of thumping vibration and hunting action even when reeled at a very slow retrieve.


Gary Yamamoto California Roll - Now in Stock - February 20, 2015
The Gary Yamamoto California Roll is a new 5" spade tail worm, with it's uniquely-shaped tail, moves a great deal of water, creating an amazing, fish-enticing action. Rig it on a darter, head or swim it nail-weighted or wacky-style. Available in our top-10 fish-catching colors!



NEW COLORS!!! BOOYAH Bait Co. Pad Crasher & Poppin' Pad Crasher - February 19, 2015
Three new colors available in the Booyah Pad Crasher 1/2 oz and Poppin' Pad Crasher:
909 - Sunburn
910 - Night Train
911 - Old Smokey


NEW!!! Missile Baits Ike's Mini Flip Jig - February 19, 2015
Michael "Ike" Iaconelli used the a prototype of the Missile Baits Ike's Mini Flip Jig en route to his victory in super tough conditions at the 2014 Bassmaster Elite Series event on the Delaware River.

Its compactness and balance allow it to fall faster than a standard jig, and keep it down better in current. This allows for better bottom contact and better contact with cover. The fine cut skirt also moves and pulses with the slightest movement, adding additional life-like action. Available in a range of colors hand-picked by Mike Iaconelli and John Crews, the Missile Baits Ike's Mini Flipping Jig gets bit when standard jigs just won't.



NEW!!! Missile Baits D Stroyer - February 19, 2015
The D Stroyer is a monster creature bait. Picture the D Bomb morphed into a bait with more arms, bigger appendages, and twin tails on the back that will not stop moving. It measures almost 7" long with the tails extended, just the right size for enticing larger bass. The ribbed body holds the hook well and allows for easy hook penetration like the D Bomb. This bait will be a beast when flipping, pitching, punching, Carolina rigging, or fished on a wobble head jig.


NEW!!! Strike King Pro-Model 8XD Crankbaits - February 19, 2015
An extra-deep diving crankbait, smaller than a 10XD yet slightly larger than a 6XD. This medium sized XD series crankbait can be retrieved with ease while still hitting the depths where the big ones live! It's a real 20 footer that you can throw on standard cranking gear!



NEW!!! Rapala Shadow Rap & Shadow Rap Deep - February 19, 2015
Introducing the new Rapala Shadow Rap, the minnow that combines a horizontal struggle with a vertical fade that perfectly mimics a minnow in trouble. Rapala has perfected the natural minnow action in this new jerkbait that triggers fish three ways: on the kick, on a slow fading fall, and on the snap back to life.

Most jerk baits continue on a forward plane with each jerk. Not the Shadow Rap. It kicks almost 180 degrees right then left, so it can be fished nearly in place with very little forward travel, keeping the flickering fade of the Shadow Rap right in a fish's strike zone. That's when things really get interesting.



NEW!!! Shimano Aldebaran Low-Profile Baitcasting Reels - February 19, 2015
The next step in the evolution of lightweight compact baitcasting reels. As fishermen continue to fine tune their equipment to meet the demands of a variety of techniques, Aldebaran 50 and 50HG reels set a new benchmark in compact lightweight fishing reels.


NEW!!! Abu Garcia IKE Signature Series Casting & Spinning Rods - February 19, 2015
The Ike Signature Series of rods is the result of 3 years of intensive research and development with Elite Series Pro Mike Iaconelli. Blank construction consists of 36 ton high modulus graphite for the majority of the series along with some unique, high strain glass (HSG) cranking rods. Fuji reels seats and Mike's unmistakable cosmetics set these rods apart from the competition.

Each rod falls under Ike's classification system that includes the Delay Series, Finesse Series and Power Series. A detailed explanation of what each rod is used for is found on the hangtag, making consumer rod selection much easier. Available in 15 different models, the Ike Signature Series offers the right rod for every technique.


NEW!!! Shimano Zodias Freshwater Casting & Spinning Rods - February 19, 2015
ANY TIME, ANY PLACE, ONE ROD

That's the motto of Shimano's new Zodias rod, offering Hi-Power X construction in all blanks, a CI4+ Reel Seat, and Versatile concept design to control all types of lures.


NEW!!! G.Loomis E6X Bass Series Rods - February 19, 2015
G.Loomis has done it again with their brand new E6X Bass Rods. Made with a new carbon graphite technology, they've created a blank that rivals their most advanced fibers in power, strength, weight and sensitivity. E6X takes graphite rod technology to a new level of complete performance, providing anglers with the light, sensitive, yet powerful rods you've come to expect from G.Loomis at a very comfortable price. This new rod series is available in both Technique Specific models as well as Universal (Classic) Action models.



2015 Bassmaster Classic Tackle Specials - February 19, 2015
Just 3 days left to get in on our 2015 Bassmaster Classic Tackle Specials. The sale ends at midnight on February 22nd!


Need a Quality Blacklight for Night Fishing? - February 13, 2015
The MOONliteUSA design team has 90+ years combined experience in electronics manufacturing and design. All products are designed to provide outstanding performance at the lowest possible price. Check out their Half Moon and Full Moon LED Blacklights.


More Messages:
1
2
3
4
5
6
7
8
9
10
11
12
13
14
15
16
17
18
19
20
21
>>