More Messages:
<<
1
2
3
4
5
6
7
8
9
10
11
12
13
14
15
16
17
18
19
20
21
>>

Beast Coast Fishing Bladerunner - NOW AVAILABLE - October 21, 2023
The Beast Coast Bladerunner is designed with the perfect profile to run behind your Jackhammer, or any other bladed jig that you might prefer. The Bladerunner will kick out when you adjust your retrieval speed, otherwise it will tightly kick and swim just like forage. If more erratic action is desired, simply pinch/cut one of the tail sections off where it meets the body. Truly 2 great bladed jig trailers in one bait.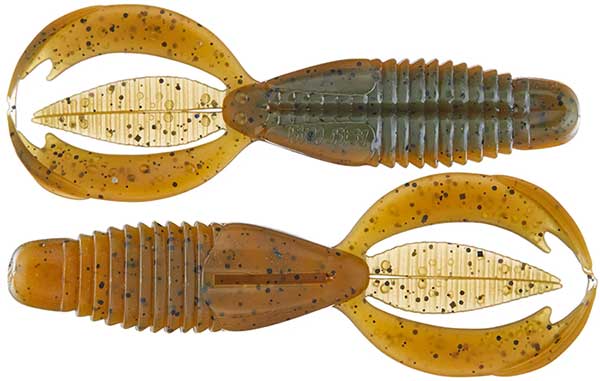 Beast Coast Fishing Flippin Delight - NOW AVAILABLE - October 21, 2023
The Beast Coast Fishing Flippin Delight has material thickness in all the right areas, so you can expect 2-5 fish per bait prior to blowing out. Claws are designed to have a beautiful high speed flutter, and will never tangle thanks to the flanges that extend off of the claw body. The bait will display its trademark flap and flutter even when fished on a 1/4 oz weight.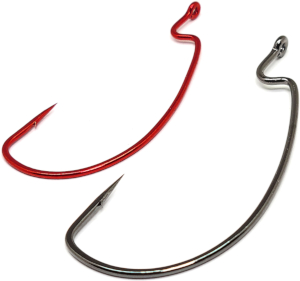 Gamakatsu Offset Shank Extra Wide Gap (EWG) Worm Hook - NOW AVAILABLE - October 21, 2023
Gamakatsu's most popular and versatile hook, the legendary EWG worm hook is the gold standard in high performance wide gap hook designs. This hook fishes a Senko to perfection. Use it to pitch a Brush Hog or Sweet Beaver to shoreline targets. It's great for Texas rigging or Carolina rigging a 10" worm. Gamakatsu's Offset Shank EWG Worm Hook is a soft plastic jerkbait angler's dream hook! We offer both colors in most sizes.



Gamakatsu Straight Shank Round Bend Worm Hook - NOW AVAILABLE - October 21, 2023
Gamakatsu's Round Bend Worm Hook is ideal for situations when you're fishing bulkier plastics or you prefer a little more bite and holding power. Traditional straight shank design with keeper barbs on the shank.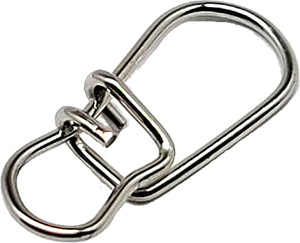 Gamakatsu G-Finesse Tournament Snap - FULL SELECTION - October 21, 2023
Primarily used on plugs for bass, walleye, salmon, stripers, steelhead, trout, panfish and other species, Gamakatsu's Tournament Snap is stainless steel and allows a full range of movement, enhancing the effectiveness of whatever plug is used. Better yet, and unlike other plug snaps, Gamakatsu's Tournament Snap will not accidentally open. The clever design of the Tournament Snap stays closed at all times. We offer both sizes.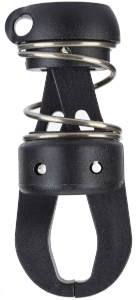 Ardent Smart Clips - NOW AVAILABLE - October 20, 2023
The Ardent Smart Clip is an innovative product designed to reduce the stress on fish caused by piercing clip systems. Smart Clip will attach to any piercing clip making it non-piercing in seconds. Simply squeeze the clip, depressing the spring and the jaws will open. Release the spring pressure and the jaws will lock in place over the fish's lip. Non-piercing culling systems are becoming mandatory for many tournaments.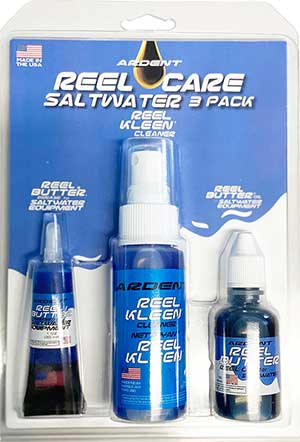 Ardent Reel Care Saltwater 3-Pack - NOW AVAILABLE - October 20, 2023
Clean and lubricate with Ardent's Reel Care Saltwater 3 Pack containing Reel Butter saltwater grease, Reel Kleen Cleaner, and Reel Butter saltwater oil. Use each regularly on your favorite fishing reel for long-lasting lubrication, superior protection, and an incredible clean.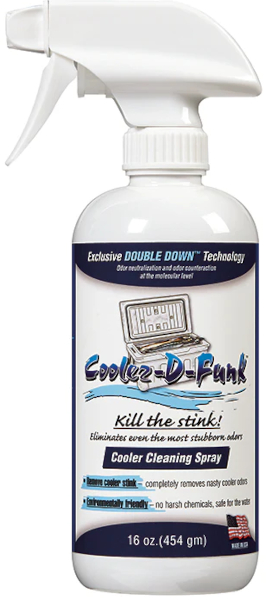 Ardent Cooler D-Funk Spray Bottle - NOW AVAILABLE - October 20, 2023
There is nothing fun about a cooler full of meat blood, fish slime, spilled milk or leaky leftovers. Cleaning it up is one thing. Stopping the stink is something else altogether. Especially if it has had time to spoil. Cooler-D-Funk is up to the task! The secret behind Cooler-D-Funk's amazing ability to counteract stubborn odors is Double Down Technology which both neutralizes AND counteracts odor at the molecular level.




Daiwa Tatula XT Flipping & Frogging Bass Casting Rod - NEW IN RODS - September 22, 2023
Redesigned and upgraded, the brand new Tatula XT Bass Rods feature lightweight and powerful HVF (High Volume Fiber) graphite blank technology, X45 Bias and Braiding-X blank construction to prevent rod twist for longer casts, added sensitivity and more hook-setting power. Tatula XT casting rods feature EVA-style split grips and Daiwa's exclusive light and sensitive Tatula carbon nut reel seat. We offer all the technique-specific models including the Flipping and Frogging styles.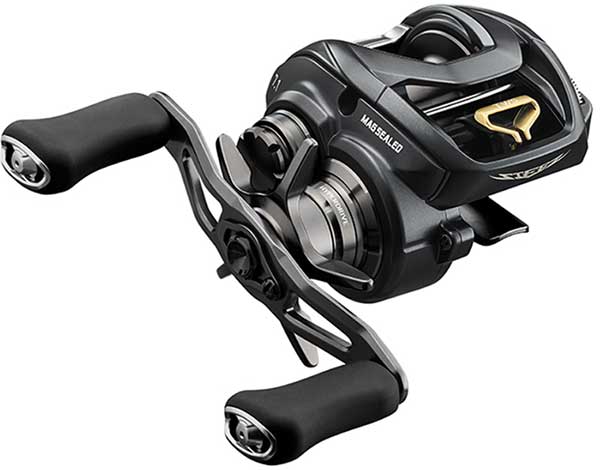 Daiwa Steez A 100 TWS Baitcasting Reel - NEW IN REELS - September 22, 2023
The STEEZ A 100 features Daiwa's MAGFORCE-Z BOOST, combining the casting control of our Magforce-Z with the added benefit of increased casting distance. The STEEZ A 100's profile ensures easy handling, and its G1 Duralumin MAG-Z BOOST Spool design is an extremely rigid, flex-resistant aluminum alloy- cutting weight without sacrificing durability. This also creates less start-up inertia, allowing the angler a longer and more manageable cast.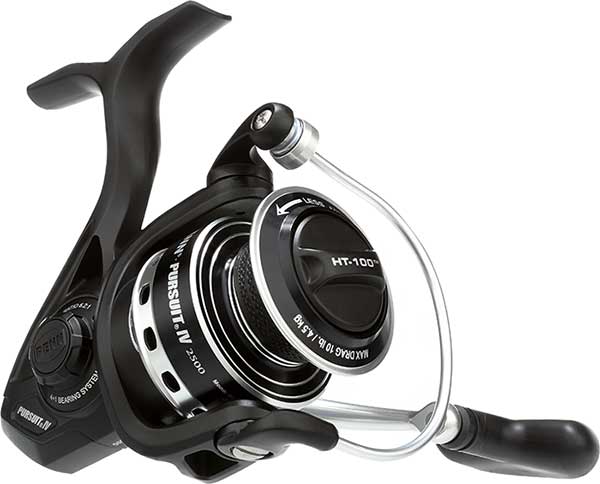 Penn Pursuit IV Spinning Reel - NOW AVAILABLE - September 22, 2023
The Penn Pursuit IV features a durable construction and the smooth gear system anglers expect from Penn. This reel features an ultra lightweight, corrosion-resistant graphite body and powerful HT-100 drag system making the Pursuit IV a great value for the money for saltwater anglers. The Pursuit IV has a reel for most fisheries. The Instant Anti-Reverse bearing eliminates even the slightest rotor back play for instant hook-ups every time.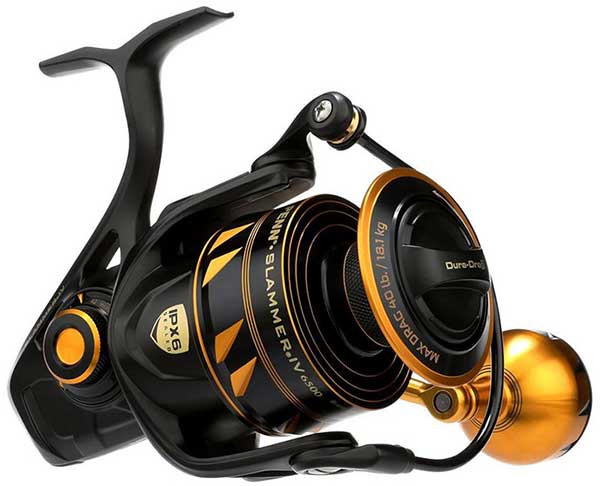 Penn Slammer IV Spinning Reel - NOW AVAILABLE - September 22, 2023
The Slammer IV is packed with more features than ever before. Building off Penn's proven IPX6 sealed body and spool, we redesigned our Slammer drag system to not only be better sealed, but also offer a wider range of usable drag, all while being bearing supported for extra smoothness. Adding their all brass CNC gear technology, 8+1 stainless steel bearing system and Hydrophobic Line Roller Bearing has made the Slammer IV the ultimate workhorse reel.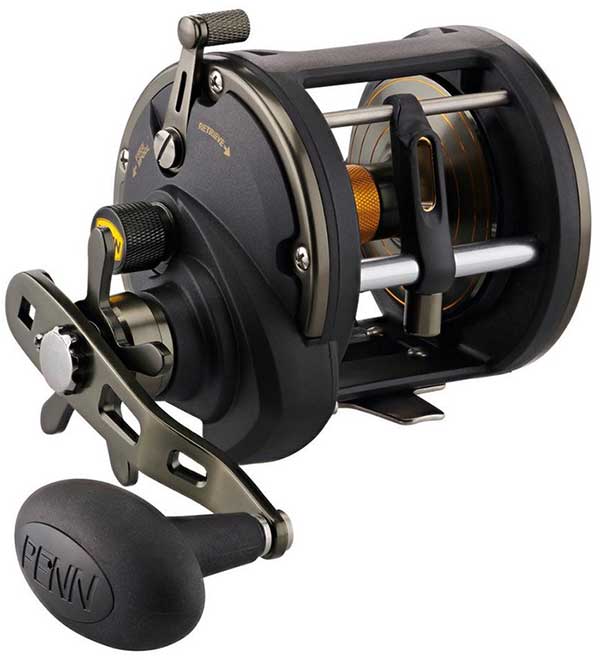 Penn Squall II Level Wind Conventional Reel - NOW AVAILABLE - September 22, 2023
The Penn Squall II Level Wind builds off the successful first generation and adds key technology to make these the best value level wind reels on the market. Now featuring Penn's proprietary Fast Gear Access Side plate, maintenance is more angler friendly than ever. The Squall II Level Wind reels also feature a 3+1 shielded stainless steel ball bearing system and HT-100 carbon fiber drag system, entirely surrounded by a lightweight graphite frame and side plates.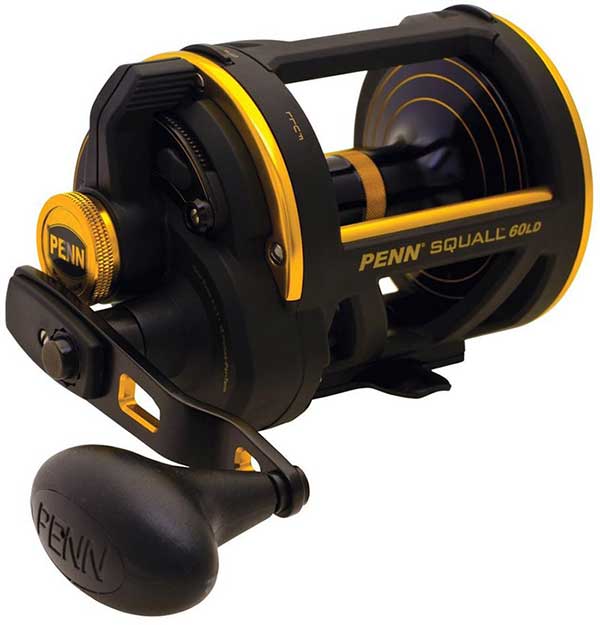 Penn Squall Lever Drag Conventional Reel - NOW AVAILABLE - September 22, 2023
The Penn Squall Lever Drag is lightweight and ergonomic. Made from graphite for its lightweight and corrosion resistant benefits. Stainless steel gears with a high speed gear ratio make the Squall LD perfect for nearshore trolling for kings and dolphin. Penn's proprietary Dura-Drag system will be there when you hook that big wahoo and he tries to smoke your reel!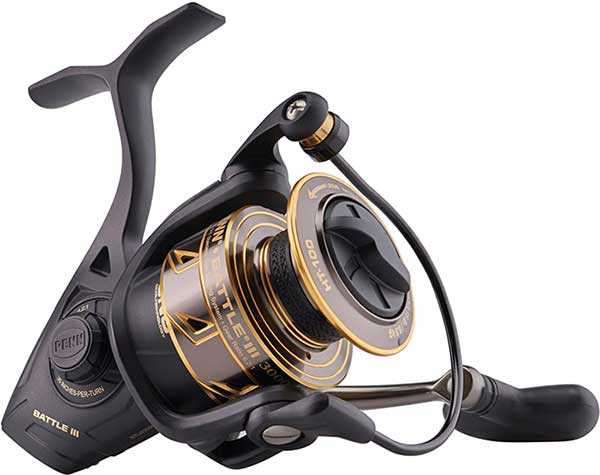 Penn Battle III Spinning Reel - NOW AVAILABLE - September 22, 2023
The PENN® Battle® III is now stronger, smoother, and more durable than ever before. By matching their proprietary CNC Gear Technology, HT-100 carbon fiber drag system, and a Full Metal Body, the Battle III has the guts and drag to handle serious abuse. Ranging in sizes, the Battle III series has a model for every angler, at an incredible value.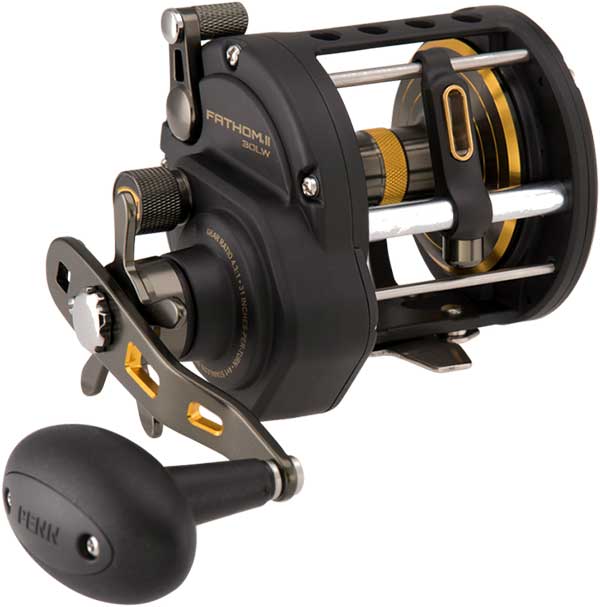 Penn Fathom II Level Wind Conventional Reel - NOW AVAILABLE - September 22, 2023
The PENN Fathom II Level Wind's heavy duty construction and powerful gears make it a true workhorse and favorite of charter boat Captains. It is designed to handle extreme abuse day-in and day-out. Whether you are bottom-fishing or casting live bait, the Fathom II will stand up to the hardest fishing conditions. A Full Metal Body keeps precise gear alignment while the Fast Gear Access Sideplate allows for easy maintenance.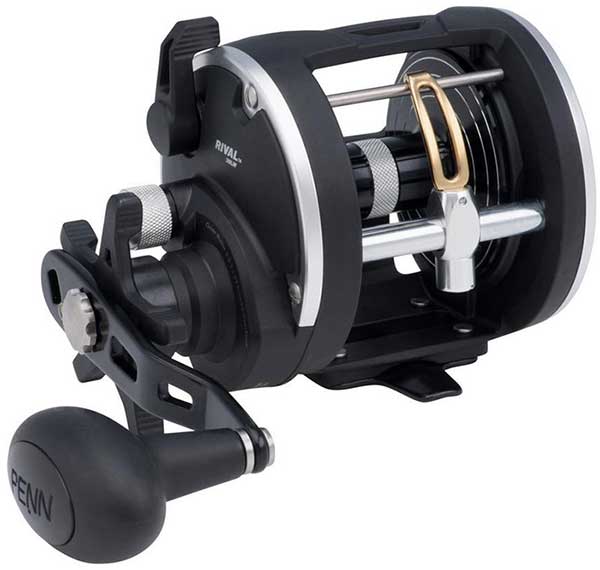 Penn Rival Level Wind Conventional Reel - NOW AVAILABLE - September 22, 2023
The PENN Rival was engineered to be an extremely versatile all-around reel at an affordable price. Features a lightweight graphite frame and side plates with aluminum frame rings for improved rigidity to prevent frame-flex. HT-100 drag washers provide smooth drag under heavy loads. Line Capacity Rings eliminate the question of how much line you have left when fighting a fish.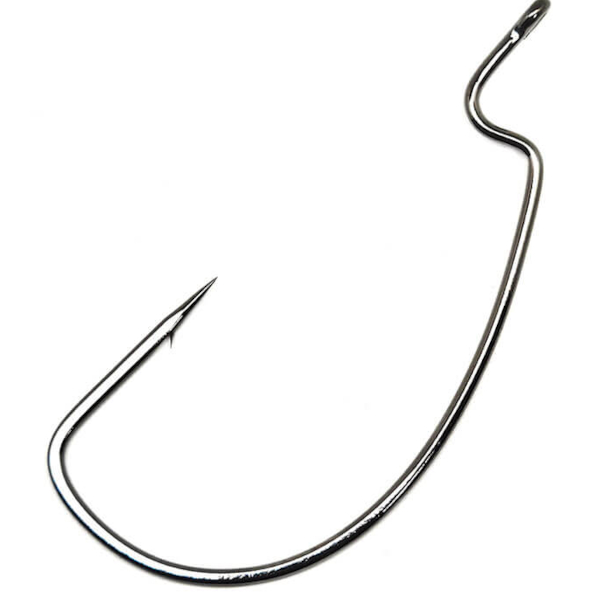 Gamakatsu Deep Throat Wide Gap Worm Hook - ALL SIZES - September 21, 2023
The deeper throat, extended point and locking offset make this a great hook for soft plastic frog baits. Gamakatsu's trademark sharpness results in lightening fast penetration through thick plastics. We offer all 5 sizes.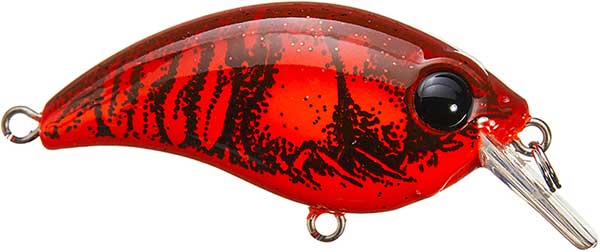 Bill Lewis ATV Squarebill Crankbait - NOW AVAILABLE - September 21, 2023
The Bill Lewis SB57 is arguably the best squarebill for rocks and wood with its tough, honeycomb construction and circuit board lip. Meanwhile, their Echo is one of the best squarebills for fishing over grass. The ATV is designed to do both. It excels in ALL TERRAIN. Expect the ATV Squarebill to have a tighter wiggle than the Echo and get down a bit deeper too. The body and action are quite like the SB57, but the lip is made to snap out of grass-tops more like the Echo.




Spro Squidtail Jig - ALL COLORS - September 20, 2023
The SPRO Squid Tail was designed to mimic all sorts of prey including bait-fish and squid. The lifelike action of the soft plastic squid tail really attracts all types of game fish. We've added all four colors.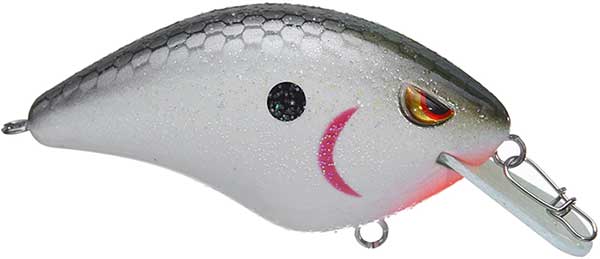 Spro Speed Demon 55 Crankbait - NOW AVAILABLE - September 20, 2023
Designed by Major League Fishing angler Dean Rojas, the Speed Demon 55 adds efficiency and functionality to SPRO's crankbait lineup. The bait can withstand hard, tight actions on the water and is durable against any bite. The computer chip bill makes for a highly responsive connection from the anglers' actions during use.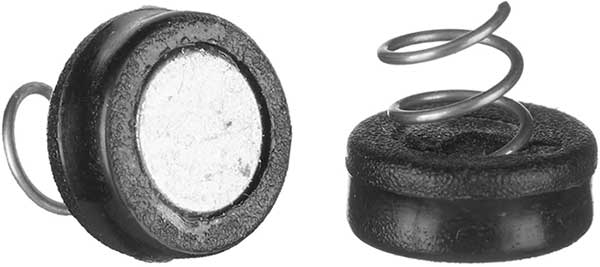 Spro Soft Bait Magnet - NOW AVAILABE - September 20, 2023
The revolutionary Spro Soft Bait Magnet helps you securely store soft bait, with its powerful magnetized backside. It's a treble hook magnet to ensure that your hook remains secure while casting and retrieving. It hides the hook below the bait to allow for less snagging.




Spro Megalojohn Swimbait - NEW IN SWIMBAITS - September 20, 2023
The Megalojohn 6" swimbait has been designed by Elite Series Angler John Crews to be a durable and highly versatile bait. With its great thumping action and the capability to be used with a slow roll or a fast retrieve, you can be sure to draw the attention of your next catch. Special features include the soft bait magnet to hold the hook in place, a swivel attached to the treble to keep the fish hooked, and a special blend of soft plastic for reliable action. Built with Gamakatsu hook and 1.75 ounce weight, the Megalojohn 6" is sure to impress.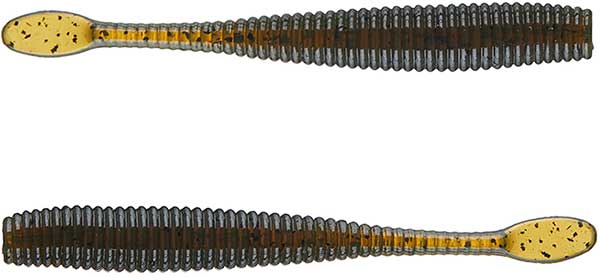 Spro CJ Smasher Worm - NOW AVAILABLE - September 20, 2023
Part of the Spro Chris Johnston Signature Series, the CJ Smasher Worm is designed by Elite Series Pros Chris and Cory Johnston. It's made of Amino Bite infused Dura Tuff Material and is great for dropshot, shakey head, midwest finesse rig and Texas rig applications.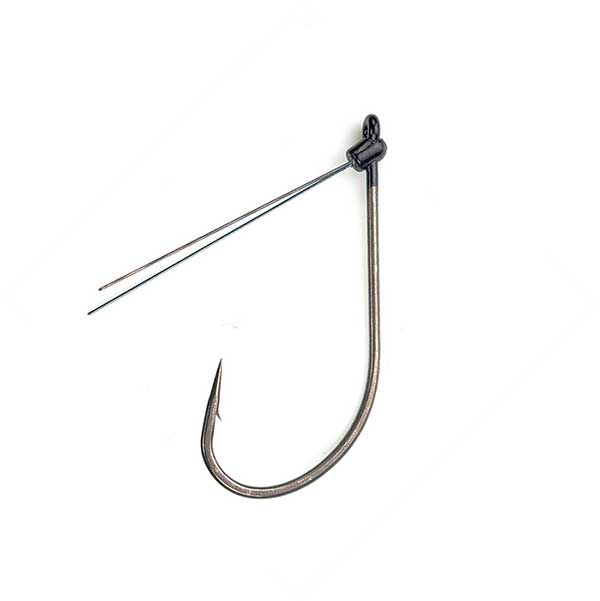 Gamakatsu G-Finesse Weedless Stinger Hook - NOW AVAILABLE - September 20, 2023
Now offering a Weedless version of their G-Finesse Stinger, developed by prostaff Brent Ehrler. Ehrler's Stinger is designed for use with the popular Neko Rig technique, as well as other finesse techniques. Tournament Grade Wire and Nano Smoothcoat are game-changing features. Incredible hook up percentage and increased retention once fish are hooked.



More Messages:
<<
1
2
3
4
5
6
7
8
9
10
11
12
13
14
15
16
17
18
19
20
21
>>