More Messages:
<<
1
2
3
4
5
6
7
8
9
10
11
12
13
14
15
16
17
18
19
20
21
>>

Bobby Garland Slab Hunt'R - FULL SELECTION - November 6, 2022
The Slab Hunt'R is a large profile minnow imitator with a tail designed to provide easy and natural swimming action, making it extra good for casting and trolling presentations. The Slab Hunt'R is designed to hold optional scent and a crappie rattle, allowing you to appeal to all of the fish's senses as your bait moves through the water. We offer their full selection of colors.




Bobby Garland Minnow Mind'R - NOW AVAILABLE - November 6, 2022
A Minnow Mind'R indeed minds a minnow when tipped, helping keep the bait hooked and in place while adding color, flash and action. Don't limit this great bait, though. Its twin tails flutter constantly, making it an outstanding crappie bait for pitching, casting or trolling, with or without a minnow.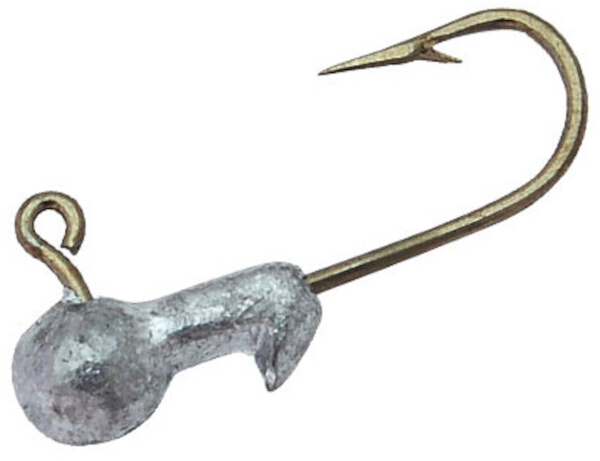 Bobby Garland Itty Bits Jigheads - NOW AVAILABLE - November 6, 2022
Little jigheads with a big bite. These tiny heads, featuring an optimal "down" bait keeper ideal for holding tiny bodies and fitted with a super sharp Eagle Claw #8 hook, are a perfect complement to Itty Bit Swim'Rs.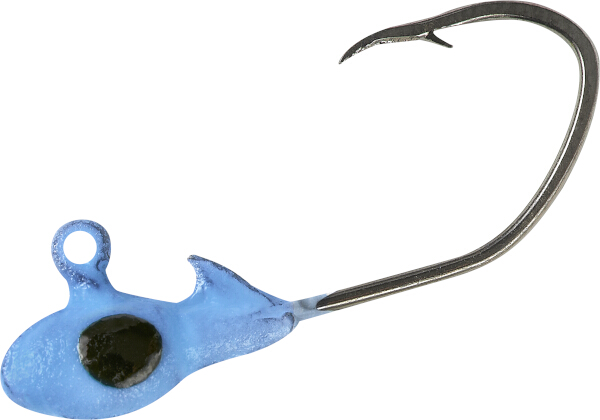 Crappie Pro Overbite Sickle Mo' Glo Jigheads - MORE SIZES - November 6, 2022
Overbites solve the age-old dilemma of little jig heads also meaning little hooks. Sickle hooks unique shape fits tiny and regular size crappie baits. We added 1/48 oz size and now offer all colors.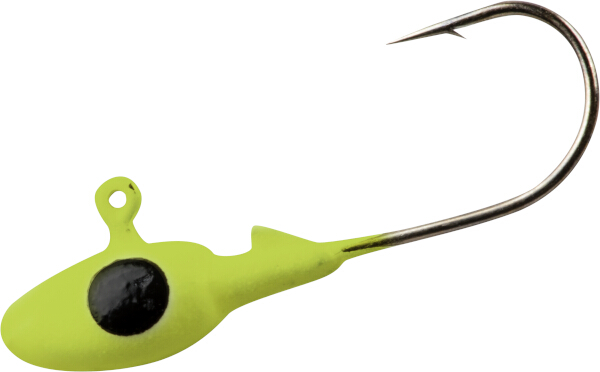 Crappie Pro Mo' Glo Glow-In-The-Dark Jigheads - NOW AVAILABLE - November 6, 2022
The Mo' Glo Glow-In-The-Dark Jigheads are the perfect choice when your fishing needs include a glow jighead to attract those pesky panfish.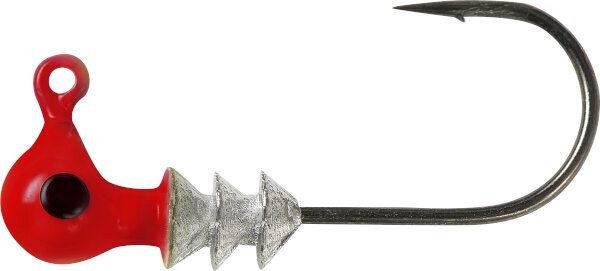 Crappie Pro Head Dockt'R Shooter Jigheads - FULL SELECTION - November 5, 2022
Crappie Pro Head Dockt'R Shooter Jigheads are specially designed jigheads to hold small plastic crappie bait bodies tightly without glue for shooting/skipping under docks, boat lifts and other overhangs. We offer all colors and sizes.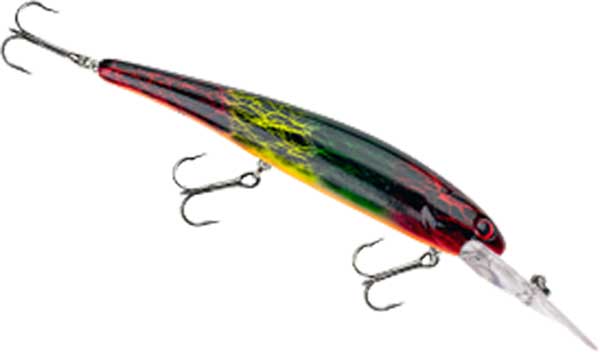 Bandit Suspending Minnow - NEW IN HARD BAITS - November 5, 2022
By weighting trolling lures for neutral buoyancy you can slow trolling speeds but maintain desired running depths and keep inside-line baits running in the prime zone through turns. Bandit anglers have been requesting a suspending trolling minnow. The Bandit Suspending Minnow, which uses the same body shape as the immensely popular Bandit Walleye Deep and Walleye Shallow and runs 18 to 20 feet with a tight, aggressive action, is the perfect answer to those requests.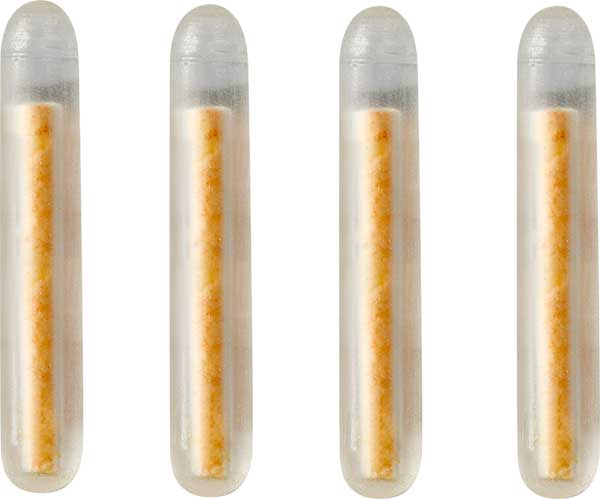 Bandit Generator Replacement Glow Sticks - NOW AVAILABLE - November 5, 2022
These replacement Glow Sticks are designed specifically for the Bandit Generator, which has insertion points toward the front and back to illuminate the lure and call fish from far away, even in stained water and under low-light conditions. Don't get caught in the dark when you are ready to re-light a Generator!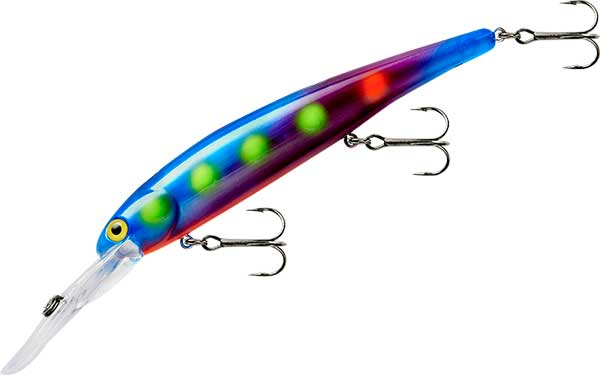 Bandit Generator - NOW AVAILABLE - November 5, 2022
With the same great action as the Walleye Deep, the Bandit Generator features two glow stick insertion points that allow the body to illuminate and glow. This added light source calls out to gamefish from extraordinary distances, creating irresistible flash and glow that triggers massive strikes. The Chrome Series also features exclusive light reflecting chrome color patterns.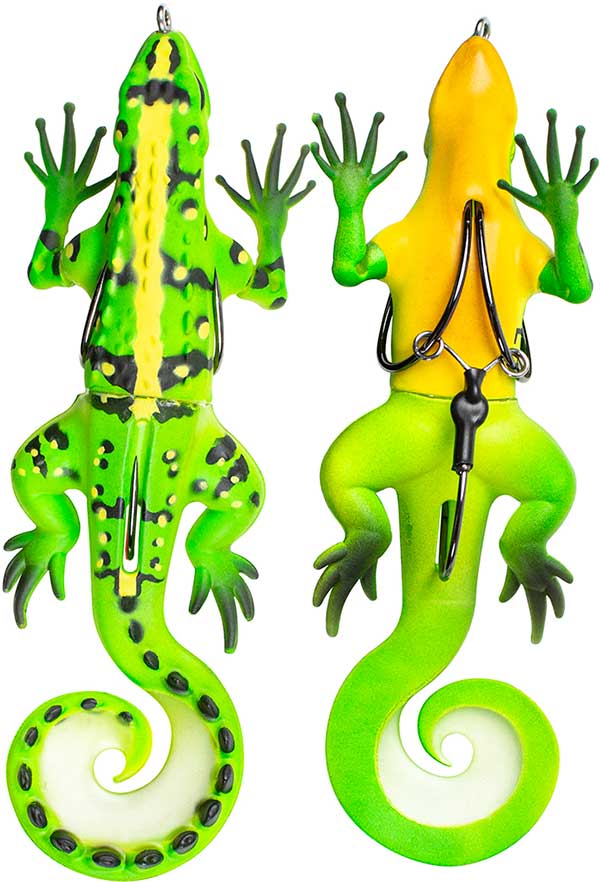 Lunkerhunt Skitter Lizard - NOW AVAILABLE - November 5, 2022
The Skitter Lizard is a soft body lizard that provides the angler with an opportunity to fish top water in a very different way than seen before. From the soft curly tail that churns up the water to the perfectly placed weedless hooks and the swimming arms, this bait will blow the minds of all that see it in action.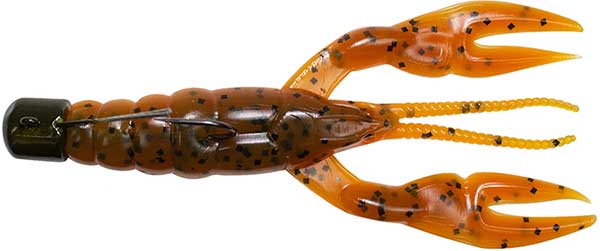 Lunkerhunt Pre-Rigged Finesse Craw - NOW AVAILABLE - November 4, 2022
Crawfish are a favorite delicacy of many freshwater gamefish and panfish species, including bass. The Lunkerhunt Finesse Craw mimics a juvenile crawfish scurrying along the bottom when worked with a quick lift, pull, and short pause action. With a slow lift, drop, and long pause, they look like a crawfish in the defensive position. No matter the action, rest assured that the Lunkerhunt Pre-rigged Finesse Craw is simply a powerful fish catcher.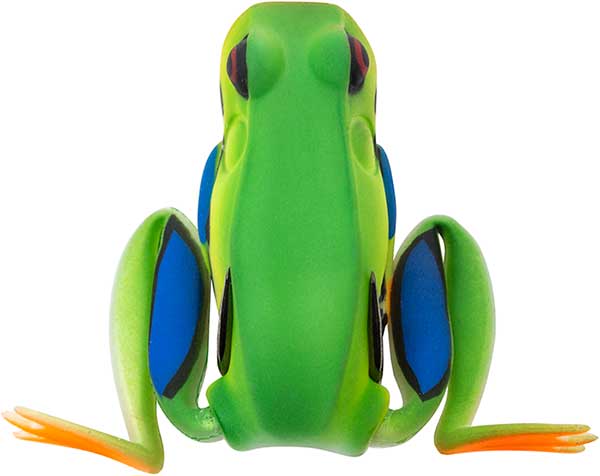 Lunkerhunt Popping Frog - NOW AVAILABLE - November 4, 2022
The Lunkerhunt Popping Frog calls fish in by creating a surface disturbance. Its concave face catches water, causing popping and spitting noises. The swimming legs of the Popping Frog create explosive strikes! Popping Frogs feature a weedless design and hollow body construction. The Popping Frog's supersoft hollow body compresses quickly under the slightest amount of pressure. When it does, sharp high quality upturned hooks are ready for the hookset.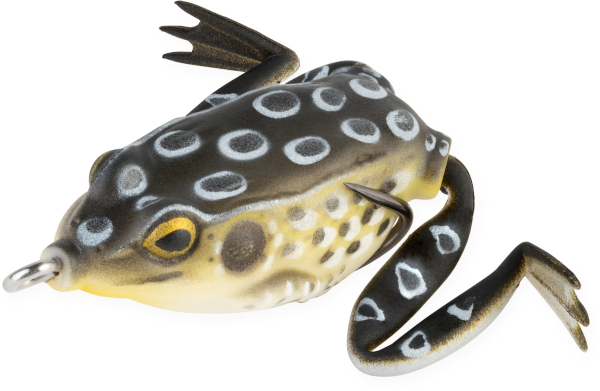 Lunkerhunt Pocket Frog - NOW AVAILABLE - November 4, 2022
The Lunkerhunt Pocket Frog is the most life like frog currently available in the industry. The Pocket Frog replicates a young frog and has swimming legs that extend during the retrieve and retract on the pause. At rest, the Pocket Frog is 1.75 inches and will extend to 2.5 inches on the retrieve. The Pocket Frog behaves just like a living frog would in the water. At rest, the body of the Pocket Frog drops down a little into the water replicating a frog.




Lunkerhunt Gambit Swimbait - NOW AVAILABLE - November 4, 2022
The Lunkerhunt Gambit Swimbait is designed to catch both saltwater and freshwater gamefish species. Its premium finish mimics a wide range of baitfish species, while the weedless hollow-body design allows it to run true around cover as well as in open water conditions. The Gambit is 4.5 inches long, weighs 5/8 oz and has a 5/0 hook ready to lock into fish as soon as they strike. Covering all the bases, the Gambit runs true at high and low speeds, and when crawled along bottom.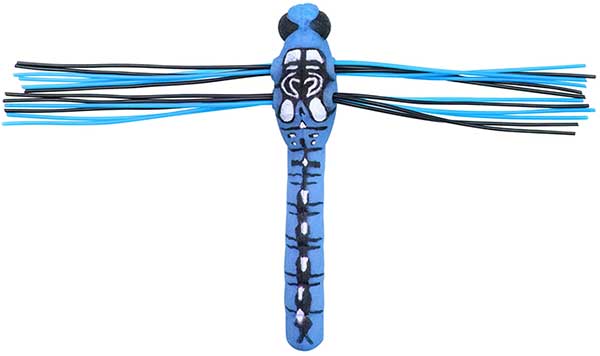 Lunkerhunt Dragonfly - NOW AVAILABLE - November 4, 2022
The Lunkerhunt Dragonfly is a finesse topwater lure. It features an innovative technology that is tougher than traditional plastic. The Lunkerhunt Dragonfly excels when fished weedless. It has double skirted wings and a realistic body design that makes it irresistible to bass.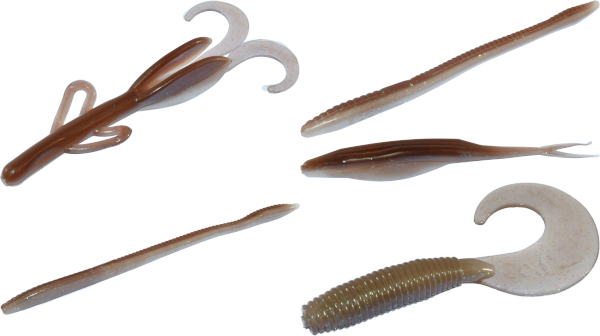 Zoom Bait - More Special Run Color Ghost Herring - October 29, 2022
The new Zoom Special Run Color Ghost Herring (color #433) is now available in more models. Choose from 6 different body styles currently in stock, including the most recent additions in the Zoom Baby Brush Hog, Finesse Worm, Super Fluke, and Trick Worm!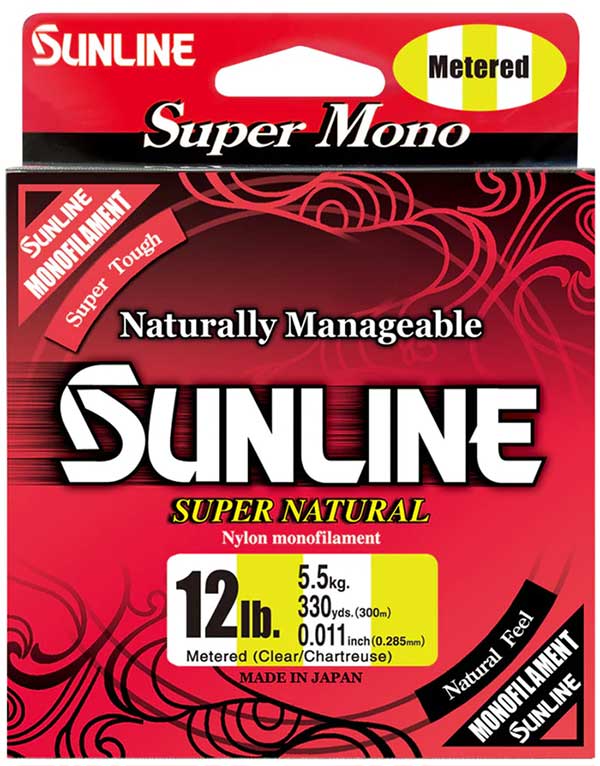 Sunline Super Natural Metered Monofilament Line - NEW IN FISHING LINE - October 29, 2022
A world class nylon monofilament designed specifically for the US market is now available in a high visibility metered color. The metered pattern repeats 12" high visibility chartreuse and 48" clear. The high-vis marking allows anglers to see their lines better while still being able to tie their lure on in the clear sections of the line.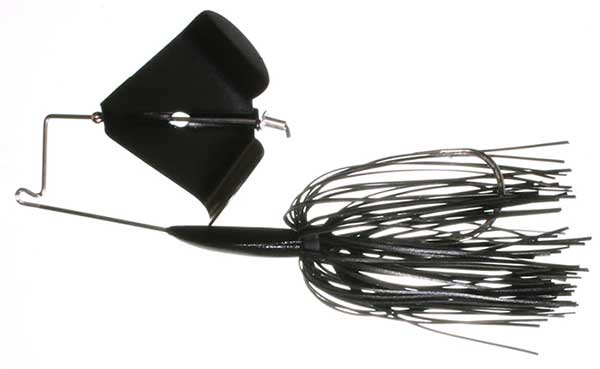 Boogerman Buzzbait - BACK IN ACTION! - October 29, 2022
"The Clack is Back!" Unleash the Boogerman and watch the EXPLOSION! The Boogerman Buzzbait's signature keeled head and adjustable blade makes the Boogerman the best topwater buzzbait on the market. Right out of the package the Boogerman's infamous "CLACK" is ready to call up the most aggressive fish for heart-stopping strikes. Or, if you want a more subtle and traditional buzzbait, simply adjust the blade wire to ease the strike on the keeled head.




Phenix Rods Feather Series Rods - MORE MODELS - October 29, 2022
The Feather series promises to be one of the lightest, most sensitive rods the fishing industry has ever seen. The unique taper of the Feather series blank is designed using a cross weave of 36 and 40 ton carbon fiber with Phenix Rods proprietary Nanolite resins. This visual taper puts the balance of the new Feather rod in the palm of your hand. The Feather series features their new Essex T-Ring Premium Carbide guides with FrameLoc technology. We've expanded our selection.




Phenix Rods Maxim II Series Rods - NOW AVAILABLE - October 29, 2022
The redesigned Phenix Maxim Series bass rods utilize an upgraded 30-ton Multi-Axis Carbon Fiber scrim. They've added a K-Woven outer scrim to the new Maxim allowing Phenix to build an extremely light and sensitive rod. The Maxim features a Phenix exclusive custom split style one-piece reel seat. Camo colored high-density EVA grips, Essex proprietary SiC guides, and clip style hook keeper.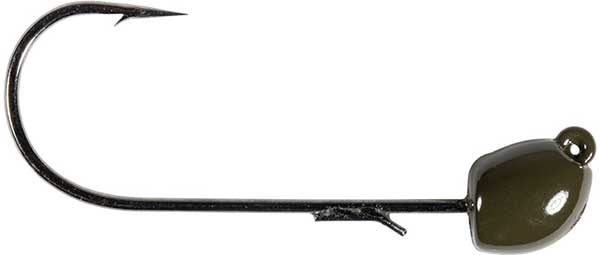 Z-Man SMH Jigheads - NEW IN JIGHEADS - October 29, 2022
Made to match the SMH WormZ and accentuate tail motion, the SMH Jighead was built to Brian 'B.Lat' Latimer's exacting specs: specific angles and head shape to precise hook ingredients. To aid its ability to slide cleanly through grass and brush, pivot smoothly on the bottom, and walk over rocks and other obstructions, the jighead features a pointed nose and angled eyelet. The hook-eye itself is slightly recessed for further snag-resistance. We added all colors & sizes.




Z-Man SMH WormZ - NEW IN SOFT BAITS - October 29, 2022
Sleek, simple and unceasingly active, the SMH WormZ mirrors what designer Brian 'B.Lat' Latimer calls that classic Coke-bottle shape. Sculpted for subtle yet unstoppable underwater movement, the SMH WormZ starts with a substantial but slender head and torso, ideally shaped for easy hook penetration. Gradually, it slims down to a wispy-thin midsection that enables tail-kicking and undulating as the angler shakes the line. We added all colors!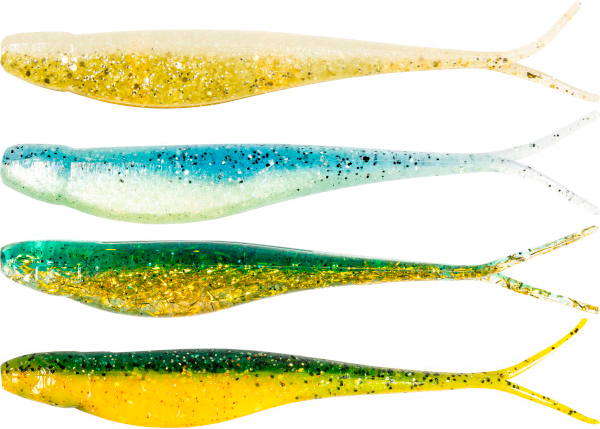 Z-Man Scented Jerk ShadZ - NEW COLORS - October 29, 2022
A super-lifelike, salt-impregnated soft jerkbait with a lively, split-tail design. The Jerk ShadZ are incredibly effective when pinned to a heavy jighead and jigged vertically for grouper, snapper, amberjack, and yellowtail, where they not only trigger violent strikes but also hold up to constant abuse from bait-stealers like no other scented soft plastics on the market! We added new colors in the 5" size with Beer Run, Disco Cisco, Gitter Done, & Pro Yellow Perch.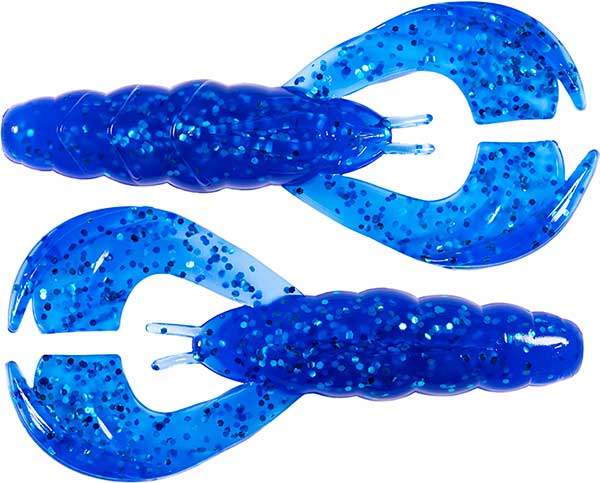 Z-Man Hella CrawZ - FULL SELECTION - October 29, 2022
Flaunting flattened, monster-sized flapper claws, the Hella CrawZ is a versatile crawfish profile jig trailer and flipping bait with a real attitude. The bait's appeal lies in its 10X Tough ElaZtech structure, so buoyant the claws float up and wave like a crayfish's natural defensive posture. Put one onto a hook and it's there to stay, outlasting comparable soft plastic trailers by impressive margins. We added their full selection of colors.




Z-Man EZ TubeZ - NOW AVAILABLE - October 29, 2022
Due to overwhelming customer demand, the super-effective tube profile is now available in Z-Man's proprietary 10X Tough ElaZtech material. Ideal for smallmouth fishing on northern lakes, skipping beneath mangroves for finicky snook in the Everglades, and everything in between, the EZ TubeZ are unlike any other tube on the market in that their tentacles rise up off the bottom at rest, rather than laying flat and motionless like traditional PVC tube baits.



More Messages:
<<
1
2
3
4
5
6
7
8
9
10
11
12
13
14
15
16
17
18
19
20
21
>>