More Messages:
<<
1
2
3
4
5
6
7
8
9
10
11
12
13
14
15
16
17
18
19
20
21
>>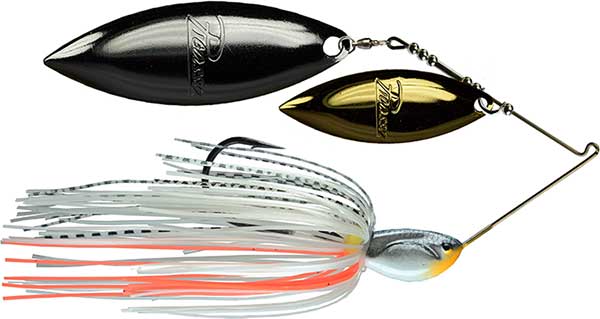 Picasso Inviz-R-Wire Double Willow Spinnerbait - NOW AVAILABLE - September 17, 2021
Features an "R" bend low visibility heat treated brown wire that generates more fish attracting vibration and less flash than traditional stainless wire. Picasso's proprietary super soft silicone skirt creates superior undulation much like that of a rubber skirt. Equipped with a premium Sampo ball bearing swivel to ensure the blade spins quickly even on the fall.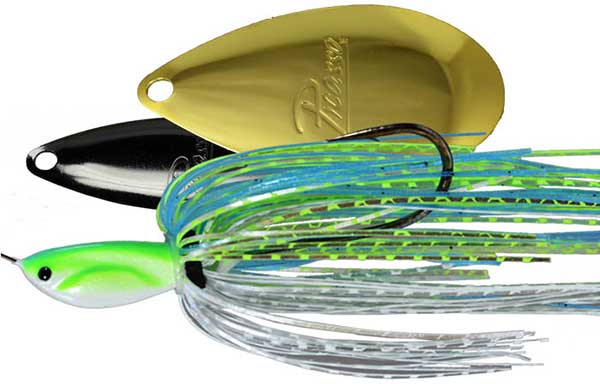 Picasso Stainless Steel R Bend Willow Indiana Spinnerbait - MORE COLORS - September 17, 2021
The Stainless Steel R Bend Willow Indiana Spinnerbait provides great flash and vibration, in one versatile bait. Picasso Light wire Spinnerbaits use 0.032 diameter stainless wire to create a unique elliptical movement of the upper arm on retrieve. This flexible light wire allows the bait to be "collapsed" during rapid strikes to ensure proper hook set. We've added colors Chartreuse/Blue/White & White Shad to our selection.




Daiwa Yamamoto Neko Macho Worm - NOW AVAILABLE - September 17, 2021
Daiwa teamed up with Gary Yamamoto to create these exclusive soft plastic baits designed for the Neko-rig technique. This is a finesse technique that utilizes a wacky-rigged soft plastic bait with a nail weight inserted to create a unique fall and lively action. Most colors are now in stock, including the latest additions of Green Pumpkin Small Blue Flake, Mimizu, Shrimp, and Watermelon Red Flake.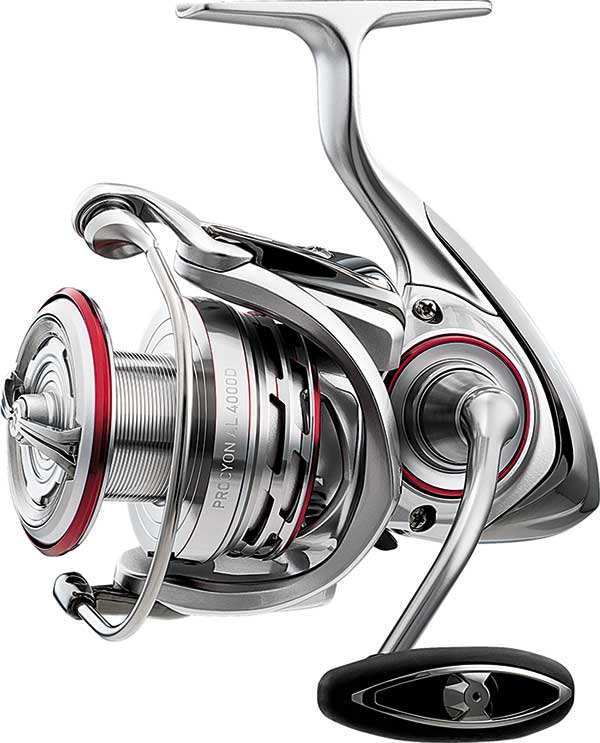 Daiwa Procyon AL Spinning Reel - MORE SIZES - September 15, 2021
For a higher level of performance, the Daiwa Procyon AL spinning reel family is back for the attack whether that means freshwater or inshore applications. From speckled trout, redfish, and snook to bass, walleye, and trout, the Procyon AL offers anglers the perfect reel for the pursuit. We added the smallest reel in the series with the PCNALT2000D model which is ideal for freshwater fish.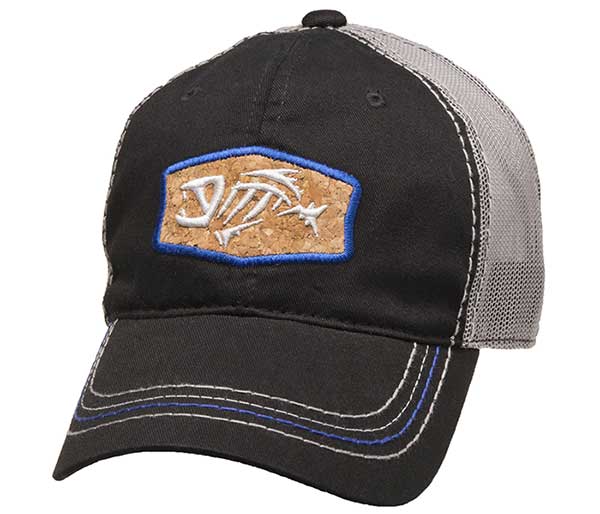 G.Loomis Cork Bill Cap - 60% Off Select Color While Supplies Last - September 10, 2021
G.Loomis skeleton fish cap with a cork bill, made from 100% Cotton Twill. Keep your head cool & dry with Q3 technology offering Quick-wick, Quick-cool, and Quick-dry properties. Color Black is only $9.99 while supplies last.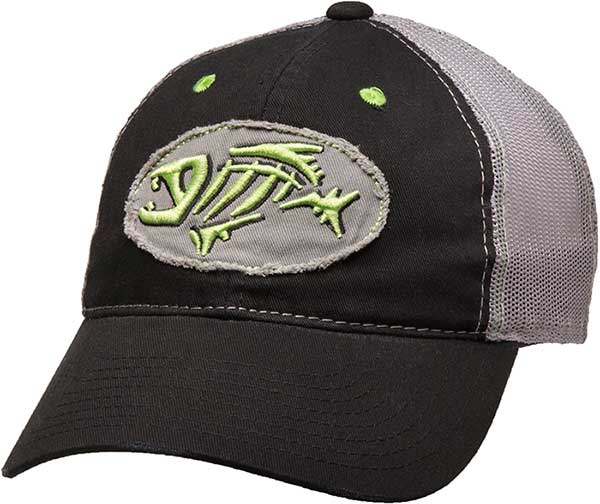 G.Loomis Distressed Oval Cap - 60% Off While Supplies Last - September 10, 2021
Distressed Fish Skeleton logo on the front. One size fits most. Only $9.99 while supplies last!




G.Loomis E6X Fishing Rods - 25% Off Clearance - September 10, 2021
While supplies last take 25% off all G.Loomis E6X Fishing Rods! Save up to $55 on models still in stock.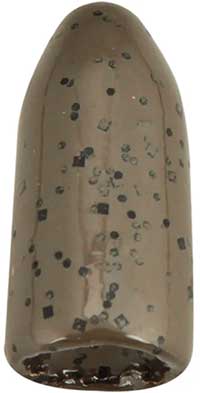 Picasso Pro Metal Worm Weights - NOW AVAILABLE - September 10, 2021
The Picasso Pro Metal Worm Weights are an excellent alternative for anglers that demand better performing weights than pure lead, but don't want to pay the extra money for tungsten. Made by combining lead with much harder metal alloys, they offer greater sensitivity and a better feel of the bottom than their lead counterparts. The Picasso Pro Metal Worm Weights are also coated with the same high quality Duraseal chip-resistant coating used on Picasso's tungsten weights.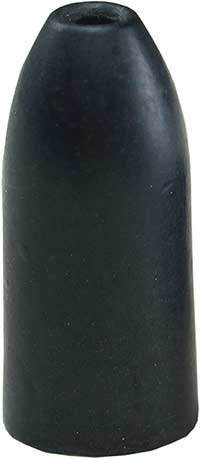 Picasso Tungsten Worm Weights - MORE COLORS & SIZES - September 10, 2021
Picasso is regarded as the leader in the manufacturing of tungsten products and developed the industry's very first insert free/fray free weight. Their proprietary processes are performed at their own facility located in the USA. We've expanded our size selection and added color Gunmetal, which consists of a non-painted finish that completely eliminates any possibility of chipping or flaking off and will last the lifetime of the weight.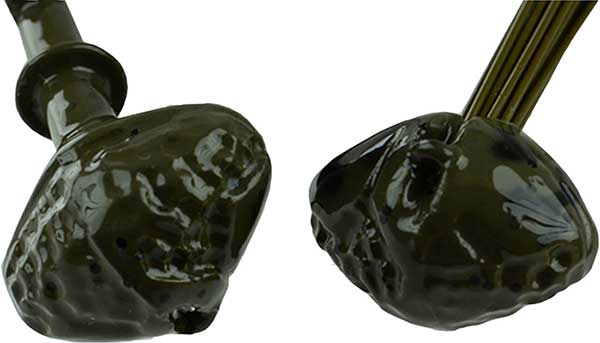 Picasso Shake-E-Football Jighead - MORE COLORS - September 10, 2021
The Picasso Shake-E-Football combines the Picasso Fantasy Football Jig design with the Flexible Nickel Titanium Spring (bait keeper) to provide the ultimate in shakey jig fishing. Not only is this jig great for the shakey technique, but it is also highly versatile for casting and flipping in any cover or open water. We've added color Green Pumpkin/Tiger to our selection.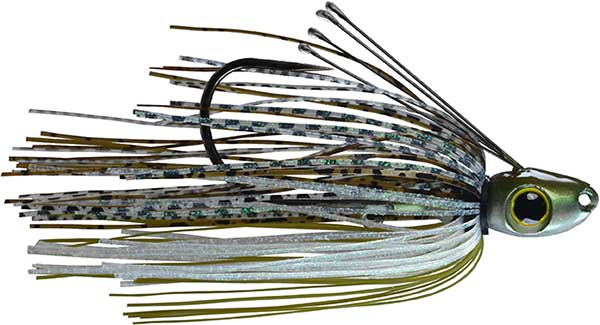 Picasso Straight Shooter Pro Jig - NOW AVAILABLE - September 10, 2021
Designed by two time Bassmaster Classic winner Hank Cherry and a crucial lure to his 2021 Classic win. Features a conical head design and recessed straight line tie, making it ideal for multiple techniques including swimming, flipping structure, and punching grass. The flexible four-strand titanium weed guard is perfectly angled to deflect off structure while soft enough not to impede the hook set and allow good hook penetration.




G.Loomis GCX Casting & Spinning Rods - NEW IN RODS - September 10, 2021
Handcrafted in Woodland, Washington, the new G.Loomis GCX features iconic actions and innovative design that anglers have come to expect from a brand that refuses to rest on their laurels. Utilizing G.Loomis Multi-Taper Design technology to engineer technique-specific rods, the GCX collection provides anglers with ultra-durable blanks with powers and actions to boost effectiveness on the water.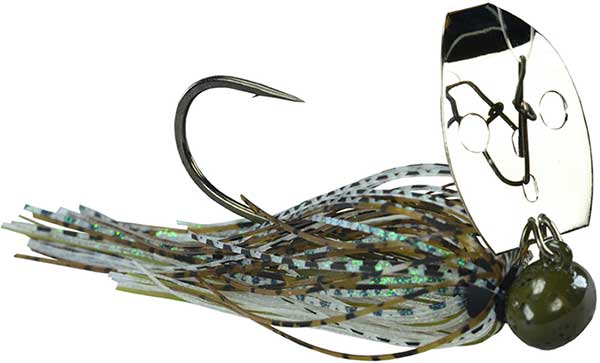 Picasso Tungsten Knocker Football Shock Blade - NOW AVAILABLE - September 10, 2021
A collaboration with Elite Series Pro Aaron Martens, the Tungsten Knocker is constructed around a solid, one-piece, 97% tungsten football head. This creates added sensitivity, and generates extreme vibration and "hunting" action that flat out catches fish. Being a much smaller profile than its lead counterpart makes it a great choice for targeting bass. We've added some of their best colors, including new Green Pumpkin Gizzard Shad - Nickel Blade.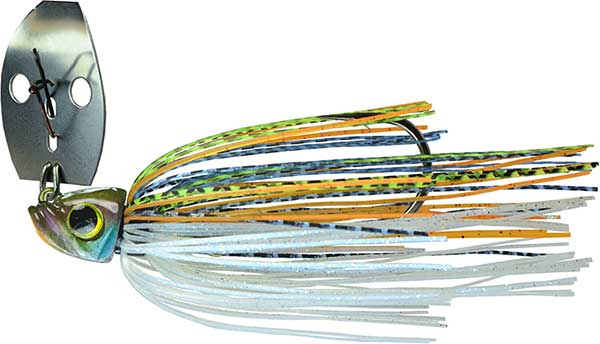 Picasso Shock Blade - NEW COLORS - September 8, 2021
The design of the Picasso Shock Blade creates a lot of humping vibration and hunting action even when reeled at a very slow retrieve. The standard blade creates a very tight/quick action and vibration that can be "burned" or "ripped". We've added colors Black Blue Chartreuse, Green Pumpkin Amber Red, Green Pumpkin Chartreuse Tiger, PB&J Bling, Royal Red Craw, along with new colors Green Pumpkin Gizzard Shad & Sexy Bluegill. Also 3/4 oz has been added as an option in a variety of colors.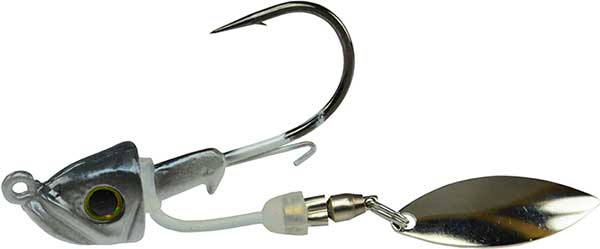 Picasso Single Barrel Underspin - NOW AVAILABLE - September 8, 2021
Utilizing a no torque rubber harness and Sampo ball bearing swivel, the Picasso Single Barrel Underspin turns at the slowest speeds. There are no wires or embedded swivels to interfere with blade turning, hook ups or rolling from torque. Paired with the Picasso Smartmouth Plus jigheads in weights from 1/8 oz to 1/2 oz in a variety of hook sizes. Extra harness included.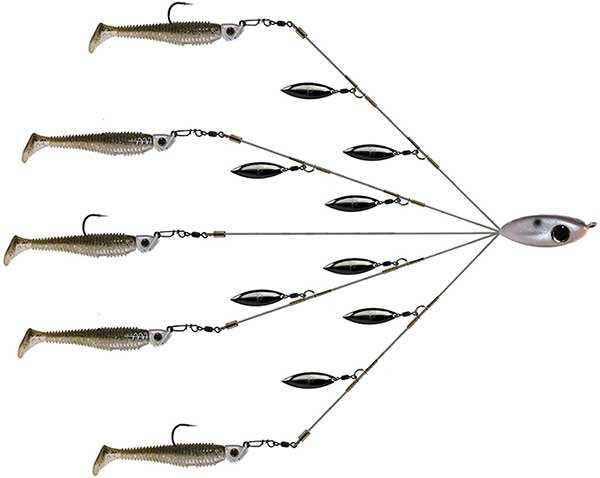 Picasso Flash Back Junior Umbrella Rig - NOW AVAILABLE - September 8, 2021
The Picasso Flash Back Junior is built with a 2-tier blade configuration consisting of eight #1 willow blades that imitates the shiny "flickering" commonly seen in baitfish schools. It's constructed with low visibility brown wire that allows the fish to focus on the baits being presented instead of the distraction of flashy wires. The lightweight high-impact resistant plastic head and embedded nose swivel prevent line twist.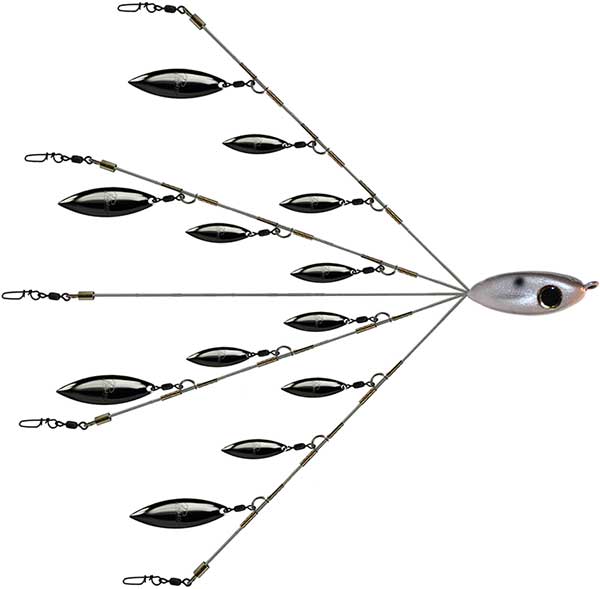 Picasso Flash Back Original Umbrella Rig - NOW AVAILABLE - September 8, 2021
The Picasso Flash Back is built with a combination of twelve blades creating a true to life action that imitates a "school" of baitfish. The unique 3-tier blade configuration consists of eight #1 willow blades to provide shiny "flickering" that is commonly seen in schools of shad, while the four #3 willow blades provide fish-attracting flash and vibration. It features the market's only SLIDING SLEEVE that allows for quick and easy replacement of any damaged or worn terminal swivels.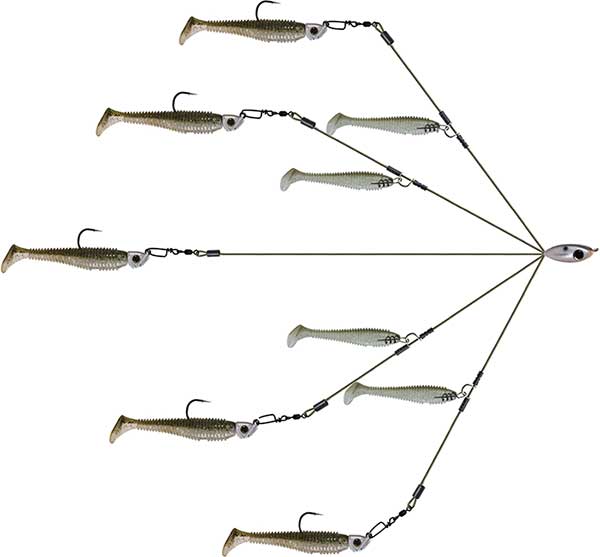 Picasso School-E-Rig Perfection Jr Umbrella Rig - NOW AVAILABLE - September 8, 2021
The Picasso Perfection Jr is made with 0.040" low vis brown wire, 150 lb test nose swivel, and all the premium hardware that Picasso Rig fans have come to expect. The high rebound effect of their heat treated brown wire allows a pulsing effect of the wires at varied retrieve speeds that fish can't resist. Teaser springs are positioned to allow maximum free movement over the center wire without fouling during cast and retrieve.



Missile Baits Ike - August 30, 2021
Sometimes dynamite comes in small packages, and that has never been more true than with the Missile Jigs Ike's Mini Flipping Jig. The brainchild of Mike Iaconelli and John Crews, it has several design features that set it apart from any flipping jig you've ever fished. For one, it is extremely well balanced with the weight centered around the hook shank. This combined with its compactness and perfectly angled weed guard allow it to get in and out of the nastiest cover with ease 99% of the time.




Megabass Spark Shad - LIMITED STOCK AVAILABLE - August 30, 2021
A deadly finesse-swimbait option for serious anglers, the Spark Shad is crafted with a salt-rich compound laden with organic shellfish and baitfish powders, presenting an exquisitely prepared meal to wary predators. It's finished with an extremely sensitive tail poised to kick into action with the slightest retrieve or current. Limited stock on select colors is currently available.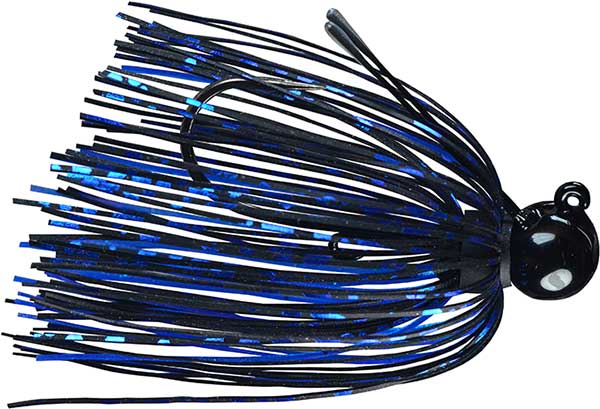 Picasso Tungsten Little Spotty Jig - NOW AVAILABLE - August 27, 2021
The Tungsten Little Spotty is constructed around a one-piece 97% tungsten head that is 40% smaller than lead and is especially appealing to spotted and smallmouth bass. The compact profile also makes the Tungsten Little Spotty a great choice to entice those finicky fish to bite, such as on highly pressured waters or post frontal change in weather. The position of the flexible two-prong titanium weed guard keeps you from getting stuck even if the head rolls on its side.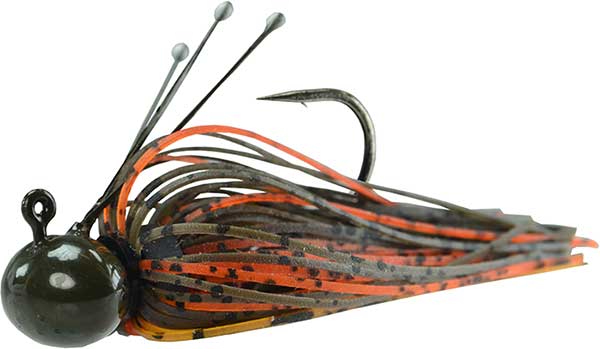 Picasso Tungsten Football Jig - NOW AVAILABLE - August 27, 2021
The Picasso Tungsten Football Jig is constructed around a compact 97% one piece tungsten head that is virtually indestructible. This compact design is especially appealing to spotted and smallmouth bass. The flexible triple nickel titanium weed guard lets you work through cover with less hang ups and without hindering the hook set. Picasso's exclusive ultra soft thin sheet silicone skirt material creates fish enticing undulation that is comparable to that of rubber skirt material.




Picasso Shock Blade Pro - NOW AVAILABLE - August 27, 2021
Developed in collaboration with MLF/BPT pro Aaron Martens, the Shock Blade Pro brings expanded features and functionality to the Picasso Shock Blade lineup. Featuring a "Speed Blade" for rapid vibration which creates a fast and erratic darting action that will trigger a strike even when the fish are not aggressively feeding, its neutral balance combined with the protected blade attachment and "V" shaped head allows the Shock Blade Pro to cut through grass and deflect off any bottom structure.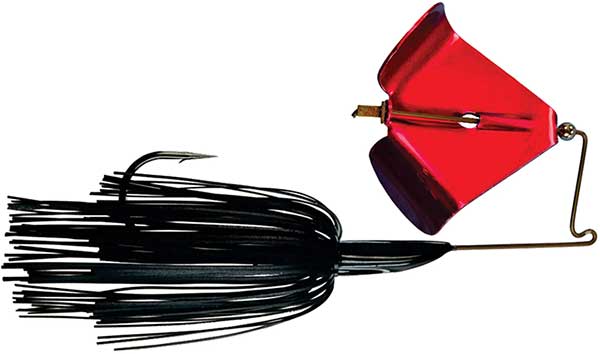 Picasso Rusty Squeaker Buzzbait - NOW AVAILABLE - August 27, 2021
The first thing you will notice about the Picasso Rusty Squeaker is that the rivet was intentionally rusted which creates a unique squeaky pitch that the fish are not accustomed to hearing. In addition to the squeak the rotating blade strikes the head with an additional clacking noise for a 1-2 combination that is sure to attract vicious strikes. The wire arm can also be adjusted to eliminate contact with the head and produce the subtle high pitch squeak that many anglers prefer.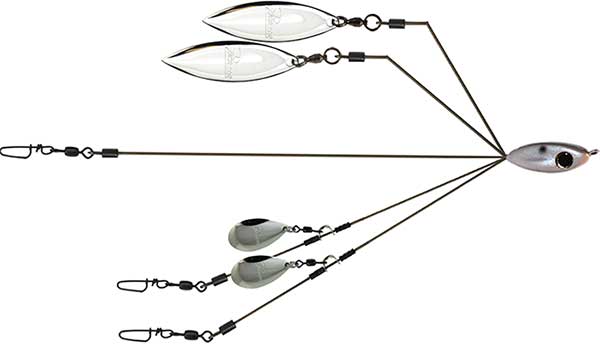 Picasso BFL Smackdown 4 Blade Finesse Umbrella Rig - NOW AVAILABLE - August 27, 2021
The BFL SmackDown Finesse (four blades, three hooks) allows for the rigging of an underspin, such as the Picasso Single Barrel Underspin, while still being in compliance with the BFL/Costa Tournament rules where a maximum of five blades and three hook limit is enforced. This is a compact size for targeting suspended fish rigged with smaller swim baits or when tossing around docks, blow downs and other structure or when accurate casts are needed.



More Messages:
<<
1
2
3
4
5
6
7
8
9
10
11
12
13
14
15
16
17
18
19
20
21
>>