More Messages:
<<
1
2
3
4
5
6
7
8
9
10
11
12
13
14
15
16
17
18
19
20
21
>>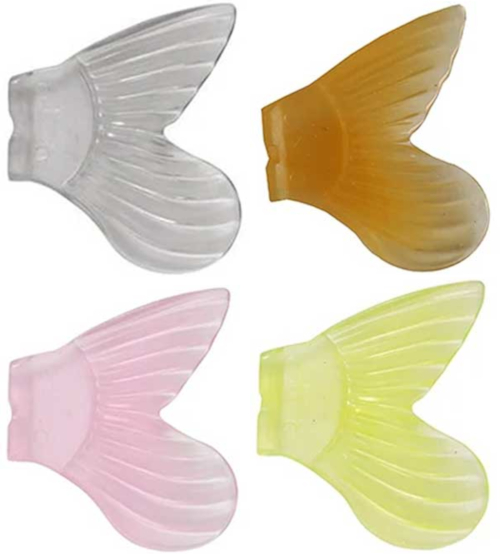 Megabass I-Slide Spare Tail - NOW AVAILABLE - February 11, 2022
Replacement tail for your I-Slide lures. To insert, simply moisten base of the tail and slide into place by pulling on the top of the tail with steady pressure. Available for both the 135 and 185 sizes.




Megabass I-Slide - MORE COLORS - February 11, 2022
The Megabass I-Slide's underbody hook-channel and magnets direct hooks to true-center placement along the belly, perfectly securing both hooks for smoother swimming action. Securing hooks against the body becomes a huge advantage especially in clear water conditions, where visual triggers are paramount. They perform smooth S-Motion swimming action and sharp kick-turns. Color Mat Rainbow is now also available in both the 135 B and 185 models.




Megabass Flapslap - MORE COLORS - February 11, 2022
Modeled after the Threadfin Shad, one of the favorite baitfish of US waters, the Megabass Flapslap is one of the most versatile lures in the Megabass lineup and an all year round producer. Featuring Megabass' internal Shaft Balancer System (patented), the Megabass Flapslap always returns to its center of gravity. Added colors now include Secret Gill and new colors GP Megabass Sexy Shad, Tora Zari, and Wild Craw OB.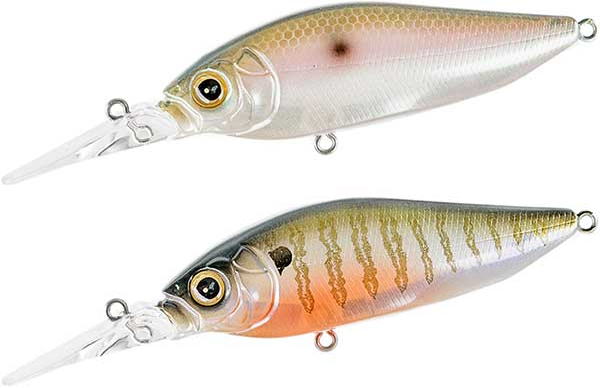 Megabass Diving Flapslap - MORE COLORS - February 10, 2022
The Megabass Diving Flapslap is made to dive a few feet deeper than the standard Flapslap. The built-in Megabass Shaft Balancer System (patented) is adapted from the Vision 95, and gives the Flapslap a unique, rolling action that can mimic an injured baitfish. Its unique design allows you to fish it with a steady or stop-and-go retrieve like a conventional crankbait, or with the distinctive jerks associated with lures like the Vision Oneten. Colors MB Gizzard & Secret Gill have been added to our selection.




Megabass Big Gabot - NOW AVAILABLE - February 10, 2022
The Big Gabot features a Catamaran Mouth (Patent Pending) to power pinpoint splash-walking action, redesigned weight and internals for improved durability and performance, and a custom hook to dominate monsters in heavy cover. Carefully formulated body material offers optimal balance between structural integrity and compression, delivering unrivaled action and excellent hook-up ratios.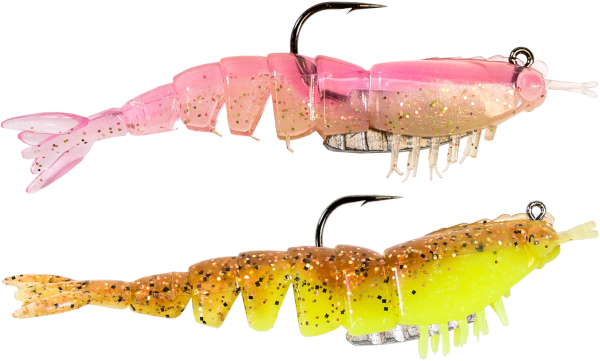 Z-Man EZ ShrimpZ Rigged - NOW AVAILABLE - February 10, 2022
An ultra-realistic, pre-rigged shrimp imitator that's ready to fish straight out of the package, the EZ ShrimpZ is equally at home whether fished beneath a popping cork or free lined. Its durable, buoyant ElaZtech construction outlasts other shrimp imitations and facilitates a slow, controlled fall on slack line. Colors Laguna Shrimp and Sexy Penny are in stock now.




Spro Pro Series Mike McClelland RkCrawler MD 55 - NEW COLORS - February 4, 2022
The Rk Crawler MD 55 crankbait was desighned by MLF Angler Mike McClelland. The RkCrawler MD 55 features all the benefits of the RkCrawler 55. With a shallower dive angle, this bait will be able to come through rocks more like a square bill crankbait to deflect off cover and draw more strikes. When the fish are shallower than 7 feet, the RkCrawler MD should be your go-to RkCrawler. New colors Delta Craw, Ghost Orange Craw, & Goby are now in stock.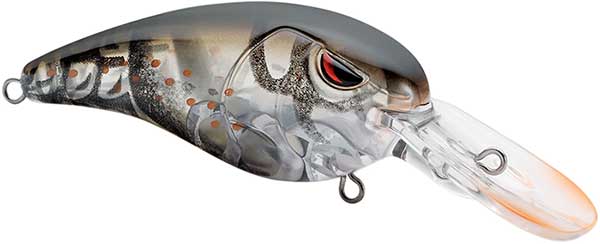 Spro Pro Series Mike McClelland RkCrawler 50 - NEW COLORS - February 4, 2022
The RkCrawler 50 crankbait was designed by MLF Angler Mike McClelland. The RkCrawler 50 is a smaller profile version of the popular RkCrawer 55. This crankbait has the same great wobbling hunting action as the original RkCrawler 55. Features 2 sticky sharp Gamakatsu treble hooks and comes in an array of fish-catching colors. New colors Delta Craw, Goby, Ghost Orange Craw, Olive Craw, Pink Caddi, Sparkle Shad, & Stone Cold are now in stock.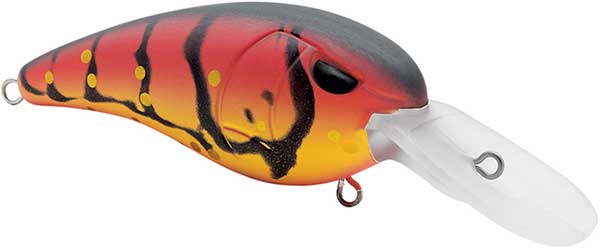 Spro Pro Series Mike McClelland RkCrawler 55 - NEW COLORS - February 4, 2022
The RkCrawler 55 crankbait was designed by MLF Angler Mike McClelland to have a wide wobbling hunting action. Its ability to bounce off cover like no other crankbaits triggers aggressive strikes. Just hit the rocks and the RkCrawler 55 does the rest while rocking the school of fish. New colors Backwater Blue, Delta Craw, Goby, Olive Craw, & Sparkle Shad are now in stock.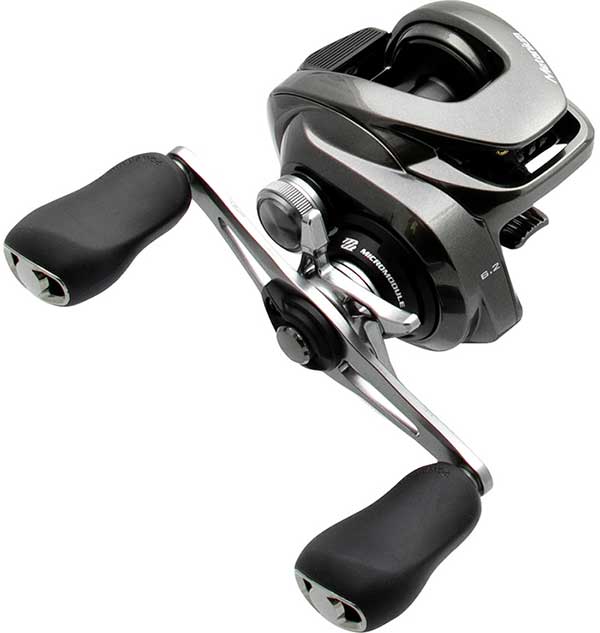 Shimano Metanium MGL B Low Profile Casting Reel - ALL MODELS BACK IN STOCK - February 4, 2022
The MGL III spool reduces spool inertia 17% over the previous generation while still utilizing SVS Infinity Braking for the ultimate in adjustability and distance for all ranges of lures. The Metanium now comes with a brass MicroModule main gear for enhanced durability and long-term smoothness. Silent Tune reduces spool bearing vibration to maximize casting distance and improve cast feel.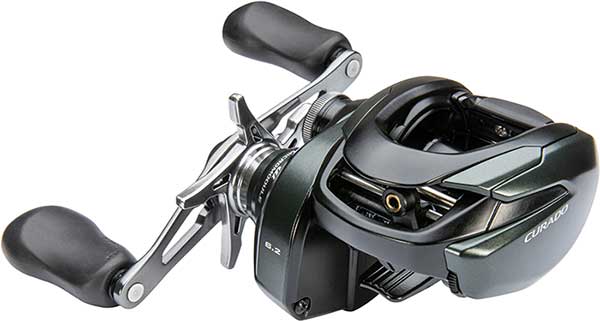 Shimano Curado MGL 150 Low Profile Casting Reel - BACK IN STOCK - February 4, 2022
Shimano engineers built the Curado MGL 150 to handle giants with a rigid aluminum HAGANE Body and durable Cross Carbon Drag. Precision gearing lies nestled at the heart of the Curado MGL 150 with Shimano reel technologies such as X-Ship, MicroModule Gearing and SilentTune to create an unmatched reeling experience. Tournament-ready yet smooth and efficient, the Curado MGL 150 is the perfect addition to an angler's arsenal whether they are on the tournament trail or chasing their next trophy fish.




Megabass PopMax - MORE COLORS - February 4, 2022
Based on a Yuki Ito hand-carved original, the Megabass PopMax topwater lure ups the ante of the well-respected Megabass Pop-X with a larger body and redesigned gill-system. The PopMax features a unique gill system that consists of six water intakes and a water chamber, creating life-like bubbles and chugging action. The intakes channel water through the gills and out to the sides, creating a unique splashing/chugging action on the surface. Colors Bahama Milk Pearl & GG Wild Gill have been added to our selection.




Megabass Magslowl 5in - NOW AVAILABLE - February 4, 2022
Tailor-made for slow retrieves, Megabass Magslowl 5 is a 5-inch swimbait built to lure predators with a sultry tail kick. Unlike the Megabass Magdraft, Megabass Magslowl 5's head section is intended to stay still, concentrating action in the thin, shapely tail section. The softer, tapered tail material activates with the slightest movement, undulating side-to-side with an extremely natural and realistic swimming action.




Megabass Magdraft 8-inch Swimbait - NOW AVAILABLE - February 4, 2022
At 8" and over 3 oz, the Magdraft is a large meal meticulously crafted for a thumping tail action that travels through the body, giving the head a subtle side-to-side shimmy that sends vibrations through the water column. Built for trophies, the Magdraft is equipped with a robust wire-through construction firmly joining line eye to hook for decisive hook-ups and control. Equipped with a belly slit to bury the hook, and a patented MAG-HOLD SYSTEM to keep it in place.




Megabass Magdraft 6-inch Swimbait - NOW AVAILABLE - February 4, 2022
Designed for hard-thumping action with a medium-slow to medium retrieve, Magdraft's tail kicks into gear quickly, sending vibrations throughout the body to activate the lateral line of predators. Magdraft features the patented MAG-HOLD SYSTEM, which secures the treble hook alongside the belly via an internal magnet. This not only streamlines action, but acts to hide the unnatural profile of the underbelly treble hook from wary predators.




Megabass Hazedong Shad - MORE COLORS - February 4, 2022
The Hazedong Shad's sensitive tail catches the water even during dead-slow retrieves and delicate shaking, triggering targets with its natural vibrations. Compared to the Spark Shad, the Hazedong Shad exhibits minimal body movement and concentrates action in the tail for a high-pitch, finesse kicking action. Rig it on a dropshot and shake the line for trembling tail-kicks or try drop-swimming the Hazedong Shad through target-rich environments! Colors Disco Stain, Goby, Shio Kosho, & Tennessee Shad have been added.




Megabass Dark Sleeper - SELECT COLORS NOW IN STOCK - February 4, 2022
The Dark Sleeper swimbait was developed to target fish holding to bottom structure with overwhelming realism and enticing paddle-tail action. With a soft fin that shields the top hook on both sides, Dark Sleeper is designed for stealthy, life- like deployment as a bottom-bouncing swimbait. In addition to camouflaging the top hook design, the fins also gently deflect potential snags.




Megabass Bottle Shrimp - NOW IN STOCK - February 4, 2022
The Megabass Bottle Shrimp 4" Craw is a hog-type worm that imitates freshwater prawns and crayfish, one of the main types of bait used around the world. When used for Texas rigs and jig trailers, the large power arms move dangerously, mimicking the defensive actions of crayfish. With bottom contact, the inertia of the weighted arms will cause a shivering action that starts at the tips of the arms and runs to the base, triggering bites. With no sinker rigs, nail rigs, and Carolina rigs, the power arms will swing left and right during the fall.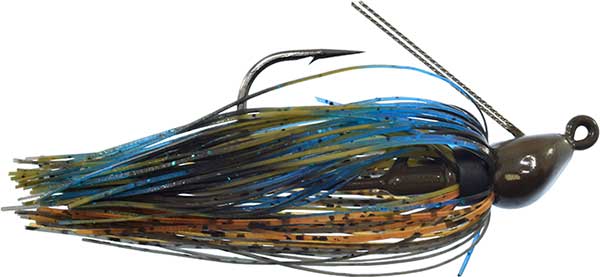 BC Lures FNS Bubba Bug Casting Jig - NEW COLORS - February 4, 2022
The BC Lures FNS Bubba Bug Casting Jigs feature a 3/0 Mustad super strong round bend hook that is ultra sharp along with a fine skirt. It also has a proven hand poured head design which is powder coated and oven baked and a wire weedguard that can be fished through heavy cover, weeds, grass lines, rocks and stumps. Colors Get The Net & Kamikaze Craw have been added to our selection.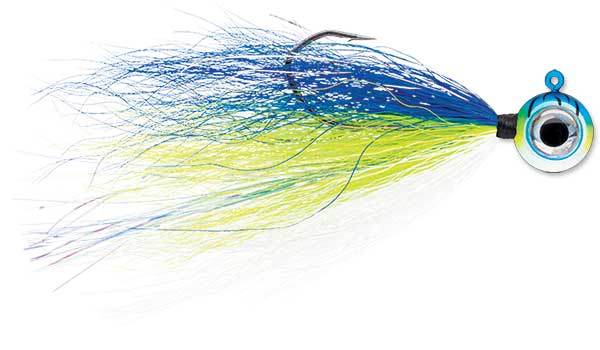 VMC MTJ Moontail Jig - NOW IN STOCK - February 4, 2022
TechSet technical locking curve maximizes hook sets and locks fish in place. Oversized flat aspirin head shape enhances darting and rolling head motion when jigged. Low profile elongated bucktail fibers maintain shape and creates life-like action. UV BRIGHT Finish reflects more light energy, strengthening the lure's visibility.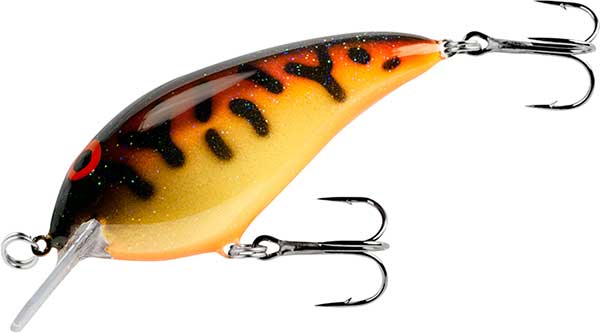 Norman Speed N - NOW IN STOCK - February 4, 2022
The Norman Speed N has all the features anglers want in a crankbait for cold water fishing. Built on the proven Deep Little N body and running 4-6 feet deep, it has a tight wobble and pitch and roll with an erratic hunting action as it changes lanes like a high-end sports car. Made of butyrate, the Speed N sends out a distinctive sound compared to other crankbaits with a low-pitched dull thump.




Favorite Fishing Emperor Casting Rods - NOW AVAILABLE - January 17, 2022
The Emperor line of rods are truly the "King" of rods, ideal for the fisherman who is serious about his craft. The Emperor has a MLS composite handle (like Favorite's Summit) for the ultimate in feel. This is combined with Fuji line guides, custom real seat, topped with a custom aluminum "crown" for perfect balance. The "crown" also serves as a keeper. The rod is coated in 4-D hydrographic paint allowing the rod to change colors Based on the Lighting environment.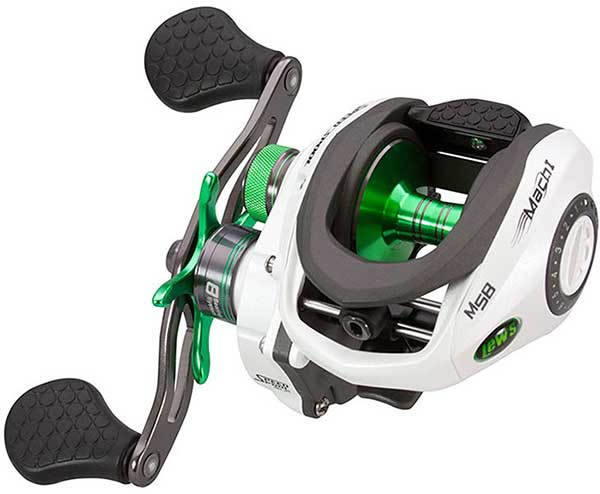 Lew's Mach I Speed Spool SLP Series Baitcast Reel - BACK IN STOCK - December 1, 2021
The Mach I Speed Spool is back in stock! It features a premium 8 bearing system with double-shielded stainless steel ball bearings and a Zero Reverse one way clutch bearing for smooth operation. Lightweight one-piece graphite frame and sideplates. The innovative MSB (Multi-Setting Brake) system features both an externally adjustable magnetic cast control and internally adjustable centrifugal brakes for superior cast control.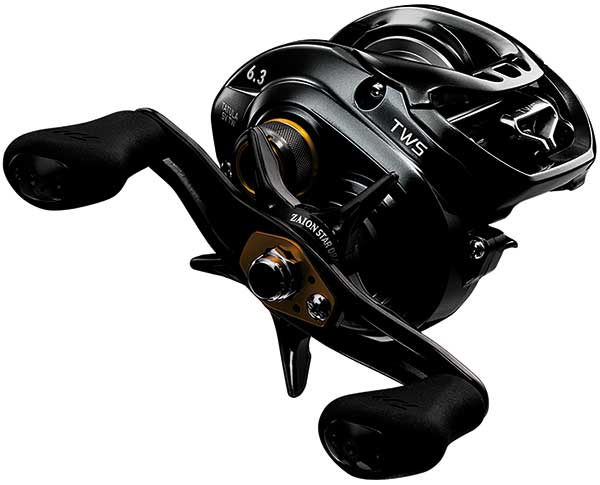 Daiwa Tatula SV TWS Baitcasting Reel - BACK IN STOCK - December 1, 2021
The Daiwa Tatula SV TWS is back in stock! The TATULA SV represents versatility and performance. Stress-free Versatile (SV) technology and Daiwa's Air Brake system provides more control when casting. The SV Concept combines an ultra-lightweight spool made of Super Duralumin with a movable ramp induct rotor that interacts with the brake system's magnetic field to regulate spool speed during the cast - according to the speed of your spool.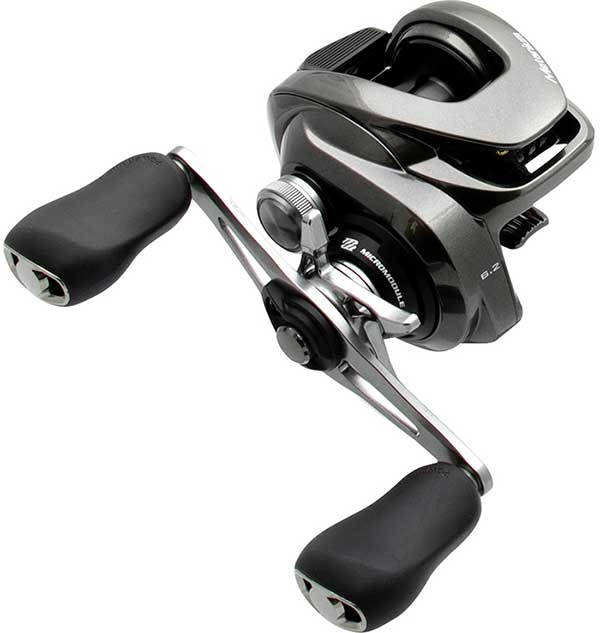 Shimano Metanium MGL B Low Profile Casting Reel -BACK IN STOCK - December 1, 2021
The most advanced Metanium ever produced has been restocked! Completely redesigned by Shimano engineers to be the most advanced Metanium ever produced, the 2020 Metanium features a never before seen Magnesium CoreSolid Body to provide both professional and enthusiast anglers with the solid advantage of durability, rigidity and sensitivity while reducing weight. The new CI4+ Star Drag reduces weight even further.



More Messages:
<<
1
2
3
4
5
6
7
8
9
10
11
12
13
14
15
16
17
18
19
20
21
>>