More Messages:
1
2
3
4
5
6
7
8
9
10
11
12
13
14
15
16
17
18
19
20
21
>>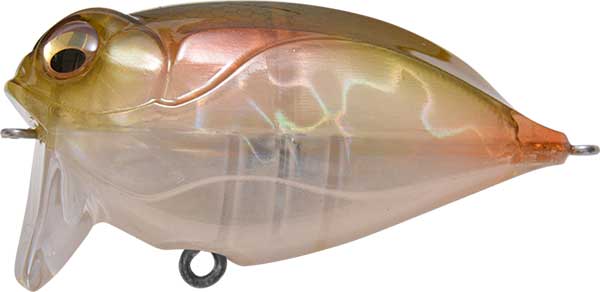 Megabass Funky Flipper - NOW STOCKING - February 22, 2019
Funky Flipper is a sub-surface wakebait/crankbait designed for outsized, high-impact action across all retrieve speeds. Large #2 front hook is secured with a heavy-duty recessed eye that prevents hooks from fouling, and encourages improved hooking ratio. Funky style built for all retrieve speeds brings Funky Flipper to a new height of sub-surface cranking and waking action.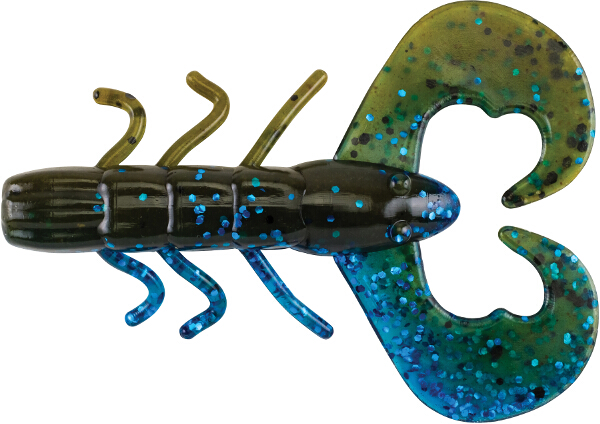 Berkley PowerBait Chigger Bug - NEW SOFT BAIT - February 22, 2019
The Berkley PowerBait Chigger Bug adds to the Chigger family of baits with super high and wide fast action. You can pitch it, flip it, rig it on a jig head, or use it as a trailer.




Berkley PowerBait Bunker Hawg - NEW SOFT BAIT - February 22, 2019
The Berkley PowerBait Bunker Hawg is a slender, ribbed creature perfect for punching. Its highly ribbed main body allows for maximum flavor surface to entice the big ones with that classic exclusive PowerBait Original formula.




Berkley PowerBait Fatty Bottom Hopper - NEW SOFT BAIT - February 21, 2019
The Berkley PowerBait Fatty Bottom Hopper is the big fat brother to the Bottom Hopper, with a big profile for big bass. It's great on a shaky head, Texas rig, jigworm or weightless. Berkley PowerBait makes novice anglers good and good anglers great!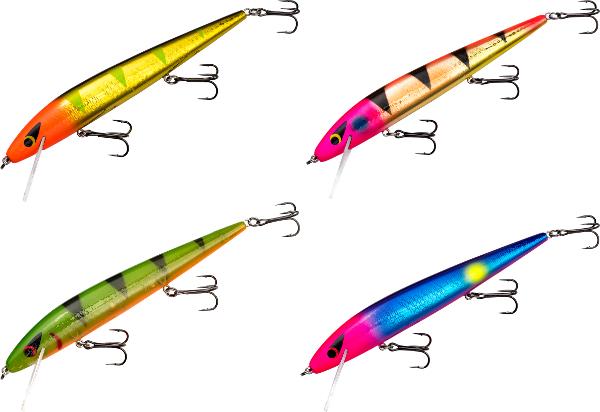 Smithwick Perfect 10 Rogue - NEW COLORS - February 21, 2019
The Smithwick Perfect 10 Rogue dives when twitched, and produces that deadly "Rogue Roll" that has been the downfall of so many gamefish. Plus, it's got that fish-catching tungsten rattle that fish – and fishermen – have been searching for. We've added new colors 24 Carrot, Motion Sickness, Parallax, and The High Heat to bring your their full selection.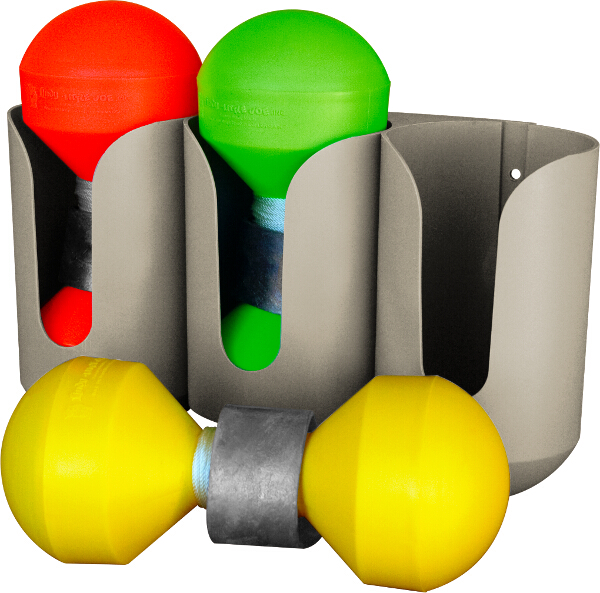 Lindy Tournament Marker Buoy Rack Pack - NOW STOCKING - February 21, 2019
The Lindy Tournament Marker Buoy Rack Pack includes three high-visibility Lindy Marker Buoys and a Buoy Rack to keep them organized and handy. The Lindy Marker Buoy features a barbell design with an internal ballast to keep it from "walking" in wind or current, and comes with 60-feet of rot-proof cord and a buoy weight. The Buoy Rack is easily mounted to any surface and holds three buoys.




Lindy Fisherman Series Drift Socks - MORE SIZES - February 21, 2019
Fisherman Series drift socks help slow down your boat when drifting or trolling for staying longer in the strike zone; a real plus in wind and current! And they provide added boat-control for precision fishing over pin-point structure. Maximize boat control, quickly deploy, and easily retrieve without tangling and spinning. Reinforced nylon prevents fraying. We now offer all sizes!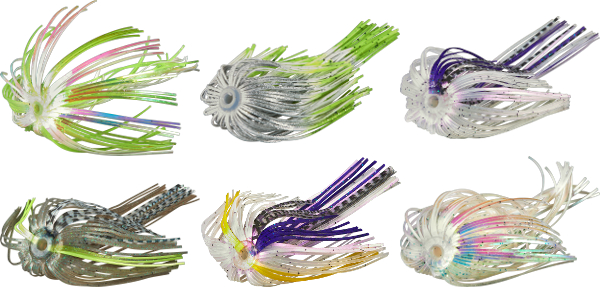 War Eagle Replacement Skirts - MORE COLORS - February 20, 2019
War Eagle's custom skirt colors have long been revered as the best in the industry. With the replacement skirts you can dress any spinnerbait, buzzbait or bladed jig in them. With the addition of colors Flash, Pro's Choice, Purple Shad, Sexxy Mouse, Sexxy Purple Shad, Shiny Shad, and White Gold we now carry their full selection.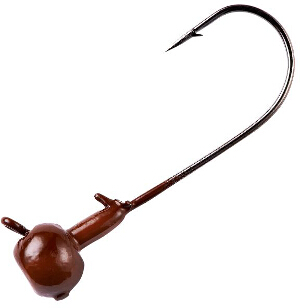 War Eagle Shakey Head Jighead - NOW STOCKING - February 20, 2019
These shakey heads are designed and used by the pros. The slightly recessed eye allows for better hook set and collects less debris. We now offer all colors and sizes.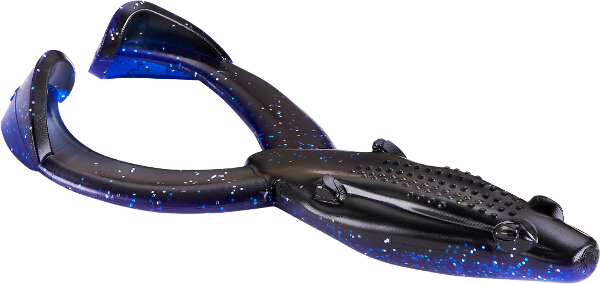 YUM Tip Toad - NEW FROG - February 20, 2019
The Tip Toad was built to take over the buzz frog game by combining multiple features. The realistic design of the Tip Toad allows it to plane quickly. The precisely-placed tails and feet provide maximum water displacement which creates a unique sound equivalent to fleeing prey. We added all the colors!




YUM Finesse Worm - NOW STOCKING - February 20, 2019
When you absolutely have to get a bite, use the YUM Finesse Worm. The Finesse Worm can be used on a shakey head, Carolina rig, drop-shot or the newly-popular Neko rig to catch highly-pressured fish. It works equally well in clear or stained water. The slender body and bulb tail respond with exaggerated action to the slightest movement of the rod tip. The smaller size catches all species and matches the hatch when smaller forage is the main food source. We now carry their full selection!




YUM Ribbontail Worm - MORE COLORS - February 20, 2019
The Yum Ribbontail worm is your basic curlytail with a difference. The curl is longer than most, providing more swimming action in motion that other similar worms, and the solid body takes the abuse of multiple bass without tearing. It's more effective in colored water than soft plastic worms. We now offer all colors and sizes!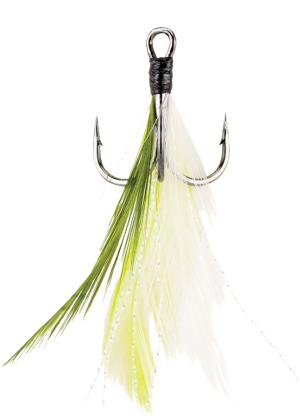 Berkley Fusion19 Feathered Treble Hooks - NEW TERMINAL TACKLE - February 13, 2019
Berkley Fusion19 hooks are targeted to everyone, from the novice to the avid angler. They feature an extra durable round bend treble with ultra sharp needle points, black nickel finish, and premium weld for strength.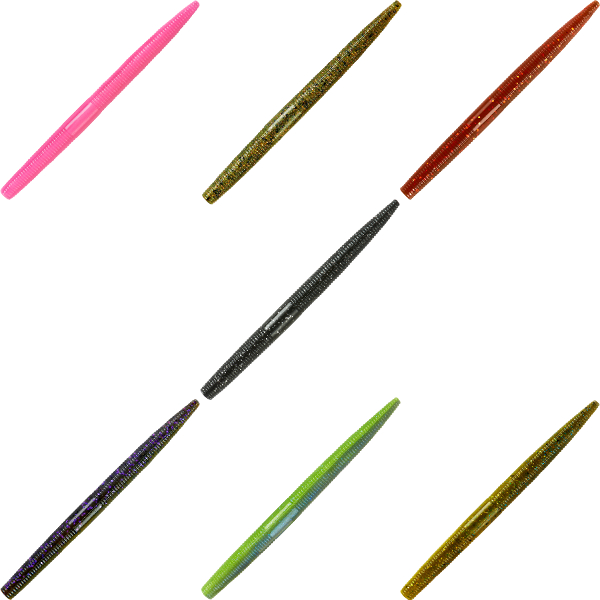 YUM Dinger - NEW COLORS - February 11, 2019
The YUM Dinger was designed to be fished in a variety of ways, Texas rigged, wacky style, on a Carolina rig and even pitched into heavy cover. This soft plastic bait presents a very subtle life-like action that even highly pressured fish can't resist. New colors Bubble Gum, Copperhead, Motor Oil/Orange Flake, Onyx, Ozark Shadow, Sinful Shad, and Summer Gill now round out our full selection.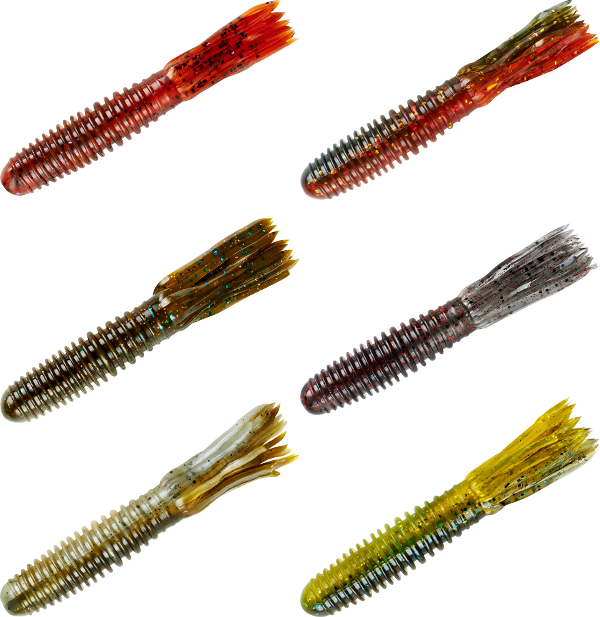 YUM Vibra King Tube - MORE COLORS - February 11, 2019
The most unique tube on the market, Vibra King Tubes are fully injected for excellent product consistency. The fine ribs create a unique feel and vibration and it also features a solid head for added durability and use with a Florida-rig weight. With the addition of colors Bourbon Berry, Camo, Ghillie Suit, Smoke Red Pepper, Snot Rocket and Summer Gill, we're now offering the full selection!




YUM Pulse Swimbait - NEW COLOR & SIZE - February 6, 2019
The YUM Pulse is a solid-body swimbait that features a hard-thumping tail and ribbed body. It provides a dynamic swimming action which triggers a significant rolling action whether retrieved at high or low speeds. This unique ability to be fished at any speed provides extreme versatility in rigging and retrieval applications. New color Phantom Pearl is now available along with a smaller 3.5" size in all other colors.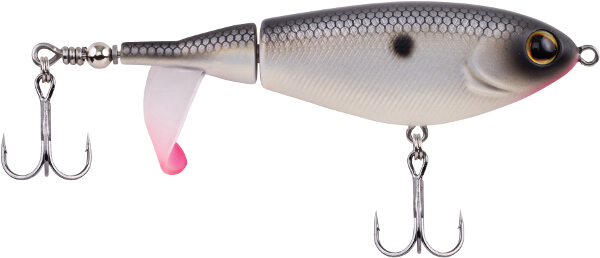 Berkley Choppo - NEW HARD BAIT - February 6, 2019
This easy to use top water lure is designed to deliver explosive top water action. Chunk and wind the Berkley Choppo around cover and in open water for a serious waking action. The Choppo's durable tail propeller won't melt in your tackle box and the enhanced surface area provides more sound and spray.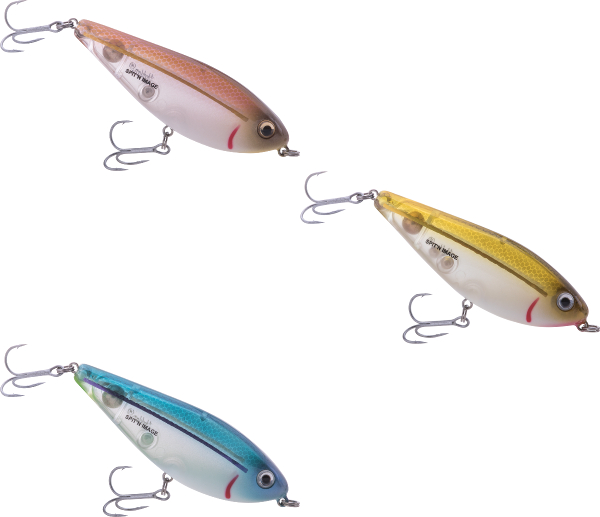 Heddon Spit'n Image - MORE COLORS - February 6, 2019
This is the topwater lure that set the world on fire in 1997 — the original Spit'n Image. The Heddon Spit'n Image perfectly mimics the frantic antics of a fleeing shad — in fact, it's the Spit'n Image of one! When retrieved, the Spit'n Image moves from side to side; at rest, the tail sits low in the water. Colors Bay Anchovy, Emerald Shiner, and Needle Fish have been added to offer their full selection.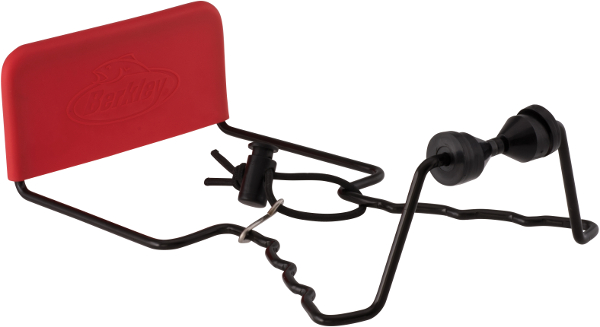 Berkley Mobile Line Spooler - NEW ACCESSORY - February 6, 2019
The Berkley Mobile Line Spooler fits under a door or around a table leg, allowing for quick and easy line spooling.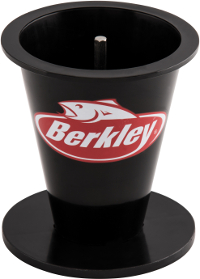 Berkley Line Stripper Max - NEW ACCESSORY - February 6, 2019
Use the Berkley Line Stripper Max with any standard power drill to easily and quickly remove line from fishing reels.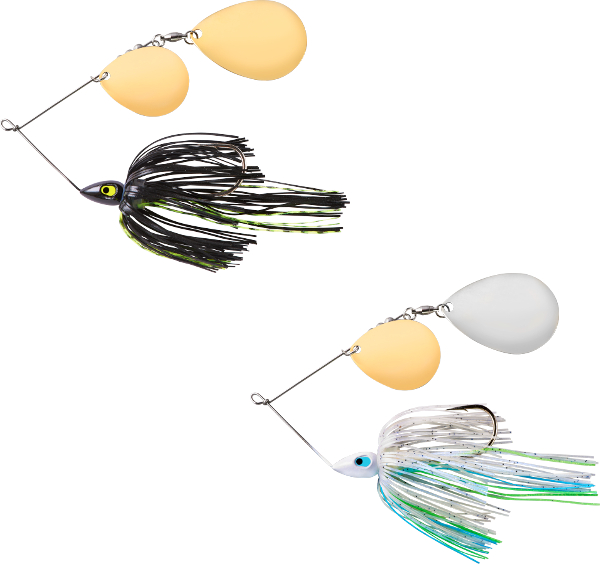 War Eagle Wake Bait Spinnerbait - February 5, 2019
This is a big fish bait with a beefy wire and stout hook. The Wake Bait features two oversized Colorado blades for maximizing vibration when retrieved. The blades allow you to fish slowly creating a visible wake just beneath the surface. We've added more colors to offer their full selection of colors in all sizes.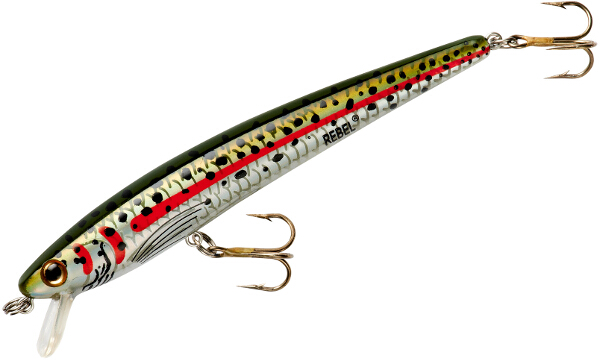 Rebel Tracdown Ghost Minnow TD57 - NOW STOCKING - February 5, 2019
The bigger Tracdown Ghost Minnow is 4.25 inches long and weighs 3/8 of an ounce. This slow sinker is perfect for swifter water or when targeting larger bass or trout. All colors have been added.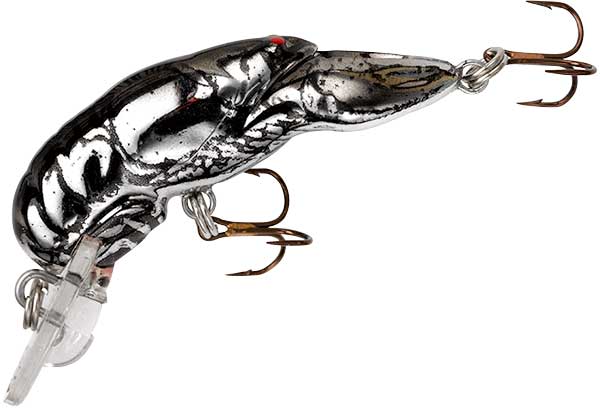 Rebel Teeny Wee-Crawfish - MORE COLORS - February 5, 2019
The ultralight Rebel Teeny Wee-Crawfish is one of the most popular fishing lures in the world – a standby for all anglers who walk stream banks or small lakes around the world. Its small, lifelike profile entices and catches bass, trout, panfish and more. We now carry all colors!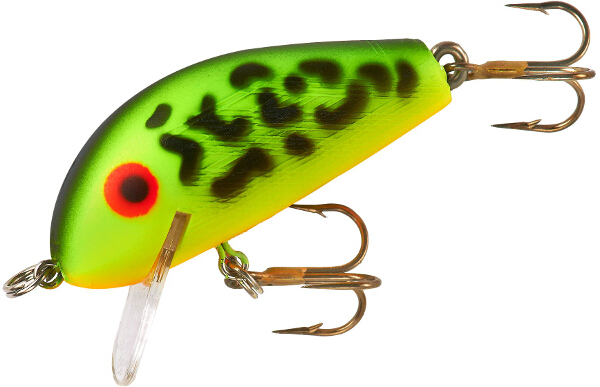 Rebel Humpback - MORE COLORS - February 5, 2019
The Rebel Humpback is a classic, shallow-running crankbait. It dives to one foot and can be used to swim above or near vegetation and cover. It's a good choice to fish around jetties, wingdams or rock structures. We've brought this classic back with the full color selection.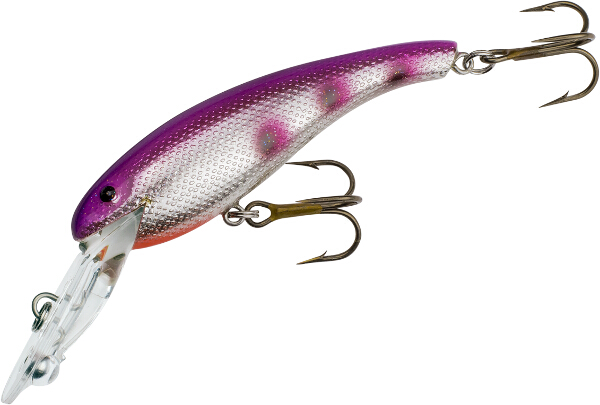 Cotton Cordell Wally Diver - NEW COLOR - February 5, 2019
Cotton Cordell's Wally Diver is one of the most-trusted walleye crankbaits in history, truly deserving of being called "legendary". Few walleye anglers hit the water without a Wally Diver handy. New color Purple Rain is now available in the CD5 model.



More Messages:
1
2
3
4
5
6
7
8
9
10
11
12
13
14
15
16
17
18
19
20
21
>>