More Messages:
<<
1
2
3
4
5
6
7
8
9
10
11
12
13
14
15
16
17
18
19
20
21
>>

Luck-E-Strike American Originals G5 Crankbait - MORE COLORS - May 29, 2019
The G5 is made with butyrate plastic that produces a dull thumping sound to entice the wariest of fish. The G5 has a slow rate of rise and erratic break out action. All American Original hardbaits include the DURALURE process featuring Armor Gloss and Aqua 3D finishes. Colors Creepy Craw, George's Secret, Hack Daddy, Phantom Bream, Reel Deel, and Spring Craw are now available.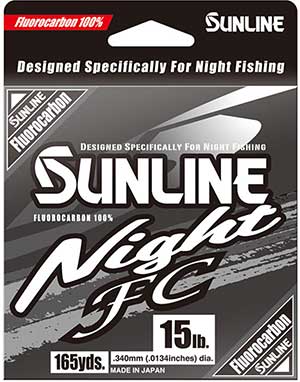 Sunline Night FC Fluorocarbon Line - NEW FISHING LINE - May 22, 2019
Sunline Night Fluorocarbon line was designed specifically for night fishing. It's 100% fluorocarbon with a clear blue color and it glows under blacklights! Detect bites at night more easily along with high sensitivity and abrasion resistance.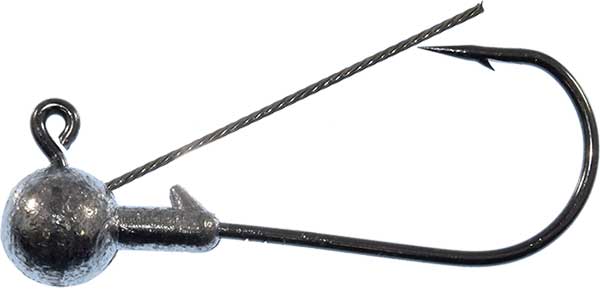 Luck-E-Strike Cable Jighead - NOW AVAILABLE - May 17, 2019
A wire cable helps the Luck-E-Strike Cable Jighead to be ideal for pulling through brush or cover. Its small size helps to snag crappie or bass.




Daiwa D-Vec Tactical View Lure Covers - NEW ACCESSORY - May 17, 2019
The D-Vec Tactical View Lure Covers are the only see-through lure wraps in the industry. The unique clear-view design allows you to immediately identify each lure and rig. A tough marine grade Isinglass will not cloud or crack over time. Reinforced hook and loop attachments assure years of dedicated use. Slides on and removes easily and quickly around lure and rod. All sizes now available.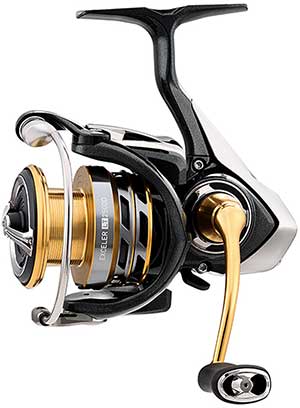 Daiwa Exceler LT Spinning Reel - MORE SPEEDS - May 17, 2019
A smartly priced reel that can match the performance of many more expensive models. The Carbon Light material housing was designed with the LT concept of light but tough in mind. The carbon based material is light yet very strong making the reel easy to manage over the long haul. The 6.2:1 gear ratio model has been added.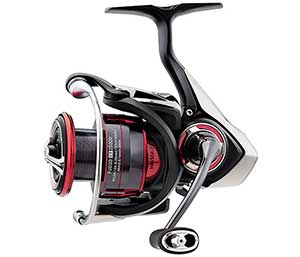 Daiwa Fuego LT Spinning Reel - MORE SPEEDS - May 17, 2019
The Fuego LT series of spinning reels, state of the art fishing tools that define Daiwa's commitment to the LT Concept of lighter, tougher material. With conventional, heavier spinning reels, long hours of casting and retrieving can fatigue the arms and hands. The Fuego LT housing is light but sturdy, constructed from a carbon based material. The 6.2:1 gear ratio model has been added.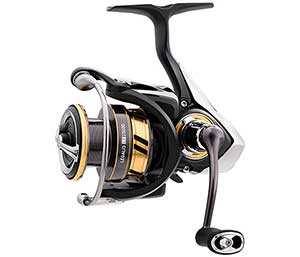 Daiwa Legalis LT Spinning Reel - MORE SPEEDS - May 17, 2019
With a stark, modern appearance, these handsome reels are modestly priced with an abundance of design and engineering features. The LT body (light yet tough) is constructed from a carbon based composite that is much lighter than conventional materials yet very durable. The spool design features the Advanced Ballistic System or ABS. The 6.2:1 gear ratio model has been added.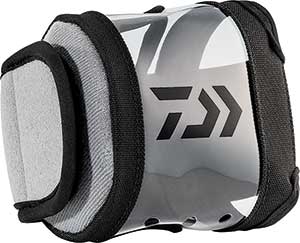 Daiwa D-Vec Tactical View Reel Covers - NEW ACCESSORY - May 16, 2019
Built for years of tough duty, the D-Vec Tactical View Reel Covers are designed to keep reel storage simple. The see-through design makes for easy reel and line identification when stowed with a rod and reel set-up. The marine grade Isinglass resists clouding and scratching. Flexible Neoprene sides keep the cover snug to the reel.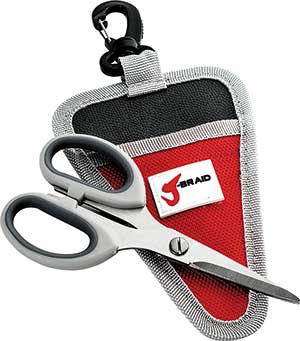 Daiwa J-Braid Braided Line Cutter With Sheath - NOW AVAILABLE - May 16, 2019
The Daiwa J-Braid Cutters With Sheath can easily and accurately cut both braided lines and monofilament. Constructed from the finest Japanese stainless steel, this tool is built with years of service in mind. The blade edges are serrated making for one of the most robust and precise cutters on the market. The oversized handles are comfortable and designed to fit the largest fingers.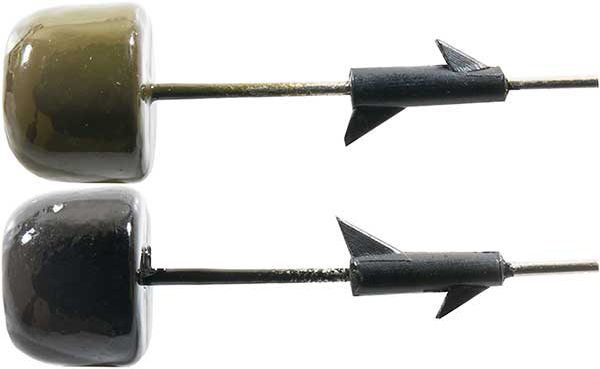 Z-Man Neko ShroomZ Wacky Rig Nose Weights - NEW TERMINAL TACKLE - May 16, 2019
At last, an easy-to-rig nail weight solution for ElaZtech softbaits that doesn't require gluing in weights or cutting and melting plastic! The unique keeper design of the Neko ShroomZ is easily inserted into Z-Man's 10X Tough material and stays put securely. It's great for Neko rig presentations or other new finesse techniques like the Tiny Child Rig. Both colors and all sizes have been added.




Z-Man Bang StickZ - NEW SOFT BAIT - May 16, 2019
The Bang StickZ is a must-have when conditions call for a little bit of finesse! Designed for Neko rigging, its durable, buoyant ElaZtech construction makes for easy wacky rigging without the need for o-rings and allows the tentacled tail to float off the bottom at rest. Don't hesitate to try it on a shaky head, Texas rig, or Carolina rig as well!




Z-Man TRD SpinZ Tail Spinners - NEW TERMINAL TACKLE - May 16, 2019
Add a little bit of flash to your favorite ElaZtech softbaits with the TRD SpinZ tail spinners. Featuring a stainless centering pin, the TRD SpinZ can be easily inserted into the 10X Tough ElaZtech material and locks securely in place thanks to the molded plastic dual-prong keeper. Adding the TRD SpinZ to the back of a standard Finesse TRD Ned Rig creates a unique finesse rig. Both blade types and colors have been added.




Z-Man MinnowZ - MORE COLORS - May 15, 2019
Z-Man's top-selling bait worldwide, MinnowZ replicate the look, action and strike-evoking attraction of a live minnow. Whether chasing largemouth, smallmouth, stripers, flounder, sea trout, snook, or reds, this bite-sized paddle tail swimbait will quickly become one of the most productive and versatile baits in your arsenal. Colors New Penny, Pearl, Rootbeer/Chartreuse Tail, and Smoky Shad expand our selection.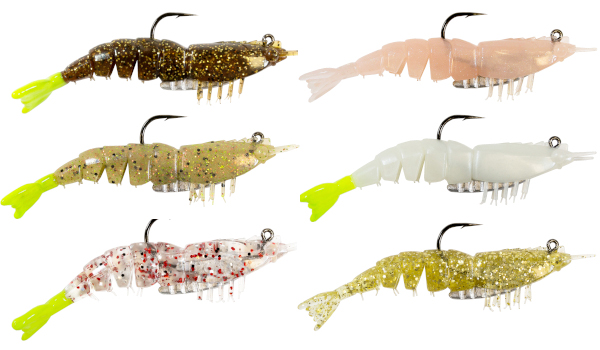 Z-Man EZ ShrimpZ Rigged - NOW AVAILABLE - May 15, 2019
An ultra-realistic, pre-rigged shrimp imitator that's ready to fish straight out of the package, the EZ ShrimpZ is equally at home whether fished beneath a popping cork or free lined. Its durable, buoyant ElaZtech® construction outlasts other shrimp imitations and facilitates a slow, controlled fall on slack line that produces the look, movement and feel of "the real McCoy".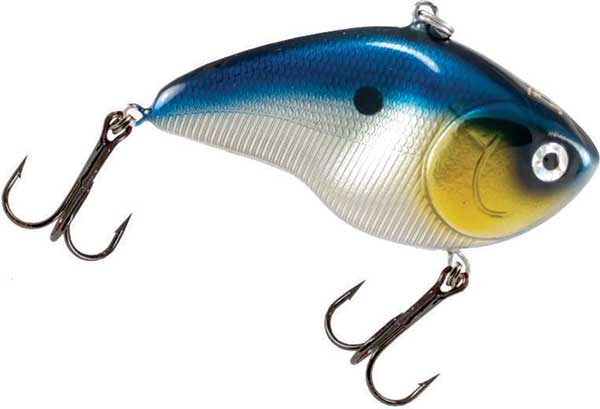 Luck-E-Strike RC Series Hail Mary - NEW HARD BAIT - May 10, 2019
The Hail Mary lipless crankbait is designed to be a medium profile extremely long casting lure. The Hail Mary is made from plastic with a thin tail profile and large belly cavity to contain the weight needed to function correctly. The Hail Mary being weighted two different ways allows for different techniques, water depths and conditions to be exploited with the same profile lure.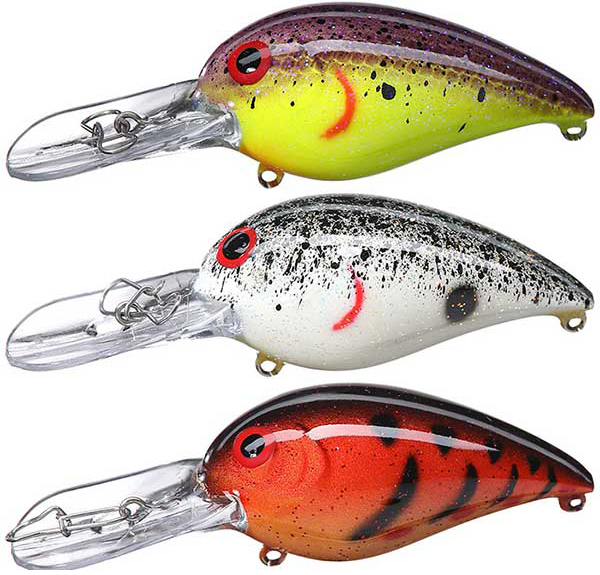 Luck-E-Strike American Original G5 Crankbait - MORE COLORS - May 10, 2019
The G5 is a premium lure at an affordable price. It offers a semi-wide wobble, dives quickly and generates excellent deflections. They are made of a softer plastic and glued together rather than sonic-welded. The softer plastic provides a duller and more realistic sound and is not as susceptible to breakage or cracking. Colors Cajun Baby, Egg Shell Splatter, and Mr. Watson have been added to our selection.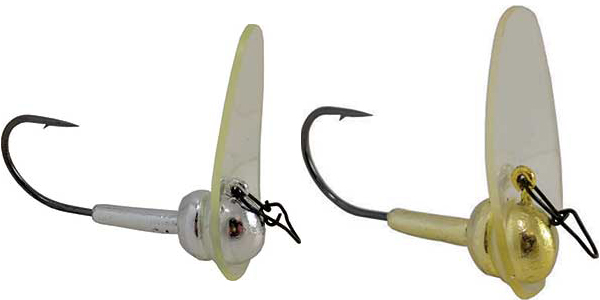 Luck-E-Strike Scrounger Jighead - MORE COLORS - May 10, 2019
The Scrounger can be fished like a casting or swimming jig to give you ultimate action. The Scrounger makes most soft plastics come alive. Chrome and Gold have been added to offer all colors.




Z-Man ElaZtech Trout Trick - MORE COLORS - May 10, 2019
Developed and popularized by former tournament bass angler and saltwater guide Bob Sanders, the TroutTrick is absolutely deadly not just on spotted seatrout, but also redfish, flounder, stripers, bass, and more! To fish the TroutTrick, simply give the rod two sharp twitches, then allow the bait to fall vertically to the bottom on a semi-slack line. Color Rootbeer/Chartreuse Tail is now also available.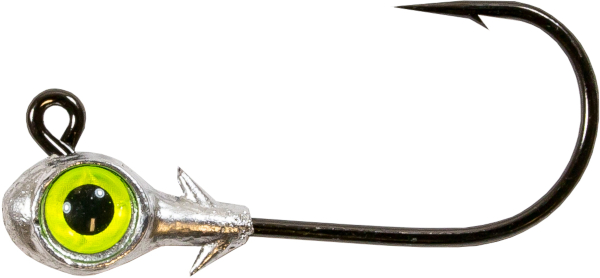 Z-Man Trout Eye Jigheads - FULL SELECTION - May 10, 2019
Built with the largest eye possible for this jig size, the Trout Eye Jighead allows inshore anglers to capitalize on gamefish's instinctive feeding habits. Perfectly balanced for use with a variety of soft plastic bait styles, Trout Eye Jigheads feature dual super-sharp keeper spikes that hold even 10X Tough ElaZtech plastics securely. Color Chartreuse has been added to offer their full selection.




Z-Man Scented PaddlerZ - MORE COLORS - May 10, 2019
A segmented body and thin paddle tail allow the PaddlerZ to be fished twitching, waking, or as a swimbait on both fast and slow retrieve speeds. Perfect whether paired with a jighead or a weighted swimbait hook, the PaddlerZ is ideal for both inshore saltwater applications or freshwater anglers for topwater applications like buzzing or as a swim jig or umbrella rig trailer. Color Sexy Mullet adds to our lineup.




Z-Man Scented Jerk ShadZ - MORE COLORS - May 10, 2019
The 5" Jerk ShadZ is a super-lifelike, salt-impregnated soft jerkbait with a lively, split-tail design. It's ideal for popular inshore targets like redfish, seatrout, flounder, and snook, while freshwater bass anglers have found it to be effective as both a surface twitchbait for largemouth and a drop-shot bait for outsized smallmouth. Color Laguna Shrimp expands our selection.




Z-Man DieZel MinnowZ - NEW COLOR - May 10, 2019
Unparalleled softness, action, and ElaZtech durability merge to create the most bulletproof swimbait on the market. Inspired by Z-Man's renowned three-inch MinnowZ, fresh and saltwater anglers alike will find that the DieZel MinnowZ's hook slot and split dorsal fin provide easy weedless rigging and problem-free hooksets. Now stocking new color Hot Snakes and more.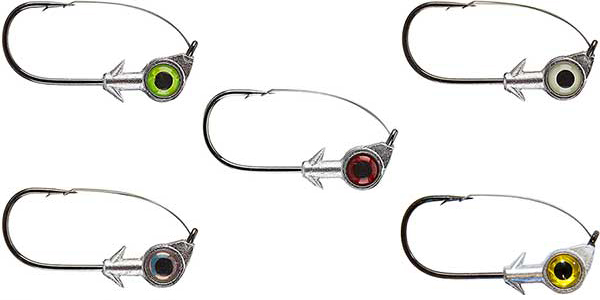 Z-Man Weedless Eye Jighead - NEW JIGHEAD - May 10, 2019
Built with a custom wire weedguard engineered to prevent fouling or snagging when pulled through vegetation, wood, or oyster shell while still allowing for easy hooksets, the Weedless Eye Jighead features the same dual conical trailer keepers and heavy-duty Mustad UltraPoint hook that have made the other jigheads in the Eye Strike family so popular. All colors and sizes have been added.




Z-Man TT Lures HeadlockZ HD Jighead - MORE SIZES - May 10, 2019
Built around extra heavy-duty Mustad UltraPoint hooks, anglers now can pair the toughest plastics around with equally tough jigheads. HeadlockZ HD are ideally suited for everything from inshore flats fishing to bluewater jigging and are engineered to be rigged easily with and to securely hold ElaZtech plastics. 1/8 oz and 1/4 oz sizes have been added in the 4/0 hook option.




Z-Man Finesse WormZ - MORE COLORS - May 9, 2019
When rigged Texas style, on a drop shot rig, or on a shaky head, salt-impregnated Finesse WormZ's soft body and natural action are ideal for virtually all finesse presentations. Particularly deadly when fished on a Shaky HeadZ, their tails stand up off the bottom every time thanks to the buoyancy of the ElaZtech material! New color Bubble Gum and PB&J are now available.



More Messages:
<<
1
2
3
4
5
6
7
8
9
10
11
12
13
14
15
16
17
18
19
20
21
>>