Jim Hammond
Honda Marine, Shakespeare, MirroLure, Fathom 12, Power Pro, L&S Lures, Fish Bites, Battery Depot, Deonas Boat Works, Dolphin Electreel, Fortress marine Ancors, Power Pro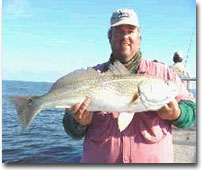 Jim Hammond is a native of Jacksonville, Florida. He has been fishing with his father since he was five years old. He has since become a U.S. Coast Guard licensed captain and a dedicated fisherman in the waters of northeast Florida.
From the St. John's River to the feeder creeks of the Intra Coastal Waterway, and the river jetties to the Atlantic ocean, Jim Hammond can help you catch red bass, speckled trout, jack crevalle, blue fish, flounder, sheepshead, shark, tarpon, black drum and many other species you haven't even thought of.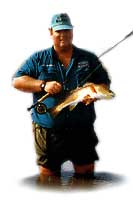 Jim is also the host of Fun Fishing with Captain Jim Hammond, a television fishing show that airs in Jacksonville, Atlantic Beach, Jacksonville Beach, Neptune Beach, Ponte Vedra Beach, Seminole Beach Florida and Orange Park, Fl: Tuesday evenings at 7:00 p.m. and Sundays at 8:30 am on cable Channel-7, WTWN. Airing to over 500,000 homes. And South of Jacksonville on Time Warner cable chanell 53 and A1ATV broadcast chanell 22 on Thursdays at 7:30 pm and Sundays at 10:30 am.
To find out more about Jim Hammond, his television show, or charter services, visit his website at http://www.hammondfishing.com or drop him an email at [email protected]