Offshore Jacksonville, Has A Lot To Offer This Time Of The Year
By Jim Hammond

This past week I had the opportunity to join Jimmy Houston for a trip offshore in his new 26 foot Shamrock. The other anglers were his brother Houston Stephens, owner of Houston's Meat Market, Paul Clark and Aaron Bowden.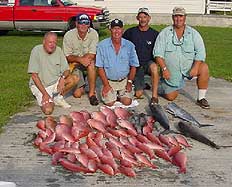 Houston first called me on Tuesday to ask me if I wanted to go that next day. I asked a few questions, as to when and where and his reply almost made me say OUCH. He wanted to meet at his store at 3:00 am, yes 3:00 am and he said they probably wouldn't be back to the dock until around 7:00 pm. I thought for a second or two, knowing that by the time we got back to Jimmy's house, cleaned the boat and fish, it would probably be 9 or 10 at night. I had a charter the next day and I knew that I had to get up at 4:00 am, which usually means going to bed about 9:00 pm. After a few seconds, I thought what the heck, I have gone without sleep before and probably will again, so I said, count me in.
I immediately went to work getting all of my camera batteries charged, arranging my tackle for this long day at sea. I also new that I would need my Dolphin Electreels. I never go bottom fishing in the ocean without them. I placed my new Exide Select battery on charge, got a box of Daiichi Circle wide and D-18 hooks, loaded a cooler with water, grabbed my bag with towels and rain suit and I was almost ready.
That night I knew that I needed to make it to bed early so I turned in about 8:30. I propped my head under two pillows and turned on the weather channel to get a last minute glimpse at the marine conditions. It didn't take long before I was out like a light.
About 1:15 am the alarm went off and I was out of bed like a bolt. Even after all of these years, the excitement of going fishing is still as fresh as it was many years ago. After my usual morning routine, I was off, headed for Houston's Meat Market, where we were to meet, before we headed to the ramp.
We were all on time and after picking up some bait from Houston's Store we were off, on our way to the Atlantic Ocean for a day of bottom fishing.
We went to the ramp, put the boat in and we were off, on our way to the Elton Bottom. The Elton Bottom is a large natural bottom about 43 miles east north east from the Mayport Jetties.
The ocean must have known that I was coming because it was laid down to about 1 foot with almost no wind.
The ride in the Shamrock took about two hours, as these are not the fastest boats made, but they are fuel efficient. After a nice ride, we were there, the Elton Bottom.
It didn't take Jimmy long to find the first spot and his recorder showed fish stacked up, waiting on us to drop a bait down to them. As always Houston was the first to get his bait down and the first to come up with a nice 3 pound beeliner (vermilion snapper). Paul sent his bait down and he to came back up with a nice beeliner. About that time Jimmy's Dolphin Electreel was working to bring up something nice. The Shakespeare 8 foot long rod that was attached to the Dolphin Electreel was bent and throbbing under the pressure of a very nice fish. After a short fight, up came a nice six pound red snapper, we were cooking now. About the time Jimmy got his in the boat, Houston was pushing the button on his Electreel and bringing up another nice snapper.
This action went on for some time before the bite seemed to slow down. Jimmy barked out, wind-um up, lets move. Paul got on the anchor and we were off to another spot.
We moved about three hundred yards and found another spot like the first. We proceeded to bring two to three pound beeliners and four to 6 pound snappers over the side like we knew what we were doing.
Houston had sent out a "flat line" ( a pole rigged with 20 pound test line, a high speed reel and a rod about seven feet in length with a live bait kingfish rig tied on to the line) and it was singing the sound that all fisherman like to hear. Houston grabbed the rod and handed it to Aaron as line was still screaming from the spool. After a short battle, Aaron had a 12 pound king near the boat, but the barracudas that Aaron had been feeding beeliners all morning had their sites on Mr. Kingfish. After some screaming and rod beating in the water, Aaron had landed what amounted to a Kingfish Head. The Cudas had eaten the rest of the king. These cudas were hungry. When Aaron got the king near the boat the cudas came out from under the boat and in a flash, ate everything but the head and if he would have left it in the water they would have eaten that also.
Houston rigged his flat line with another frozen cigar minnow and back out it went. It wasn't long before there was another fish screaming line from the spool. Houston decided to battle this fish himself. After about a 4 or 5 minute battle, with what we all thought to be one of those big cudas, up came a big kingfish. Houston lead the fish along side the boat to the gaff, that Jimmy slid into the fish and in the boat with a nice 40 plus pound king. After a few high fives and atta boys, we were back to fishing and Houston was back on the flat line with another nice fish. This time it was a 30 plus pound king. This was turning out to be a real nice day and it was only 10:00 am.
We fished the Elton Bottom for another few hours, picking up a few nice fish here and there. After a while we had to do a fish count as we didn't want to have more than our legal limit. When you get into a frenzy, you sometimes lose track of how many went into the box. Our count revealed that we could keep 3 more beeliners and 2 more snappers. Now that the box was almost full, mine and Aaron's enthusiasm had slowed just a tad. Houston, Jimmy and Paul were still hard at it, working on those last couple of fish.
We moved around to a few more spots, catching a fish here and there until we had all of the snappers and beeliners that we could keep. Jimmy suggested that we go back in a way and fish for some seabass. We all said lets go, so back toward land we went.
On the way in we found a marker jug and decided to check this out, to see if there was some good bottom near the jug. We eased up close and dropped a line just to see what was down there. Ka-whamm, the rod doubled over and after a nice battle, up came an 8 pound mangrove snapper. We were all jumping around again and my enthusiasm was back to high speed as I sent down a cigar minnow.
No sooner than it hit bottom, the rod thumped and I pushed the button on my Electreel. As this fish was coming up I could tell this was a nice one because my rod was doubled over. I was right it was a nice one, it was a nice pair of seabass. One about 4 pounds and one about 2 1/2 pounds. I am using Daichii Circle Wide hooks, so I do not set the hook, you just wind or in this case push the button. We were now in some nice seabass and a few grouper.
Back at we were, down with the bait up with a fish. This action went on for about an hour, until we drifted off of them and couldn't seem to find them again. We had now added some real nice seabass, a very nice grouper that Aaron caught and an 8 pound mangrove to the box.
We decided that we had been fortunate to have such a nice day and we would start heading back toward land before the big bad thunder storms started.
On the way back in we found a couple of new spots and had to give them a try for a few drops. These new spots produced a few more nice seabass, some snapper, that we threw back and an amberjack that tried to pull Paul out of the boat. On one of the new places, Paul sent down a double hook rig and came back up with two snappers.
As you can tell, we made it back home one more time and had a darn fine day. We had filled two big coolers and I think all of us except Paul were ready to come home.
What a day as you can see from the picture below. from left to right: Aaron Bowden, Jimmy Stephens, Houston Stephens, Paul Clark and Capt. Jim Hammond.
This fishing report brought to you by Honda Marine
Good Fishing
Capt. Jim Hammond
[email protected]
www.hammondfishing.com/