Fishing Florida's Rodman Reservoir
By Jim Hammond

I had another opportunity to travel southwest of Palatka, Florida to a place called Rodman, this past week. This is a place that has been the topic of many a discussion and heated talks. Rodman is a body of water that is a result of a plan back in the 60's, by one of our U.S. Presidents to cut a barge canal across the state of Florida, so big ships and barges did not have to go all the way around the tip to go from coast to coast. The barge canal idea has long been abandoned, leaving a flooded forest called Rodman.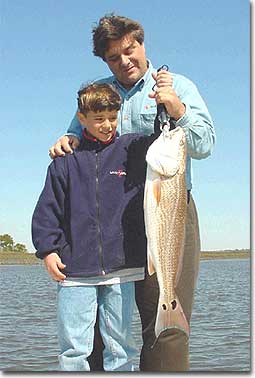 Well, 40 years later, Rodman produces some of the best freshwater fishing in the country. You can catch bass, bream, speckled perch, catfish and probably just about every species of freshwater fish that lives in Florida. This body of water is home to hundreds of ospreys, egrets, storks, alligators and many species of birds, turtles, snakes and other mammals.
Rodman has two seasons, High water and "THE DRAW DOWN". The latter being the only times that I have ever been there and I want to tell you, that during the draw down the fishing is FANTASTIC. The draw down happens once every three years and starts about December and last through March. The draw down is when the persons in charge of Rodman, drain the water level down about 7 to 9 feet below normal, to kill off some of the vegetation that sometimes chokes out other life. When they draw down the water, all of the fish that had hundreds of yards of area to swim are concentrated in the old river and barge canal channel.
This is a place that old and young alike can fish and have some of the best fishing either have seen in a while. You can take a can of worms, a few crickets and minnows and catch bass, bream, specks and catfish.
Here is a pattern that I discovered last week.
Houston Stephens of Houston's Meats and I were easing along on the trolling motor, pitching minnows along the timber and all of the sudden something wet and white splashed down next to the boat. Immediately a fish came from underneath the splash and boiled. I was out of the water as I was about to make another cast, so I was ready to respond to the boil with a cast in that direction. The little speckled perch float, took off like a rocket and when I tightened up on the line the little Shakespeare reel started to make that funny noise that all of us like to hear. Then the little Shakespeare reel started to really scream, what did I have? After about two minutes, I was still fighting what I thought was going to be a speckled perch, that might weigh 1 to 2 pounds. What I had hooked was substantially larger than that. Now, I was fishing with the smallest Shakespeare spinning reel made, a four foot long ultra light Shakespeare rod, on the spool was 10 pound test 2 pound diameter Power Pro line and my hook was a Daiichi D 16 # 6 Bleeding Bait Octopus wide. As this fish ran under logs and around stumps, I felt like I had very little control of it and several times I was sure it was going to get me under or around something and would be lost. After about 4 grueling minutes my tackle prevailed and I was able to land a feisty four pound channel cat. Even after I landed the fish, using my Boga Grip, Mr. Catfish did not want to give up.
Houston tossed his bait right in the same place and he also had a nice fight on his hands. He was using a 12 foot telescopic Shakespeare Wonderpole fiberglass pole and as the fish stretched the line, you could hear the wind whistle around it like a guitar sting that is so tight it is ready to pop. He also fought his fish for several minutes before we were able to put the Boga Grip on it. Another nice four pound channel cat. I wanted to try my luck with my telescopic fiberglass pole, so I tossed my bait back to the spot and was immediately hooked up on another nice fish. I had a little problem, I had picked up a pole that had four pound test monofilament tied to it and about 30 seconds into the battle I was wishing that I had just a little bit heavier line. It was all that I could do to keep the fish out of the timber and before long he had me straight lined and was gone. He broke my line when he made a run away from the boat and I no longer had the bend in the pole to cushion his sudden burst of power.
Houston was back in the zone with another bait and down his float went. This time he had something other than a cat, it was a 1 pound bass. By the time he had landed this fish I picked up a Shakespeare 9 foot long fly rod that I had set up for speck fishing. I had a small Shakespeare spinning reel spooled with 8 pound test attached to the rod. This light fiberglass fly rod is a great speck pole. It is light enough that all fish give you a good fight, long enough that you can doodle sock with it and with a small spinning reel attached, you can fight a fish that wants to take out line. I pitched my bait back in the spot and I was rewarded with another downed float, that resulted in a tight line. This fish seemed to be a little bigger than the others or it had eaten it's wheaties that morning. He headed up stream and the fly rod spinning reel combo did just as it was supposed to. He stripped line from the spool several times before I managed to get him to the boat. Another nice channel cat, about the same size as the others, about four pounds. Houston was back in the strike zone and was hooked up again. We managed to pull several fish of five species from under this tree that had several cormorants perched high on it's dead limbs.
By the way the splash in the water was the cormorants pooting. This seemed to chum up the fish. Think about it, cormorants eat fish, so when they digest the fish, what comes out of the other end must smell like fish and most of us that have ever used chum, used something that had fish parts in it.
The rest of the day was spent easing down the bank, pitching minnows along the timber, catching an occasional fish. We ended up with several nice channel cats, a few specs, some bream and we off course tossed all of the bass back. What a nice day we both had, easing down the river channel in Rodman.
To get to Rodman from Jacksonville, you can go south on US 17 to 19 west, to 310 west to 315 west. Kenwood boat ramp in about 1/2 mile on the left after you get on 315. From Jacksonville it is about 75 miles to Rodman. It is worth the drive.
Good Fishing
Capt. Jim Hammond
[email protected]
www.hammondfishing.com