Blue Water Fishing Out of Northeast Florida
By Jim Hammond

When I have heard Blue Water fishing, I have thought of species like marlin, tuna and wahoo, but there are many species that fall into the category of "Blue Water" fish. And this adventure is about one of the species that I had the opportunity to target a couple of weeks ago.

What exactly is blue water fishing? Is the entire ocean not blue? Yes it is, but, the color of blue change from the inshore color to the ledge color. The ledge or blue water color has a sort of clear bluish purple look when you look straight down. It is a color that one remembers for a long time, as you can almost see the bottom it is so clear.

In northeast Florida, when you think of blue water fishing, you also think of a long run, as the ledge is about fifty to sixty miles out and in most boats this means a 2 to 3 hour ride each way.

This particular morning, the crew was Joe Julavits, Ron Gunter, the captain, Ronnie Surrency and Myself. We had planed on meeting at the lighthouse boat ramp in St. Augustine at around 5:00 am. This meant that I needed to get up about 3:30 am. Now this is getting up early, or as my father-in-law would say, why go to bed at all.

This was the first time that I had gone with Ronnie and I was excited to see how his 27 foot Conch handled the Atlantic Ocean.

Ron Gunter and I pulled up into the boat ramp parking lot at about 4:55 am, to see our buddy Joe but NO Ronnie. Well, he still had a few minutes. I had stopped and got coffee and donuts and Joe was glad to see a little breakfast before the start of our long day. You know, there is nothing like a cup of hot coffee and a donut while you are hanging out at the boat ramp at 5:00 in the morning. Just as we were about done with our breakfast, Capt. Ronnie pulled up with our ride in tow, a 27 foot long Conch, loaded down with shinny gold reels, awaiting to have their string stretched.

We loaded our food and drinks, launched the boat and we were off. On our way, to do some blue water fishing in Northeast Florida.

Capt. Ronnie has a pretty neat set up for the ride out. He gave me a bean bag and said take a load off. I tossed it in the back of the boat and proceeded to get in and get comfortable. I arranged the bean bag so my head and back were in it and my lower half on the deck. This made for a very comfortable ride and it was not long before I was sawing logs, "sound asleep".

After about a 2 hour ride, Capt. Ronnie brought the boat off of plane and when he did this, I was to my feet and ready to catch the species that we had come for, Mahi Mahi.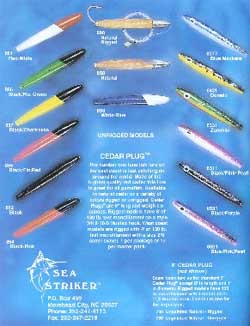 Cedar plugs come in an assortment of colors, both rigged and un-rigged.
We all stayed out of Ronnie's way as he sent out the different baits, both Ballyhoo and Cedar Plugs. Most captains have their own way of doing things and it is usually best to just stay out of the way. Ronnie had some ballyhoo baits already rigged and they were the first to go out. He also have a few Cedar Plugs that were rigged and ready for deployment in the bright blue ocean.
I got to talking to Ronnie about the cedar plugs , as this was the first time that I had seen them in action. I had always had the idea that they were ONLY for tuna. He quickly changed my opinion of that with the first fish. The baits were out maybe 5 minutes and we were already hooked up and on one of the cedar plugs. Joe quickly grabbed the rod and the fight was on. After a few minutes, Joe had a nice 10 to 15 pound Cuda and it came on a cedar plug.
We released this fish as the targeted species was not Cuda. As Ronnie sent the cedar plug back out, I watched it and was paying close attention to the action as it darted through the water. This plug went from side to side, then down, then up, then back to one side and then the other. What a lure. This lure had some of the best action that I had ever seen from an artificial lure.
I had to have some of these and when I got back to the dock I was going to call my friends with Sea Striker and buy a few. For those of you that have never seen a cedar plug or seen one in action, you have done the same as I, missed out on what is a killer lure and is the easiest to rig and fish. Just run a line through it, tie on a hook and you are ready to go, or you can purchase ones that are already rigged. How simple is this. I had asked Ronnie to leave one of these close to the boat, so I could watch the action, so he sent one out on the short line, only about 75 feet behind the boat.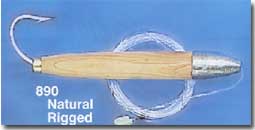 I was watching this so hard and with so much concentration that I was sort of mesmerized, when the next strike came and on the cedar plug that I was so intensely studying. I saw the fish come from the deep blue water and strike the cedar plug as it danced from side to side, what an eye opener.
Joe again grabbed the rod and battled this fish, another Cuda.
We continued heading east, towards deeper and bluer water, when one of the out riggers went off and the reel started making that funny sound as if something is screaming line from the spool. This fish was not a cuda, this was what we had come for. Once again Joe grabbed the rod and the battle was on.
See, Ronnie does not stop the boat or slow down much, so you are fighting the fish and the boat speed. Joe was having fun now. The fish jumped a couple of times and in a split second, swam from one side of the boat to the other. It screamed line from the spool and swam back and forth from one side to the other. After about 3 or 4 minutes, Joe had control of the fluorescent green and blue fish. Joe had now brought the fish up to the side of the boat, where Ronnie grabbed it and in the boat it came. What a fish, green, yellow and blue.
Alright, we had found our quarry, Mahi Mahi.
We had left a few baits out and I thought we might have hooked up on another one or two or three, but just that one.
The reason that I figured that we might have more than one on is, most of the time when you have a Mahi Mahi (Dolphin) on, you have a very good chance in catching more than the one on the hook, if you leave a bait or two in the water. Most dolphin do not swim alone and for some reason the other ones will follow the hooked fish right to the boat. So it is always a good idea to leave at least one bait in the water while you are angling the fish.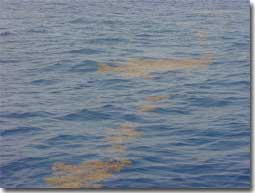 A nice weed line like this can produce Dolphin
Ronnie was quick to get the rest of the baits back in the spread and back in search on another dolphin we were. Not long and we were hooked up again. Now it was my turn to try my skills at angling a fish. Another dolphin and this was a little nicer fish. He came out of the water flew from one side of the boat to the other as if he was jet propelled. This fish had no intentions in coming in easy and he made me work for him as he ran under one line and over another. This is the down side to leaving lines out while you have a dolphin on. They like to go from one side of the boat to the other, sometimes several times during the battle but we managed to get all of the lines squared away and he soon came along side where Ronnie slipped the gaff into him and in the boat he came. Alright another dolphin. The plan was working, we were catching the targeted species and having a hoot doing so.
If you have never been on a boat when a blue water fish gets one, you have to give it a try. The excitement is something that you will remember for a long time. The fish gets on, line screams from the reel, the fish jumps and swims from side to side. All the while you are trying to keep the boat going straight and keep the hooked fish out of the other lines. This is sometimes called a Chinese fire drill from the few moments of total pandemonium as everyone is running around like a FIRE DRILL.
When we were landing this fish, we had slowed the boat to an idle and this allowed the baits to fall from the surface to the depths and of course while none of us are ready, we had two baits get strikes. Both appeared to be dolphin and both were short lived on the hook. When the boat is going at an idle and the baits are slack, there is not enough tension on the line to get a good hook set. That is what seemed to happen with both of these as the fish grabbed the bait, pulled the line from the outriggers but did not get a hook deep enough to keep the fish on.
We quickly bumped the speed back up and got new baits back out. We trolled for a little while longer and we were hooked up again. Joe quickly grabbed the pole and he was doing battle once again with a fish from the deep blue sea. See, Joe was on vacation and was trying to set a personal record as to how many fish he could catch while on vacation, so we let him wind in most of them.
After a few minutes another cuda and as it came to the boat we had a double knock down (a fish pulled the lines from the outriggers). A sailfish on one side and a dolphin on the other. Ronnie was still helping Joe, so I quickly grabbed one rod and sent it back as fast as I could (put the reel into free spool so the bait would fall back to the fish that had just hit it). For just a split second I had the sailfish on as he came back for the bait. I locked down on the free spool and felt him for a second and then he let go.
Dad burn, we had missed our chance at a sail. When some striking fish hit a trolled bait, they will bite the baits lower half off as they swim by. They will then come back and catch the injured bait as it falls towards the bottom. This is why it is so important when you have a bait that is struck but you are not hooked up, to let the bait fall back to the waiting fish. To do this you open the bail with a spinning outfit or put the reel into free spool with a trolling reel. I usually send line out until I feel the fish on or have sent out about 100 feet. You can sometimes send line out and then lock the reel down and when the bait starts to take off from the fish, he will strike it again.
We now had no baits in the water so we all had to work to get the lines cleared, baited and back in the water. As soon as we had all of the lines in, pop, went the outrigger and that familiar sound that is associated with a fast swimming fish going away from the boat was coming from the reel. Once again Joe was on the reel and was having more fun that he could almost stand. Ron Gunter was on the wheel, Capt. Ronnie was helping clear lines as this was the nicest fish of the day and we did not want him tangled in the other lines. That left me, to operate the camera. Did I mention that we were filming a blue water show? The four of us had been out there for several hours and had caught about ten fish by now, so we sort of had a routine down, all with our separate duties. On this fish it was like a well oiled machined. Everything went as it was supposed to and the fish cooperated and stayed on the correct side of the boat for most of the fight. As I zoomed in on the fish, I got a better perspective of it's size and it was a nice one, about 25 to 30 pounds. We needed this fish in the boat.
Joe was now in the Gott fighting chair and seemed to be in control of this fish. I concentrated on getting footage of Joe groaning and the fish swimming as Ron kept the boat pointed in the right direction. Capt. Ronnie was helping Joe angle the fish and had now cleared all but one line. We decided to get in all but one line, so this nice fish did not end up getting tangled up and getting off. There are times that you have to concentrate on the fish that is hooked and not worry about what you might catch on another line.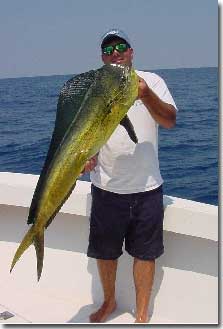 Capt. Ronnie Surrency with a nice dolphin
After about eight minutes, Joe had the fish along side, Ronnie slipped the gaff into him and in the boat a nice 25 pound dolphin came.
We were jumping around high fiving and attaboying each other for the job well done, especially on the part of Capt. Ronnie for putting us on these nice fish.
After our celebration we trolled around for a little while longer with an occasional cuda, before we decided that we had better head back in. See, we had been going east (away from land) the whole time and we were now about 70 plus miles offshore. We knew this was going to be a 3 hour ride back to the dock and both Capt Ronnie and I had charters the next day.
What a day Blue Water Fishing. We had over 10 fish and all had a great time.
For a day of blue water fishing with Capt. Ronnie, you can call him at (904) 744-2999 or call me at (904) 757-7550.
Here are a few things to concentrate on when Blue Water Fishing:
Look for bait. The bait of choice is flying fish. If you find a good concentration of them then you have a good chance of finding fish. Look for weed lines. Dolphin like to get under weed lines, so this is a good place to troll around.
Mix up your spread (the way that your baits are trolled). Send some out a long way, some on the surface, some deep and some close to the boat.