Party Boat (Deep Sea) Trips
By Jim Hammond

Party boat fishing is a style and type of fishing unlike most other fishing. You can do several things on a party boat to make it a trip of a life time or a hanging over the side chumming trip. Here are a few tips to make the trip a very good day.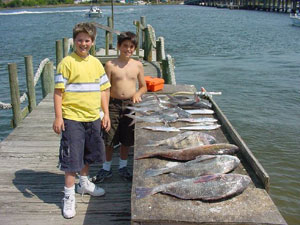 Keep in mind you are not going out with your buddy next door and if you get sick, he will bring you back to the dock. On one of these boats there are between 30 and 60 other people and you will not be brought back to the dock if you get sick. These boats are usually farther off of the water than your neighbors 26 foot boat and this results in more of a rolly poly motion when at anchor. If you are the slightest bit concerned about getting sea sick, DO NOT wait until you are chumming to take something. By then, it is too late and nothing works to make you stop the chum line. I recommend that all of my clients that want to go to the ocean, take a motion sickness pill before going to bed the night and another when they get up that morning. There are several other remedies for motion sickness, the wrist bands, patches and now some device that looks like a watch, with an adjustment for different amounts of pressure that you can place on the wrist, for varying degrees of prevention. I personally prefer the pill, because I have recommended it for over 20 years and I have only known of a few times that it did not work.
Another thing about getting sea sick is, if you sit in your house in your rocking chair and tell yourself, I am going to get sick, I am going to get sick, over and over, you will eventually be sick. The point that I am trying to get across is, DO NOT think about it. When I leave the dock heading for the ocean and I do not have to drive, I like to take a nap. I lay right down on the deck and sleep on the way out, this is some of the most restful sleep that you will ever get and you are not thinking of being sick.
Now that we have pretty well covered that, lets talk about the fishing part of this trip.
After you have made the run and the captain is getting ready to drop the anchor, you should be getting ready for the catching part of the trip. Yes, catching not fishing. If you are with a good captain, you will be catching. Now, what is it, that you want to catch. Do you want a chance at one or two big fish, such as red snapper or grouper, or do you want to catch a cooler full of smaller fish, like seabass, vermilion snapper or trigger fish?
If you are interested in trying only for the BIGGGG fish, this is how Houston Stephens of Houston's Meat Market does it, and he is the best bottom fisherman that I have ever seen. By the way he is giving away an 18 pound red snapper on Tuesday, May, 1st. The only thing that you have to do to have a chance to win this is to go by and register at his store, located at 12545 N. Main Street. The drawing for this very nice red snapper, that he caught on the Mayport Princess on Sunday will be at 4:00 pm on Tuesday, May 1st.
He starts out by bringing his own tackle, rods, reels, leader, sinkers and hooks. His rod consist of a Shakespeare Big Water Ugly Stik, model BWB 1120 8' long, heavy action. He says "the longer the rod, the more distance you get on the hook set". He then uses a reel that will hold about 200 yards of 80 pound test monofilament. From there, here is his rig: slide an 8 ounce egg sinker on the line then tie on a 200 pound test barrel swivel, then to the swivel tie on, 5 to 6 feet of 100 pound test monofilament leader, then a Daiichi 8/0 D-18 hook. For the bait he prefers a fresh cigar minnow. He starts the hook in the tail and bends it around the fish and hooks it again about one inch forward of the first place the hook went in. Send this to the bottom. The bite is going to feel like a few small taps. Let the fish chew on the bait for a few seconds. When the fish starts to move off with the bait, SET THE HOOK and wind. If you were successful in the previous steps, there will be NO DOUBT that there is a fish on.
Now for the smaller fish such as seabass, vermilion snapper or trigger fish:
Use the same rod as above. I like the Shakespeare Tidewater Bigwater model TW 50 LA reel. This reel has a level wind and is tough enough to get the big boys up from the depths and in to the cooler. I like 50 pound test on the spool, from there I make a dropper loop at the end of the line. I use this to attach a bank style sinker. This way, I can change the weight of the sinker without having to cut my line. Use enough weight to get the rig to the bottom. From the sinker come up about eight inches and tie another dropper loop. Do this about three more times, all bout 6 to 8 inches apart from each other. In the loops put a Daiichii D-18 4/0 or even better a Daiichii D-82 Circle Wide in 3/0. Now for the bait: I prefer a small piece of cut bait, about 1 inch by 1 inch. You are now after smaller fish that have smaller mouths and a big piece of bait will not fit in their mouth. Send the rig down to the bottom and then crank it back up about 2 to 3 feet from the bottom. If you are using the Daiichii circle wide hooks then just hold the rod until you feel about four good bites, then come up with it and you should have a few fish on. If you are using the Daiichii D-18, you will need to set the hook on each bite.
If you follow these instructions, you should come home with plenty of fish and have a darn good time. There are two Party (Deep Sea) boats in the Jacksonville, Florida area, the Mayport Princess and the King Neptune. To book a day with either of these boats you can call 241-4111.
Now for some Inshore action:
The creeks are still fired up with reds. If you can get an early morning low tide, and you can make very long cast, you can catch a few real nice reds on top water. Try the MirrOlure Top Pup, this lure has been working for me. If you prefer to fish the creeks with a jig and shrimp, you should be able to persuade a few reds and trout to eat your bait. The flounder are starting to move in the creeks and river and you know how good they eat. Be sure to save me a few.
For trout, try a jig and shrimp or a jig and minnow. Put your trolling motor down and ease along the edges tossing the edges tossing along the sides and slowly winding back to the boat. This should be productive for some trout and an occasional blue.
The spanish have slowed at the jetties, but there are good numbers in the river around the flats past the Fuller Warren Bridge.
The Jacks are showing up in fair numbers in the creeks and ditch. I like to throw a fly pattern that looks like a minnow. Be sure that you have a stout rod, because some of these bruisers are pushing 8 pounds.
Offshore:
There are starting to be a few kings show up at the outside reefs and the bottom fishing is fantastic. Dennis Young reported two days last week of limits on bottom fish by 10 in the morning.
The Jetties:
There are still good numbers of reds, drum, sheepshead and a pile of 3 to 5 pound sail cats at the jetties. For these fish try a large fresh shrimp on the bottom, fished in about 30 to 50 feet of water. There are also some real nice blues to 10 pounds along the rocks. Try a silver spoon, cast into the rocks and worked back out. Be ready for the strike, as it seems like the fish are swimming 50 miles per hour when they hit.
For charter information you can call me at (904) 757-7550, email me at [email protected] or check out my website at http://www.hammondfishing.com.