Trout, Get-um While the Getting is Good
By Jim Hammond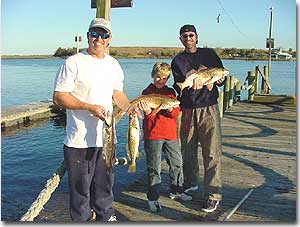 As you all know, or maybe you don't know, Trout season is closed for the month of February in Northeast Florida. That does not mean you cannot catch them, it just means that you cannot keep any of them. For those of you that are interested in catching them now and catching them in good numbers here are a few tricks that might help to get a trout dinner or two, or three.

1. Chunking and Winding

You can do this with a spinning or baitcast outfit. Get a combo that cast long distances and has a soft but sensitive tip. Spool the reel with a line that will allow you to fish the edges of drops and around the deeper submerged oyster mounds without loosing your bait from the abrasive oysters. The baits can vary in style color and shape and when you find the concentrations of fish, you can have fun with almost anything in your box.

I like to start by heading to the first deep creek that I can fish without a lot of boat traffic. I then drop my trolling motor, and start chunking and winding. I try to concentrate working my bait from the edge of the shoreline, all the way back to the boat. See, the idea is to find these fish. Usually, once you have caught more than one fish in the same area, you have found a concentration and you should be able to put several in the boat from that area.

I try not to run my gas motor or make a lot of noise in the area that you want to fish. As a rule trout are a spooky fish and don't like a lot of disturbance in the water, like big motor sounds or dropping things in the bottom of the boat.

Here are the outfits and baits that I like to use for chunking and winding for trout this time of the year.

I use a Shakespeare 6 1/2 to 7 foot long spinning rod, like the GSP 1170-1M or the SPI 3070-1ML with the Tidewater SS 4835 reel. Both of these rods are sensitive and yet have the soft tip needed to fight Mr. Trout without tearing a big hole in his mouth. If you spool this reel with 10 or 20 pound test Power Pro braided line, you will be able to add about 30 to 40 percent more to the distance of your cast. Back off on the drag just a little, you don't want to rip the hook out on the fight. The baits that I have had the best success with in the past two weeks are: Jaw Jacker jig head 1/4 to 3/8 ounce. To that, I impale a Sea Striker 3 1/2inch curly tail grub. The colors that have been the best for me are white with a pink or chartreuse tail. The Sea Striker Tout Killer in pink and clear or green speckled have also been producing good numbers of nice trout. For those of you that like crank baits, try a MirrOlure 65M, 52M or the 33MR. All of these baits sink and work well on trout. You can also throw a small spinner bait. Yes, spinner bait, like the ones you use on largemouth. Use the ones with a small profile and small blades. I like the chartreuse and white skirts.

Working the baits:

With these baits, you will want cast them out, let them sink to the bottom and slowly wind them in, working them with a twitching motion. I constantly wind, slowly and twitch the rod at the same time. When the fish strikes, you will know, because they are slamming it.

2. Trolling

This is best done with a baitcast style outfit. Try the Shakespeare CAI 1170-1ML rod with a Pflueger Trion 46 or 56 reel. I spool the reel with 20 pound test high vis yellow Power Pro and to the end of that tie on the smallest barrel swivel that you can find. I like to use either fluorocarbon or monofilament that is the same color as the water that you are fishing, as the leader. Tie on a piece about 3 1/2 feet long and to the end tie on a Jaw Jacker 3/8 ounce jig. Come up on the leader about 1 1/2 feet and tie a dropper loop or any kind of loop and tie on another jig head. Use the same Sea Striker baits as above on the jigs. You can also use a MirrOlure 28MR tied to the end of the leader and a 1/2 ounce jig head in the center of the leader, this is a deadly combination when trolling for trout, but is a little tricky to use.

Put the big motor in gear, at and idle, let the trolling rigs out behind the boat about 50 feet or so. The length they are behind the boat is very important. It might take you a while to find the correct distance. If you are new at trolling, send out three lines at varying distances. When you catch a fish, send all out to the distance, that pole was.

When you make a turn, the inside bait is going to go deeper and might get hung on the bottom and when you turn around, I like to wind in all but one rig or YOU WILL, have a big tangled up mess. If you don't think your baits are down deep enough, you can add a small weight in front of the swivel. If your boat is going too fast you can drag from amidships, a 5 gallon bucket or a sea anchor.

3. Fly Casting

If do not have these fish rounded up, try one of the above to find them. Once you have found a concentration, you will need a rod that can handle a 50 foot plus cast, try the Shakespeare Intrepid FY 309089, 8-9 wt rod with the Pflueger Supreme fly reel. Spool the reel with 10 wt, weight forward line, fast sinking is best but floating will work. (Using a fly line that is one or two weights heavier than the rod weight will increase your casting distance by 20 to 40 percent.) Your leader needs to be as long as you can get away with throwing. For the fly's, these will all work: Gotcha, Cape Cod Sand Eel Fly, Clouser Minnow, Bead Eye Clouser or the Bend Back. The colors that I like are, chartreuse and white. The heavier the fly the better, as you want it to sink and stay near the bottom.

When you find them cast into the area that is holding the fish, let the fly sink and make four to six inch strips, trying to keep a tight line and trying to keep the fly down, all the way back to the boat. The strips should be brisk enough to make the fly jump up nad off of the bottom, just like a shrimp would.

I hope you are able to use some of this to make for a good day on the water.

Catch some local fishing action Tuesday nights at 7:00 pm and Sundays at 8:30 am on cable channel 7 in Jacksonville, the Beaches and Clay County and Thursday nights at 7:00 pm and Sundays at 10:30 am on channel 22 in St. Augustine and St. Johns County.