Fishing the Guana River
By Jim Hammond

In northeast Florida when the nor'easters start to blow there is a sound that some of the local fisherman have been known to make. I first heard this sound when I was a young fellow of about 7 or 8 years old. It was an early October day and the wind was howling from the northeast, when I heard my dad say to one of his friends "GUAAAANA". At that time I had no idea what he was trying to tell his buddy, but it didn't take long for me to figure out what "GUAAAANA" meant.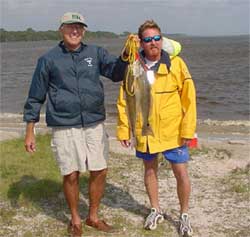 Shortly after I heard that sound, we loaded up the truck with fishing and crabbing equipment, awaiting the next morning. The alarm went off early the next morning and I was my usual sleepy head and did not want to get out of the nice warm bed, but after some persuasion from dad I was up and dressed and ready to go to GUAAAANA. He went outside and checked the wind which was still blowing from the northeast at about 15 plus miles per hour.
This was back in the days when moms got up and had a hot meal on the table for their family before a day of fishing or hunting and my mom had fixed my favorite, "something to eat". After breakfast we were off to Guana River Wildlife Management Area.
This was the first time that I had been to Guana and boy was I in for a treat. We arrived just as the sun was breaking the horizon and the crowds had already started gathering around the dam (three or four large pipes that separated the saltwater Guana River from the fresh water of Lake Ponte Vedra). These pipes had flaps over the ends on the fresh water side that would allow the water from the saltwater side to come in on very high tides but would not let it flow back out. This is the key to the wind blowing out of the northeast at 15 plus or better. In this part of the state, when there is a big northeaster the wind pushes the water from the ocean into the river and makes for a higher than normal high tide, sometimes a couple of feet higher.
We unloaded the truck and began to set up for what was going to be one of the best fishing crabbing trips I had ever been on.
We took the crab lines, tied on a chicken neck to each, walked each into the water. drove them into the sand and tossed out the chicken neck. After this was done to about twenty lines, it was time to check the first one and it had a crab just a pulling on that chicken neck. My dad showed me how to ease the line toward me, gently easing the landing net under the crab and then lifting the net up with my bounty in the net, a big blue crab. This was fun, but only a small portion of the fun that I was in store for at GUAAAANA. We crabbed for a while until the water started to flow in from the saltwater side. We then went to the pipes with rod, reel and bait in hand. We climbed up on the pipes and out over the water, dropped our lines in and before I was able to close the bail, I was hooked up. After a few turns of the reel handle and some grunts and groans, I landed a pretty nice redfish. I baited back up and repeated this action many times before the water stopped running in and the action at the pipes stopped. My tally of over 30 fish included, redfish, trout, black drum and flounder, what a day. While I was fishing, my dad and one of his buddies had been crabbing and they had managed to catch three, 30 gallon trash cans full of blue crabs.
Forty years later things have changed, gas is no longer a quarter, your kid has to wear a helmet when ridding his/her bicycle, the word airbag has more that one meaning and Guana has also changed. It is still common to answer the phone on a day when the wind is howling from the northeast and hear one of your fishing buddies say "GUAAAANA". This seems to be the only thing that has remained the same when it comes to fishing in a big nor'easter.
The pipes where I sat as a boy catching fish after fish have long been replaced by some sort of system that allows the state to control the water flow, both coming and going. You can no longer keep everything you catch, this is a good thing. The fishing at Guana is nothing like it was when I was a kid but it is still pretty good most of the time when a big nor'easter blows.
Here is where Guana is and how to fish it from shore.
For those of you that have never heard of Guana River, it is located approximately 12 miles north of St. Augustine on A1A. It is now a state park and cost two dollars per vehicle to enter the park. You must have a valid freshwater license to fish from the dam north. If you are going to fish in a boat, you cannot have a motor larger that 10 horsepower.
When the wind is from the northeast at least 15 to 20 mph, you need to be there an hour before high tide at the St. Augustine or Mayport inlets. You can fish three rods and reels per person, so you will need some pieces of thick wall pvc about four feet long, a big hammer and a block of wood. The pvc is to driven into the sand using the hammer and block of wood. These are your rod holders. You will need three rods per person, I like a spinning outfit that I can cast a VERY long way. I use Shakespeare 12 foot long surf rod with Shakespeare Intrepid 3880 reels. Spool the reels with 50 pound test PowerPro. From the end of the PowerPro slide on a 4 to 5 ounce pyramid sinker then a bead, then using a palomar knot tie on a swivel. From there tie on a piece of 20 to 30 pound monofilament leader about 2 feet long and tie to that a Daichii 3/0 to 5/0 Circle Wide hook. For bait I like shrimp but you can use mullet, cut bait or Fish Bites. After you have your rig ready and baited, you will need to make a long cast STRAIGHT out from where you are standing. You are going to be fishing pretty close to other fisherman and If you CANNOT MAKE A CAST STRAIGHT IN FRONT of where you are standing, you might want to stay home and practice before attempting to fish Guana. This is a place for serious fisherman and the novice is sometimes not tolerated very well. Now that you have made your cast, place your rod in the pvc rod holder, send out the rest of them and wait. This is a hurry up and wait type of fishing, hurry up and get there, hurry up and get your rigs out and then wait. If the conditions are right and you have bait on your hook, when it happens all of your poles will have a fish on. Then you are back to hurry up and get your fish in and hurry up and get your hook rebaited and back in the water. This action is usually a one to two hour bite and when it quits, you can load up and go home because it is usually over.
On a good day at Guana, you can still catch some very nice blue crabs, redfish, black drum, trout and flounder. On a bad day you have still been able to get out of the house or office and enjoy some of Florida's Nature.
This is also a good place to enjoy nature on some of the miles of nature trails back in the preserve. All of the nature trails are back in the woods so you will not have to put up with a bunch of redneck fisherman. The nature trails have observatory towers overlooking the lakes and creeks, so bring your camera for those photos of some pretty neat wildlife.
Remember mom and dad, spend some time with your sons and daughters taking them fishing and you will not be looking for them come Friday and Saturday nights, as they will be home in bed waiting to go the next day.
Don't forget to check out my website for other information on fishing this area and charter info at www.hammondfishing.com/.