Dan Fallon's February 2010 Fly Fishing Column
By Dan Fallon

Slovenia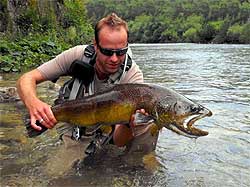 True world class fly fishing for Brown Trout, Rainbow, Brook, Danube Salmon, and the mysterious Marble Trout. Slovenia fly action exists in the North West area of the Julian Alps where fly fishing is a year round activity. Anglers can relax if this exotic fly venue sounds great for experts? Regardless of one's expertise either slow drifting sight work, wading shallow rivers or throwing long loops! Rok Lustruk and his seasoned guide team have worked with fly fishers no matter what level of experience.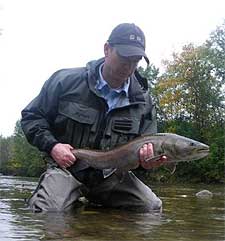 Early spring most years will find big rivers running high, Rok knows all the secrets and throws flies on many tributaries which are beautiful in the spring. Later when the flows slow down the larger river systems are more easily accessed." No question when the weather warms we love to throw dry flies and often do with great success." Sight fishing while drifting is always an adventure if the fly angler is experienced. It is absolutely necessary to be careful when planning an international fly adventure, especially in these sober economic times. That is why I carefully choose those adventures that can be easily verified via list of latest clients. If one is diligent in contacting and asking the right questions? Much disappointment can be avoided. I have first hand long time knowledge of Rok Lustruk's Slovenian fly adventures. This is my second update in the last few years. I highly recommend this young man and his seasoned guide staff. Eastern Europe is perfect for fly fishing as the weather and ice cold waters are not over run with tourists. If your international fly resume' is a little light on true adventure in exotic locals, perhaps Slovenia may be the answer as is it is well off the beaten path sportsfans.....
You Lookng For Varied Fly Waters Cowboy ?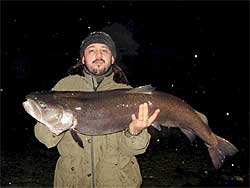 Rok is a most fortunate world class guide because Slovenia is almost a complete education in serious fly fishing wet and dry, streamer, you name it Rok has it on the menu'.
The Kokra River a tributary that connects the River Sava near Krang. Spectacular fighting wild Browns and big Rainbows with the added attraction of Greylings you can brag about! How about a Chalk Stream that could easily fit anywhere in New England? The Kirka special nursery smaller stream where big Browns live unmolested, Rainbows cruise surface hatches and Danube Salmon wonder like submarines, ahhh Chalk stream dry fly my favorite of all. Among the many kinds of waters available Trziska Bistrica tributary of River Sava that cascades from the Karavaanke Mountains perfect small and full of native Brown Trout! No matter what your taste Rok and his seasoned team can easily accommodate.
Contacts
www.lustrik.com
lustrik@ siol.net





Click Here for this month's story line of