Dan Fallon's December 2009 Fly Fishing Column
By Dan Fallon

Bamboo Man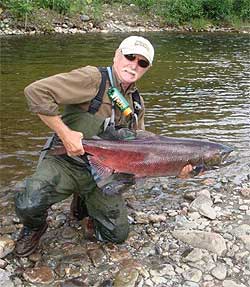 In the upper stratosphere of journeyman master fly fishers few have felt the strength and backbone of quality Bamboo equal to Jack Weston's experience! His story impresses me enough that my last 2009 fly column will feature this Bamboo Man and his latest wrestling match with a 20+lb King Salmon armed with a 60 year old five and a half ounce Phillipson that got the job done!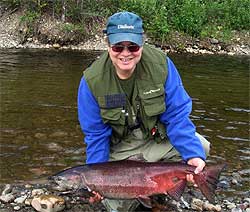 " My hands were both pretty worn out by the time I landed the 20-lb King. It took ten minutes to play it out. The King took two runs straight at me the Orvis Battenkill Mk IV Reel I was using came in very handy as it reels in very quickly! Toward the end of the battle the king made one last run to some rapids down stream. I then opted to land it before it would have broken off my line if it had made the rapids. "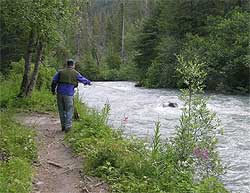 Mr. Weston's life long fly angling experience allowed him to make decisions mandatory in playing and landing big fighting fish. Once he was hooked up soundly he let the King Salmon have its way and run until it tired. In my years of Alaska fly action the learning curve was and is steep for all fly fishers. Mistakes are made daily by those trying to grass big salmon before they are worked! A quality made fly reel is vital in this fish tale sportsfans because once hooked up Jack's fly line was screaming at the maximum. The braking drag system had to be fool proof to pull off a fete like this. The other salient aspect is taking as much load off the Bamboo while the King Salmon was running by chasing after it until it tired.
Fully Flexed !!
" The reel was fully flexed when I finally landed the King which was the ultimate test of the vintage cane. My guide Skip Merkley of Sandfish Tackle, Talkeetna, Alaska was relived the rod held up as well as it did. I used a streamer t catch the 20 lb King. When the King took the streamer I set the hook and made sure it was set by walking upstream a few yards. The Bamboo Rod held up well while playing the King out. I kept the fly rod fairly horizontal to the water during most of the time I was playing it out as I was concearned the rod might break anytime! "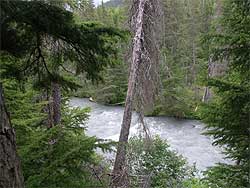 Few fly fishers of either sex have experienced a wild healthy Alaskan King Salmon hooked well placing unbelievable stress loads upon natures own natural grown Bamboo. A modern marvel in precise engineering prowess indeed the creation of fine Bamboo fly rods! Then with out question men like Jack Weston seasoned, expert enough to understand the skills needed to pull off a once in a life time sporting feat of which few fly fishers will ever taste such sublime success. I salute you Mr. Jack ( Bamboo Man ! ) Weston. You belong to an exclusive club with limited seating...





Click Here for this month's story line of