Fall is Primetime for Big River Walleye and Smallmouth
By Mike Mladenik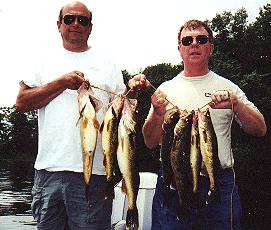 Catching the fish of a lifetime is a dream come true for many October musky hunters. However, it is not the only option open to fishermen in northern Wisconsin. While much of my guiding in October centers on musky, I do spend considerable time pursuing other species. Walleye and bass fishermen also know that October is trophy time. The only problem many fishermen including myself have is trying to fit all this prime fall fishing into one month. I am on the water as often as possible, trying to do it all before the hard water sets in.
In recent years I have begun to focus more on trophy walleye fishing in October. While they are never easy to come buy, it is a time where 8 to 12 pound fish are a reality. Like anything, it is important to fish your preferred specie at the peak time. There is know better time to catch a trophy walleye than in October. In the past three years, I have managed to put 10 pound plus walleyes in the boat each year. Often these fish were caught in places where few fishermen take seriously.
To catch trophy walleye, obviously you must be fishing the proper water. I rate trophy walleye waters into two categories, deep clear natural lakes, and rivers. For generations, big deep clear lakes have been producing trophy walleye. While natural lakes do produce their share of big walleye, I prefer to fish rivers. I feel rivers are the most untapped resource for big walleye in Wisconsin. Natural lakes receive much more pressure and large walleye can be rare. However, rivers see limited pressure and contain a higher ratio of big walleye than most lakes. Fishermen in pursuit of trophy walleye should learn to fish both types of water. Rivers tend to be most productive in early October. However, before ice up the clear lakes are more productive. By fishing both types of water you will increase your odds of catching a trophy walleye along with spending more time on the water.
Being more mobile than lake walleye, big walleye can be tough to locate for many river fishermen. After spawning, big walleyes will scatter and can be almost anywhere at any given time. I feel the larger the walleye, the more they are on the move during the summer. Occasionally one or two are caught, but is often by accident. When they are caught, it is usually one lone big walleye. It is common for fishermen to return to the same spot expecting to find another big fish, but find nothing there. By early October, large walleyes begin to school up and are easier to locate. Once these walleye are located, they can remain in one area for long periods of time.
The most important factor in locating big walleye in rivers during the fall period is forage. Don't make the mistake of trying to find ideal structure, without putting the predator prey relationship into you game plan. Forage should be your first concern when looking for big walleye. They type of forage big walleye prefer will depend on the river. Most of the rivers I fish like the Menominee River have an unlimited forage base. Walleyes can be feeding on a variety of minnow based forage, which includes shiners, chubs, suckers or even perch. In October, shiners become the main walleye forage. Fine scaled river shiners are easy for a big walleye to catch and eat. Shiners also will school up heavily while chubs and suckers are more scattered. Locate schools of shiners, and I guarantee big walleyes will be in the immediate vicinity.
The first place to look for schools of shiners and big walleye is on the edge of backwaters and creek channels. The edge of a backwater would be my first choice. Shallow backwaters are spawning areas for shiners. Often they develop weed growth and the shiners find cover and food throughout the summer. Both the adult shiners and fingerings will remain in the backwater until fall. By early October, the weeds die and the shiners loose their cover and food. They migrate to the drop off on the edge of the backwater. The deeper the water along this first breakline, the bigger the walleyes it will attract. One hot spot of mine on the Menominee River has a 20-foot river channel along the backwater. This area has produced trophy walleye for me annually. Use your electronics to look for the schools of shiners, and not just search for big walleye.
Similar situations develop in many creek channels. However, not all creek channels are attractive to schools of shiners or other forage fish. A prime incoming creek will have sufficient depth to hold forage fish throughout the summer. Avoid a creek that has low water levels in summer. Fish will move into the main river once water levels drop. I fish one creek edge on the Menominee River that holds small brook trout. I have seen big walleye move into the creek and gorge themselves on 6 to 8 inch brook trout.
Smallmouth bass can also stack up like cordwood along these creek edges. If smallmouth are present, look for walleyes to be in the nearest deep hole. Smallmouth and walleye will make distinct movements along the edge to feed. You can catch 20 to 22 inch smallmouth one minute and have 30-inch walleye move in an hour later. When this occurs, you can experience the best of both worlds. This is a common occurrence on the Menominee River in October.
Both live and artificial baits will take both big walleye and smallmouth during this period. A crankbait is most productive when looking for active fish. Start out working the edge of the creek or backwater with shallow running or mid depth running crankbaits. On cloudy days use black and silver patterns and on bright days use a fire tiger pattern. If the crankbait fails to produce, switch to a spinnerbait. Walleyes will occasionally hit spinnerbaits, but big smallmouth will inhale them. Nothing will entice a 5-pound smallmouth quicker than a big spinnerbait. If walleye are deeper, switch to a jig and minnow. Use a one-quarter ounce jig with a large golden shiner. If the current is swift, go to a heavier jig, but always try to use the lightest possible jig.
Since we are looking for big fish, buy the largest shiners you can get. A well aerated live well is essential to keep the shiners in prime condition. If you can't buy shiners, then try chubs or suckers. If light strikes occur, attach a stinger hook to the shiner. Most of the time you can set the hook a few seconds after you feel a strike. If you are missing fish, let the bait set longer before setting the hook. It is also important to use a stiffer rod when fishing large shiners. A light rod won't give you the proper hook set. I use a 6 1/2-foot medium-heavy action rod like a Lamiglas XC 664.
For more information, visit mike at his website at www.mikemladenik.com