Summer Fishing on Alabama's Pickwick Lake
By Reed Montgomery

Smallmouth Bass dominate the springtime Bass tournaments on Pickwick Lake. In 2000, the Bassmasters Eastern Invitational showed the biggest bag of bass brought to the scales, over the course of the three day event, were smallmouths. However, largemouth's in the 8-9 lb. class were not to be outdone on this tremendous bass fishery on the lower Tennessee River system. Many trophy-sized largemouth's in the 5-9 lb. class were also weighed in during this Bassmasters tournament.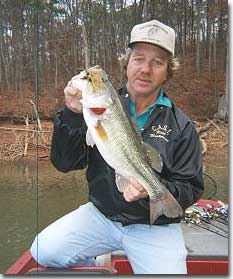 Situated near the town of Florence, in northwestern Alabama, Pickwick Lake has survived the test of time. Summertime shows this to be an excellent fishery for a variety of bass species (and other game fish) near the lakes headwaters, situated below upper Wilson Lake dam. As below any Tennessee River impoundment dam, the huge smallmouth bass can average 5 pounds and trophy-sized smallmouths in the 7-8 lb. class are common.
The upper end of this huge Tennessee River impoundment gets a lot of notoriety, but the lakes lower end also offers a variety of fishing situations. Many feeder creeks, vast weedbeds and loads of wood and rock cover, make up the mid-to-lower portions of Pickwick lake. Both day and night fishing is excellent throughout the summer months on this outstanding bass fishery.
DAY: When June arrives in Alabama the first hot, 90 degree days commence. As bass have fed and recuperated from the rigors of the spring spawn, many are now back to "full capacity" as the main lake waters begin to warm. Main lake water temperatures will now be in the mid- to-upper 80's.
As all species of gamefish, feed and follow the baitfish around, their travels will bring them to a dead end at the upper lakes headwaters, near Wilson Lake dam. These lake headwaters offer not only baitfish and crayfish, but also current, cooler water, and an entire area with high oxygen levels. As in most running water situations, all these bass need to do is to sit and await an easy meal.
Best times for tailrace fishing is when water is being discharged or shortly after it commences. Dawn is always good for schooling bass and stripers. Late evening or during rare, summertime, rainy or cloudy days, smallmouth bass, largemouth bass, spotted bass, striped bass, hybrid-striped bass and white bass, can be found attacking schools of baitfish in the first 2 miles of Pickwick Lakes headwaters.
Lures of all sizes, shapes, colors and actions take these voracious feeding fish of all species. Long cast's may be needed with topwaters, spoons, lead tailspinners, rooster tails, crankbaits, rattletraps or Pradco's, Rattlin' Spots. Grubs, gitzits, tube baits and other shad (or crayfish) imitations, drifted in the current or cast to the schooling fish, will also take numbers of fish on-or-near bottom.
Mid-to-downriver on Pickwick Lake is so spread out that an angler can feel lost when searching out summertime haunts of ever-roaming bass. Best creeks near the lake headwaters and mid-portions of Pickwick Lake that always deserve a little exploring are Spring Creek, Little Cypress Creek, Coffee Slough, Dry Creek, Sinking Creek and Little Bear Creek. Can't bear the heat? Night fishing is right fishing for summer on Pickwick Lake.
NIGHT: Like most Tennessee River impoundment's Pickwick Lake shows an ever-increasing interest in the nighttime smallmouth fishing. When searching out these hard-fighting, jumping bass during the nocturnal hours keep in mind (just like during the day) bass will be in shallow water feeding. More than likely these bass will be even shallower after midnight, when most bass cruise the shallows looking for baitfish and crayfish.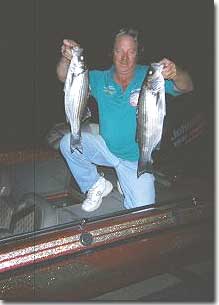 At Pickwick lakes headwaters, just below Wilson dam to the bridge, lies some of the best smallmouth fishing in the south. Even during nighttime tournaments 5 bass bags weighing 20 pounds is a common sight. There of countless numbers of 5-6 pound smallmouths weighed in each week. You can catch these bass at all hours of the night with a variety of lures fished in many ways. When water is generated, as during the day, drifting with live bait can't be beat. But challenging these bass after dark with fake offerings, takes a little knowledge of what works best on a regular basis.
Chosen and proven favorites range from top to bottom and may vary. The old standby, the worm, will always take a few bass, try various shapes sizes and colors. Generally 4-6 inch models fished on light line in darker choices are best for targeting these finicky spotted bass or smallmouths. The bigger bass of these species (and some largemouth's) prefer a full-sized meal and bigger worms may work on occasions. This goes for oversized jig and pork or plastic crayfish trailers too. Large crayfish imitations, lizards and grubs are also popular, fished on bottom at night, for all of these species of bass.
Dropping or slow-rolling spinnerbaits along or near bottom is always good throughout the night. Include trailer hooks if the lake bottom is clean and hangups can be avoided. Short strikes are common. From mid-to-upper water levels, bass will hit a variety of lures at night on Pickwick Lake, to many to go into detail on now. Always include jerkbaits, floating worms and various topwaters, especially after midnight, in very shallow water. This is where the big bass feed after dark on Pickwick Lake.
As mentioned throughout these summer tips there are many ways to catch bass when it gets hot. Preparing your tackle, boat and equipment for night fishing takes a whole day of getting organized. Properly packing necessary items and checking all lights, bilge pumps, aerators and batteries avoids problems later. Trailer bearings and tires must be checked or replaced, its no fun being broke down on the side of the road in the dark.
Emergency tools and safety kits are a must, for anything can happen on an all night fishing trip. Spare fuses, props (for the outboard and trolling motor) oil, gas, food, drinks and ice are hard to get after dark, make sure to make a checklist and check off all of these necessary items. Let a loved one at home know where your going, when you will be back and a phone number to call for emergencies when you are gone night fishing. A cell phone can be a life saver. Have an enjoyable day or night fishing trip this summer. Practice Catch and Release. Always wear your life jacket and kill switch. Watch out for the other guy and be safe this summer.