Summer Fishing on Alabama's Wilson Lake
By Reed Montgomery

A small lake, compared to the other giants among the Tennessee river system, yet only in size. This old impoundment has yielded many records, including the previous world record smallmouth bass (10 lbs.8 ozs.) in 1950. Only 15,930 surface acres separates Wilson lake from upper Wheeler Lake and lower Pickwick Lake. At the lake's headwaters, just below Wheeler dam, lies a variety of fish and fishing situations. Feeder creeks with wood cover, weeds and rock bluffs, and main lake areas offer many choices for the summertime angler, whether day or night fishing on Wilson Lake.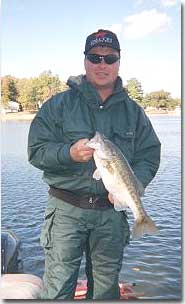 DAY: Wilson Lake is noted for its tailrace fishing, at the lakes headwaters, just below upper Wheeler dam. This takes place year-round and summertime is no exception. During early morning feeding sprees bass of all species school and feed around the boulder-strewn flats, both above and below the island in the middle of the lake, and usually from the dam downstream for a few miles.
Drifting in the current with live bait is a popular system for fooling all species of fish and works year-round. Schooling action always calls for fishing with topwaters, spinners, grubs, plastic shad imitations, crankbaits, jerkbaits and rattlin' lipless lures. This schooling action also takes place each evening and during rare, all-day summertime rains. Long casts are often necessary for bass (of all species) that seem to always surface more than a good cast away. Be rigged and ready, for they can disappear as fast as they appeared. Heavy, oversized lures, cast great distances and often get the bigger bass bite in these schools of frenzied feeders.
These fish will also forage and feed just below these dam headwaters in several creeks. These feeder creeks harbor schools of baitfish, crayfish, smallmouths and largemouth's all summer, from the mouths to the far back ends. Some are constant flowing feeders with cool water and a slight current year round. Town Creek, near the lake headwaters on the lake's south side, is the most popular with rock bluffs, grassbeds and stump flats in the back. There is also a marina near the dam for supplies, live bait and gas. Also check out Shoal Creek, Blue Water Creek and McCerman Creek on the lakes mid-to-lower end.
From midlake to the lakes lower dam there are many places to target for smallmouth bass. Rock bluffs are obvious as you cruise either side of the lake. Irregular banks, broken-off bluff-type banks, small cuts, pockets and main-lake points around these rock bluffs, are best for searching these ever-roaming schools of summertime bass. Lures that closely mimic shad, minnows and crayfish are excellent choices. Worms, lizards, crayfish imitations, jig combos, grubs, finesse type lures, tube baits, all both Texas and Carolina-rigged, are sometimes needed for finicky biting smallmouths and an occasional largemouth bass. Colors vary according to water clarity. Always keep one thing in mind when fishing Wilson lake during the summer (or actually any other time of the year). Find the baitfish and find the bass.
NIGHT: Daytime is good on Wilson lake but the locals know, "Night time is the right time". The aforementioned areas just below upper Wheeler dam at Wilson Lakes headwaters, surrender trophy-sized smallmouth bass, largemouth bass and striped bass during the moonlit nights of summer. The smallmouth bass are known for their rod-jarring strikes and many an angler has actually had the rod jerked right out of his hands. These are smallmouths in the 5-10 lb. class and several from 7-8 lbs are taken each summer, by the angler lucky enough to land these hard-fighting and high jumping bass.
Late evenings, as the sun goes down, several species of these fish will school below Wheeler dam. Many lures, fished in various ways, can trigger strikes from top to bottom as it gets dark. Jigging spoons and casting lead tailspinners always catches "whatevers biting" even after dark. So do grubs of all sizes, weights, colors and styles. Dropping spinnerbaits is deadly on these bass at night. Proven colors have some red, purple, black, brown or chartreuse. Colorado blades provide a helicopter fall, a much better feel for the angler, and more "thump" for the bass to detect. Colorado blade sizes of # 5 to # 8 in single or tandem blades, in weights of 1/4 to 3/4 of an ounce, should be tried on each outing to determine what the bass want. Big, willow-leaf blades should not be excluded either, for on some nights these bass can be awful picky.
Creek mouths and even stump flats in the far back ends of these feeders have largemouth's that roam the shallows at night. Again, spinnerbaits take a lot of these bass, but worms, lizards, and jig combos can be The BIG bass bite lures. So are various topwaters. Adding rattles, fish attractants and sharp hooks (Gamakatsu brand) are a must for a more enticing lure and better hookups. Look for schooling action at mid-morning, after night fishing these areas, and some BIG bass action one hour prior to and just after daylight.