Summer Fishing on Alabama's Wheeler Lake
By Reed Montgomery

Alabama's second largest lake can be downright tough when bass come off the beds in May. Searching out all 68,300 surface acres on Wheeler lake for summertime bass can be awful intimidating on such a huge impoundment.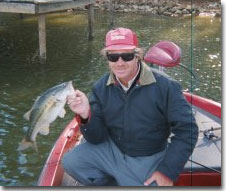 There are lake headwaters, that offer cool, running water throughout the summer. Or you can target bass in feeder creeks, of which Wheeler lake has many of. In the Elk River on the lake's lower end lies a variety of cover and many different fishing situations. Feeder creeks, weeds, wood and rock cover, and many resident-built piers and boathouses are in abundance from the lakes headwaters to the mouth of the Elk River.
Weeds are lake wide and come in a variety of choices for the largemouth bass-seeking angler to target. Wheeler Lake, like most Tennessee River impoundment's, also has an excellent fishery for smallmouth bass as well. White bass, striped bass and hybrid-striped bass are other gamefish that Wheeler lake offers for both day and night fishing throughout June, July and August.
DAY: As June gets underway the bass recuperate from the rigors of spawning and a major feeding spree takes place lakewide. When Summer progresses and bass return to normal gathering spots, excellent fishing occurs on Wheeler lake as millfoil and hydrilla take on full growth. Thick and matted in many areas, these aquatic-growing weeds offer excellent places to probe with various lures. Proven "best" choices are always in the heavier category and have very weedless qualities. Heavy weights on worms, lizards, crayfish imitations, grubs, gitzits, tube lures, jig and pork combos, all in the 1/2-to-1 ounce category will get these lures down through and under these often very thick and matted weeds.
These oxygen-producing weeds grow from 1-15 feet deep (or deeper, according to light penetration) and provide shade, cooler water and ambush spots for some big Wheeler Lake largemouth bass. You can also target the weed edges with a wide selection of offerings from top to bottom. Buzzbaits take a lot of anxious feeders along weed edges, up in the thicker weeds, around weed patches and through small cuts and lanes within these weeds. Always include trailer hooks for short strikes.
Both Rattletraps and Pradco's Rattlin Spots (or other rattling, lipless lures), take numbers of bass when huge schools invade these weeds and are holding along weed edges. Crankbaits and both suspending and floating model jerkbaits also take bass along the weed edges during summer. Spinnerbaits fished just beneath the surface get surprising results along weed edges. Dropping or slow-rolling these vibrating an flashing lures get the bigger bass bite when times are tough.
Early, late in the day, or during an all day rain these bass can be coaxed from cover by fishing topwater lures in and around these thick, seemingly impenetrable weeds. Frogs, rats, floating worms, lizards, soft jerkbaits and various other weedless lures should always have sharp hooks and be fished on stout equipment.
Smallmouth bass can be found on or near rock bluffs, secondary ledges and around weed edges at times. Flipping piers and boathouses, along with fishing weed and rock cover up in the Elk River is a good summertime tactic. Deep cranking combined with jigging spoons and Carolina-rigged lures is also good throughout the summer on Wheeler Lake.
NIGHT: As mentioned for during the day, fishing weeds on Wheeler Lake can be just as productive during the nocturnal hours. These bass will hit the same lures (yes even crankbaits), only some will get very shallow as the moon appears, usually after midnight. Push poling or silently trolling way back in the thick, matted millfoil can reward an angler with the nighttime motherlode. Anchoring down in one spot, having a cup of coffee and remaining quite will prime these spots for bass to move in. They are very spooky, so stealth is of the utmost importance. Added to these tactics are, long casts with weedless topwater lures, stout rods and reels, strong line, nerves of steel and a good heart. Exciting topwater blowups are deadly with this system and not for the faint of heart!
The Elk River and many major feeder creeks also harbor nighttime bass that relate to well-lit areas. This goes for smallmouth bass as well, that feed at night, and they can deliver rod-jarring strikes in the dark, around these same well-lit areas. Marinas, piers, boathouses, the lower lake dam area, bridge rip-rap and causeways are all excellent places for probing with the same lures as daytime use...only a little slower at night.