Summer Fishing on Alabama's Guntersville Lake
By Reed Montgomery

Guntersville Lake, near the town of Guntersville, Al has survived the test of time...and man. Impounded in 1939 after 4 years of dam construction, this tremendous weed fishery has undergone meaningless, various ways by man to eradicate the hydrilla and millfoil aquatic weeds that had infested the lake by the late-1980's.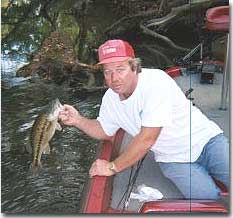 Residents did not like the weeds, for recreational needs were hampered by the sometimes thick, matted weeds that took over entire creeks and made it impossible to swim and water ski in. The fisherman praised the weeds, for bass made their homes in and around these oxygen-rich, baitfish-infested weeds.
These were BIG bass that eventually made their way back to the lakes original wood and rock cover in deeper water, when attempts to eradicate the weeds with the spraying of pesticides made the water intolerable to exist in. The stocking of grass-eating carp did no good either for when they run out of weeds to eat, what will they eat next? Grass shavings thrown in the lake by residents mowing lakeside lawns?
Regardless, Guntersville Lake has shown a tremendous comeback and bass are back in the weeds that are now thriving again. The lake still has an excellent summertime fishery for all species of fish.
DAY: As summer heats up the shallows you can choose to target bass buried up in the thick weeds during early morning hours, late in the day, or during rare, all day rain. Best lures can mean fishing with an array of topwaters, spinnerbaits, floating worms and soft jerkbaits in and around the thick, matted weeds. Frog and rat imitations made so popular on Guntersville lake years ago, still produce big bass during the summer.
Or you can go deeper, fishing offshore weeds and underwater structure with deep-diving crankbaits, rattling, lipless lures, Texas-rigged plastics, Carolina-rigs, jigs with trailers, or slow-rolling spinnerbaits. When fishing around all the shade-producing piers, boathouses and marinas can produces quality bass and has accounted for many wins in bass tournaments in years past. Finesse fishing with smaller worms, lizards, grubs, tube baits and gitzits will also take numbers of bass throughout Guntersville Lake this summer.
NIGHT: Venture out on Guntersville Lake at night and you better know your way. This huge lake can be awfully intimidating at night. So can the resident bass. Its really quite simple. The same places you normally fish during the day will produce bass at night, with the same lures. The thick weeds can show tremendous fishing late in the day and early in the morning. Bass come out and roam weed edges at night and are more catchable than during the bright, sunny days when they bury up in thick, weedy cover. Even crankbait bass can be caught at night fishing away from the shoreline. After all, if a baitfish is fleeing in the night won't the bass nail them just like during the day? Surprisingly, many anglers fail to give this off-the-wall nighttime tactic a try.
As on any lake the lights around piers, boathouses, marinas, bridges and rip-rap lined causeways attract baitfish at night and the bass are always nearby, feeding on unsuspecting prey that ventures to close to the darker areas. Targeting these areas, both shallow and deep, can often mean an encounter with one or more of Guntersville's BIG bass, so utilizing stout equipment and strong line is a must...especially at night.