Summer Fishing on Alabama's Jordan Lake
By Reed Montgomery

DAY: Looking for bass on Jordan lake during the summer depends on many factors, one is water generation. There are many spotted bass and largemouth's that depend on this man-made current to bring the food to them. Some bass travel to the lakes headwaters in search of food and are stopped at upper Mitchell dam. Many stay here for the summer fattening up until they are caught. There have been spotted bass weighing up to 8 pounds caught here during the summer on Jordan lake, with many in the 3-5 lb. class common.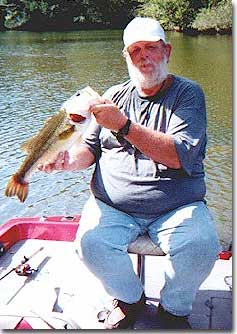 These are strong, current-oriented bass and hard fighters, especially when hooked in the swift discharge below Mitchell dam. Its no wonder many of these chunky spots break lines, straighten out hooks or rip their mouths, in an attempt to get free. There are rock bluffs, secondary rock ledges, huge boulders and deep, washed-out holes just below upper Mitchell dam. These are homes to the spotted bass that thrive on current, cooler water and chasing down an easy meal. There are many current breaks and eddies where these spots and some big largemouth's hide in waiting for the helpless baitfish to wash by.
Fishing these rocks, hangups are inevitable, especially when drifting in the swift current using bottom-bouncing grubs, shad imitations, lead tailspinners, worms, spoons and rooster tails. So bring plenty of spare lures. These lures will also catch white bass, stripers and hybrid-stripes that feed in huge numbers all summer long in these Jordan lake headwaters. Topwaters should be tried (and kept handy) for fast surfacing schools of bass of all species.
Down the lake the piers, boathouses, bridges, rip-rap and both lower lake dams all hold schools of bass during the summer. Creek mouths and main lake points should be fished at depths of 5-20 feet to find the depth bass are holding in for the day. Deep diving crankbaits and Carolina rigs are good search combos, with jigs and worms fished around the bank cover good during tough times in the sweltering heat. Or you can go night fishing.
NIGHT: Night fishing on Jordan lake can be very exciting when hooking into a 5-8 lb spotted bass, 5-8 lb largemouth or hybrid or saltwater striped bass in the 10-20 pound range. As mentioned for day fishing, the upper dam discharge and immediate area below Mitchell dam at the lakes headwaters, holds all species of bass during the summer. Water generation continues on into the night and fish feed just like in the day. They even hit the same lures, whether you are drifting in the current or when fishing the rocky banks.
Fishing with spinnerbaits or drifting with heavier models in the current can bring some rod-bending strikes. Be ready with stout tackle, strong line and plenty of coffee to keep you alert. Sharp hooks and a good landing net will also aid you in getting some hefty bass in the boat. Jigs with oversized pork trailers simulate a full grown crayfish. When fished among all the rocks at Jordan lake headwaters, getting bit usually results in a big, quality spotted bass or a monster largemouth. Rattles, sharp hooks and fish attractants are a plus on jig combos.
Even topwaters will take some foolish bass that are always looking up at night. When the water discharge is turned off is the time to throw loud topwater lures that can be stopped and allowed to sit in one spot. Injured baitfish are coming to the surface and some big bass move in for some easy pickings. Pop-r's or chuggers, prop-baits like baby torpedoes, devils horses or crazy shads, walking lures like Excaliber's Zara Super Spook or Excaliber's Spittin' Image and even slow-reeled buzzbaits (Rippler.com) Rippler Lures has one blade-in-blade model that sounds like a school of shad (1-800-top-lure) and will take bass of all species. Concentrate along the banks where bass will move out of cover first.
Downriver on Jordan lake, like all Coosa River lakes, has many lighted piers and marinas, boathouses, feeder creeks, roadbeds, points and islands. All of these lower lake regions have shallow water for bass to feed in at night during the summer. Worms, jigs and spinnerbaits are good lures in these places at night. All of these techniques will work throughout the summer at night on Jordan Lake, the last lake on the Coosa River system near Montgomery.