Frank Davis
WWL-TV Feature Reporter, Chef and Fishing Expert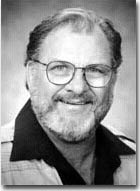 "I grew up in the heart of New Orleans. Mid City. On Tonti, between Iberville and D'Iberville," Frank recalled. "But I had friends all over town."
He's been fishing since he was five years old, and started spending serious time in his mama's kitchen by the time he reached eight.
"I loved cooking when I was young, but I also loved writing, putting words together," Frank emphasized. "When I was still a teenager, I stared sending stories off to magazines… and they bought 'em! Magazines like "National Geographic" and "Field and Stream." After graduating from Sacred Heart of Jesus on Canal Street, Frank enrolled at the University of New Orleans and majored in English. He found a way to combine his third love, hunting and fishing, with his literary skills when he landed a Louisiana editorship for "Outdoor Life" – writing there for five years while also contributing a column to the "Slidell Times."
Describing himself humbly as someone "who's always had broad interests," Frank's career then took a whole new path when he enrolled at Charity Hospital's School of Radiology. He finished first in his class, and began working as an X-Ray Technician.
But the lure of Louisiana's duck blinds and bayous would bring him back outside. Frank joined the state's Department of Wildlife and Fisheries, where he also served for a decade as Associate Editor of "The Louisiana Conservationist" magazine.
He met a lot of local anglers on the job, and in 1974 began making occasional guest appearances on WWL-AM Radio's "Outdoors Show." Frank's enthusiasm and extensive knowledge, coupled with his homespun humor, made him a natural for radio and within two years he was co-hosting the show. By 1980, the station Program Director decided to dramatically expand Frank's role as an on-air personality.
"I did a marathon show; we called it 'Weekend Live.' Nine a.m. to six p.m. Saturday, noon to six on Sunday. I didn't even get time off during the commercials - those were live."
And since the audience seemed to be just as interested in how to prepare and serve their catch as in how to bait and hook it, Frank began adding recipes to his marathon's live, call-in mix. Some of the area's great chefs, including Paul Prudhomme, Willie Coln and Tommy Wong, began dropping by the WWL-AM studios on the third floor of Rampart Street. "We had a little burner in there. And when we didn't cook, we could sure make something sound delicious," he laughed. "The power of radio."
But next door at sister station WWL-TV, the Channel Four News Director believed that Frank's unique appeal would make an easy transition to television. In 1981, Frank began contributing a fish and game report to "4:30," a locally produced broadcast named for its late afternoon time slot. But when the show went off the air a couple of years later, a much bigger opportunity would open up for Frank.
"We'd been talking about doing some feature stories around town," Frank recounted. "They said they wanted to see the real flavor of this great area. 'You mean,' I said, 'you want to see people and places that are uniquely, naturally New Orleans.'" Premiering in the six o'clock edition of Channel Four's "Eyewitness News," Frank's "Naturally N'Awlins" series was immediately embraced by local viewers like a fresh plate of hot boiled crawfish. He had found the perfect vehicle to capture the Crescent City's quirky charms, and the feature's title would soon become a household catch phrase across southeast Louisiana – and a new idiom for a place that's always had a colorful language all its own.
"Naturally N'Awlins is an amazing creation," he reflected. "If I can relate to what's going on in the story, I know I can tell the story so others can relate to it too." When asked what tops the list as his most memorable feature, Frank fell into a rare silence before his reply.
"Well, one day the person we were going to do a story on cancelled, and we had no idea what we were gonna do," he explained with the sudden seriousness of a reporter who also lives under daily deadlines. "So I stood on a corner and just started waving at everybody who passed by. And the reaction was simply incredible." Frank grinned. "Everybody waved back."
Not long after the successful launch of "Naturally N'Awlins," WWL-TV saw two more opportunities to season the newscasts with Frank's blend of warmth and wit, as well as his considerable expertise. The concept behind his "Weekend Live" radio program found a new home on television, as Frank began whipping up his "In the Kitchen" cooking segments for the "Eyewitness Morning News," and reeling in "The Fishin'Game" reports for the station's NightWatch edition. And to be perfectly "frank," viewers just couldn't seem to get enough of him. So around the holidays, he now creates an entire menu each year to celebrate "Franksgiving," followed closely by a prime-time Christmas special, "Naturally Noel."
No wonder when "The Times-Picayune" honored New Orleans' "50 Most Influential Broadcasters" over the past fifty years, selecting achievers who ranged from golden radio era personalities to television station general managers, Frank was on their list.
Meanwhile, off camera, this high-profile guy has stayed perpetually busy. He's currently testing new recipes for his fourth cookbook, "Frank Davis Cooks N'Awlins Home Style." He published his first best-selling collection in 1983 as "The Frank Davis Seafood Notebook," complete with hints on how to properly prepare and freeze everything from shrimp to snapper. Since then, he's authored "Frank Davis Cooks Naturally N'Awlins" as well as "Frank Davis Cooks Cajun, Creole and Crescent City."
His creative culinary skills have also taken him all over the country, conducting cooking shows for major corporations; lecturing on his specialized techniques for universities; and leading personal classes for aspiring Cajun/Creole gourmets. About ten years ago, he also found the time to formulate his own line of pre-blended seasonings, which he developed "for the distinctive way we cook down here." And this one-man phenomenon even has his own web site: www.frankdavis.com.
Frank may also be the only television reporter in the country who's been honored with a permanent fishing spot. Located under the Seabrook Bridge on New Orleans' Lakeshore Drive, "The Frank Davis Fishing Pier" was built by Orleans Levee Board engineers to be handicapped accessible, and with special lighting for night anglers, useable twenty-four hours a day. According to Frank, his pier "produces some pretty nice catches of trout, redfish, flounder, sheepshead and drum."
He joyfully admitted that his job allows him to indulge in his three favorite past-times of fishing, cooking, and talking with folks. But does Frank Davis ever really relax?
"To wind down, I like to play music," he revealed. "I can play the piano, organ and guitar. In fact, playing guitar helped put me through college."
He's also a family man, who describes Mary Claire Davis as "the best wife on earth."
She appears most Tuesdays on the morning news set to assist her husband in his studio kitchen. Their daughter, Amanda Claire, and husband Hugh Landry have blessed them with two grandchildren – Elizabeth and Matthew - whom granddaddy Frank loves to indulge.
And Frank's love for his roots is as enduring as the live oaks that shade the St. Charles line. "New Orleans is the finest city in America, " he stated simply. "There's not a better place to be from."
After all, he's Frank Davis. And that's… naturally N'awlins.
To find out more about Frank Davis, his fishing and cooking, visit his website at http://www.frankdavis.com or drop him an email at FrankD@frankdavis.com. You can visit http://www.wwltv.com to find out more about Frank.