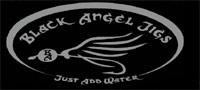 Company Information
Story behind the name
The story behind the name of "Black Angel Jigs" is actually pretty comical. The name has no affiliation with the devil or anything like that.
I have never had the best of luck when it comes to marine technology, "boats" for the lappers. I am sure some who read this can relate. The name originated while I was fishing the 2006 Okie division of BFL (Wal-Mart Bass Fishing League). I had so much bad luck with my boat during those events. However, I still managed to finish tenth overall in the point standings. I had everything you could imagine happen! Minor stuff like blowouts on the way to tournaments or loss of electrical power for 3/4 of an event. Then not so minor stuff like catching the boat on fire fifteen minutes into the Regional event at Wright Patman Lake in Texarkana, TX. I have had my co-anglers tell my wife, Melissa, that she should have a huge life insurance policy on me because they have never been so scared in their life! So as the season went on, they started calling me the "Black Angel of Death" and the name just kind of stuck. I began making jigs for myself, then making a few for my buddies. The word spread until more and more people wanted them. They needed a name, but I was at a cross roads as to what that name should be. A bunch of names arose, but just one stuck out. That was "Black Angel". So there you have it! I wish I could share all of the funny stories that my buddies make me tell over and over, but I just don't have the room. I hope you have enjoyed reading this, and that you will enjoy using our jigs just as much as we have enjoyed creating them for you.
http://www.blackangeljigs.com



View all Black Angel Jigs products here at LandBigFish