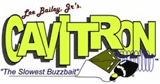 Company Information
Lee developed Cavitron nine years ago and through his continuing tournament wins, promotional and marketing endeavors, brought Cavitron to the top amongst the fishing world.
Lee is once again the owner of Cavitron "The Slowest Buzzbait". With the popularity of Cavitron higher then ever before, Lee is excited to be bringing back to fishermen the winningest buzzbait!! With new features and an outstanding package, the product is overwhelming the industry.
Cavitron has logged tens of thousands of dollars in tournament wins since its development in the early ninties.
Its most renowned victory was when BASSMASTER Top 100 Pro Larry Lazoen of Florida won the 1994 BASSMASTER Potomac River Invitational. The six time BASSMASTER Classic qualifier fished our then newly developed 1/8 oz. (Baby) Cavitron over matted hydrilla to land a three day total of bass weighing 45 pounds, 15 ounces.
Cavitron has been featured in many national publications, including BASSMASTER, B.A.S.S. Times and In-Fisherman magazines.
http://www.cavitronlures.com



View all Cavitron products here at LandBigFish