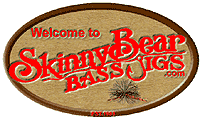 Company Information
"Skinny Bear" Bass Jigs was the creation of Jim Hale of Santa Maria, CA. In 1985, Jim started field testing these little dynamite finesse jigs on Oso Flaco Lake (translated in English, Oso Flaco means "Skinny Bear"), a small coastal lake near his home. After refining these small finesse jigs on Oso Flaco, Jim fished them on other coastal lakes, including Lopez, Nacimento, San Antonio, Margarita, Casitas, and Cachuma. Jim found that "the largemouth love them, smallmouth just crush them, and the spots just annihilate them."
Jim started sharing his jigs with other bass anglers. On the water, they soon caught on!! They were especially great when the bite was tough and no other lure seemed to work. This little finesse jig have been one of the hottest items on the West Coast. It is one of the best kept secrets among bass anglers, and is also responsible for thousands of dollars in winnings over the years in competitive bass fishing.
Big bass guide, Gary Harrison, took notice of these little jigs and started using them on them on the large Florida bass at Casitas Lake. Gary was catching and releasing hundreds of bass, of which 150 were over ten pounds. The largest weighed a little over 15 pounds. However, Gary was encountering a small problem. The Large Florida bass were straightening the light wire hooks. Jim and Gary put their heads together on this little problem and went to Owner America with their dilemma. Wa la! The "Pro Series Signature Jig" was created, featuring Owner America's Deep Throat 1/0 hook. The result is a hook that is both strong and sharp. With its cutting edge point, it can penetrate the tough mouth of large Florida bass with extreme precision. The unique bend on the hook also allows the pork trailer considerably more action.
Raymond Easily, known for his 21 pound, 3.5 ounce largemouth bass, is ranked 4th on the all time big bass certified list at Lake Casitas. He uses Skinny Bear Bass Jigs because of their small profile and strong hooks. Raymond's favorite lakes to fish these jigs are Lake's Castaic, Casitas, Isabella and Perris.
http://www.skinnybearbassjigs.com



View all Skinny Bear products here at LandBigFish