Minn Kota All-Terrain Trolling Motor


I've got a bad habit of breaking stuff. Guns, canoes, vehicles, bows, arrows, electronics and outboards all fall victim to my less-than-graceful actions. But the the one that gets to me the most are trolling motors. I've ripped them off, bent their shafts and burned them up. I've even been known to kick one or two that didn't survive.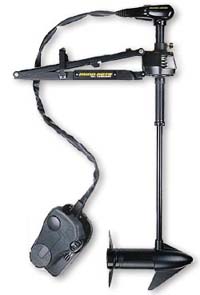 With 55 pounds of Thrust, the AT had plenty of power to push my 17-foot boat around.
I absolutely hate being on the water when one fails me. I lose my enthusiasm and since I really don't catch many fish anyway, it makes for a gloomy day. Once, I even managed to pretzel one while I was in Canada on a 7-day fishing trip – the bad part being I was only 3 days into it. I managed to get a hammer and some bolts from the guide to attempt a fix. After a lot of beating, grunting, forcing and cussing, I managed to rig up something that could at least fight my boat against drifting.
After that trip I vowed to found a replacement. That's when I came across the Minn Kota 55 AT at Bass Pro Shops. The AT stands for All-Terrain -- and with 55 pounds of thrust, it could move my 17-foot Tracker boat with ease.
As soon as I got home, I tore the old trolling motor off, secured the new Minn Kota and headed for the lake to find some walleye. But, as my luck goes, it wasn't long before I rammed the AT into a rock with all 55 pounds of thrust. My smile turned to a grimace and my demeanor was not pleasant as the boat slammed to a halt and I nearly fell down. I regained my balance and lifted the motor to spy the damage.
My grimace turned to a confused look when the motor showed not a single scratch. How was that possible? I'd mutilated other trolling motors with less effort. "It surely won't run," I thought to myself and pressed the foot controller. Like nothing had ever happened, it fired right up. I went back to fishing quite pleased.
Since then I've put the motor through its paces. I've churned rock, mud and weeds and it never overheated. Part of this is due to the Weedless Wedge, Minn Kota's patented 100-percent weedless prop. But, it's also due to the AT's special motor with larger brushes and commutators, which allows it to run cooler. You get great sustained thrust and longer battery life. And, because of a unique bearing system, a Minn Kota produces low rpm/high torque to cut down on fish-spooking noise.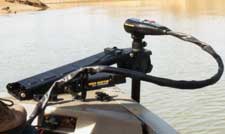 The AT gets its durabily through Minn Kota's special Indestructible Composite Shaft.
The trolling motor gets its durabily through Minn Kota's special Indestructible Composite Shaft. Using a combination of polymer resins and unidirectional glass fibers, the AT's composite shaft offers three times the strength of steel (pound for pound, by weight). Virtually indestructible, it flexes on impact and returns to it's original position. I have to say, it works pretty good, because I've bashed lots of other underwater unseens and it still looks no worse for the wear.
The Minn Kota is one of the toughest pieces of gear I own. It has lasted an entire season on my boat and is ready for more. If you're anything like me and you break lots of stuff, check out the AT series of motors – they can handle about anything you can dish out. Price: $269.99-$439.99.
* You can purchase the Minn Kota All-Terrain Assortment by clicking here.
The product review is courtesy of Bass Pro Shops Outdoor Site. For great fishing gear, shop our tackle store powered by Bass Pro Shops.