Southern Style Panfish
By Noel Vick with On Ice Tour

To many outdoor enthusiasts, winter in the Midwest means statuesque whitetail bucks and colorful ringneck pheasants. To a growing number of hard-water fishing enthusiasts, it also means panfish, and plenty of them.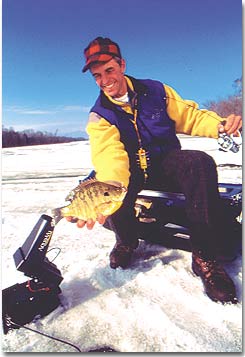 Opportunities to pursue bluegills, crappies and even perch along the southern reaches of ice-fishing country have never been better. From tiny borrow lakes and farm ponds to natural lakes and sprawling reservoirs to the backwaters of the Mississippi and Missouri Rivers; there is no lack of panfish quality and quantity as far south as the Iowa-Missouri border.
By late December, there is usually enough ice somewhere in this region to support anglers and their gear. By January, the season is in full swing. The best fishing, of course, comes as soon as the ice is safe.
In some respects, tactics don't change much whether an angler fishes the big lakes of Minnesota and Wisconsin or the smaller waters typical of Iowa and surrounding states. What does change is habitat.
Rather than working the structure-filled, clear-water lakes of the north, some of the best hardwater fishing in the southern region occurs on manmade lakes that are full of flooded timber and brushpiles, and on small farm ponds that often appear better suited for bullfrogs and cattle than crappies and bluegills.
On the surface, these tree and stump-filled lakes look like a maze of undistinguishable habitat where panfish could feel at home nearly anywhere. However, as is the case in most angling situations, even the most subtle change in characteristics can make the difference between filling a pail with a limit of crappies and bluegills or going home without enough to make a good snack.
Fishing the standing timber is largely a matter of being mobile and making good use of a quality flasher. Most of these lakes were built around an old creek, and locating that original channel goes a long way toward success. Contour maps will reveal the general direction the channel runs, and the angler can take it from there.
Bends in the channel are always good places to start, especially when they feature 15 to 20 feet of water and twist close to shore. Most of the time, the edges will be most productive. Locate them and drill a series of holes all along the bend. It's amazing how one small area along one of these turns can hold the most fish, or how one area seems to produce the largest fish. Keep moving until you find it.
Crappies tend to suspend around standing timber in 8 to10 feet over 15 or more feet of water. Your flasher will make it easy to determine the presence of these fish. When they disappear, move a hole or two down the channel and try to relocate them.
Catching early season slabs is largely a matter of getting their attention. Take minnows if you wish – they will catch fish, as will small jigs tipped with wax worms. Often, however, small rattling jigging spoons, such as those produced by Lindy and Northland, will produce faster and more exciting action.
Approach bluegills in standing timber the same way. Location in wooded reservoirs follows the same pattern as crappie location, although the 'gills can often be found just off the creek channel or deeper in the water column than crappies. In lakes that don't feature flooded timber, seek out the main points and concentrate your efforts there.
Small ice jigs tipped with wax worms work well, although Berkley Power Wigglers can be just as effective early in the season when the bluegills are active and aggressive.
Some lakes don't offer creek channels and standing timber. The majority of the habitat in these waters consists of manmade brushpiles or stake beds. Many are made of snarly, discarded Christmas trees, and they can eat jigs faster than a teenager eats potato chips unless the angler pays careful attention to location and presentation.
Try to find the edges of the brushpile, if possible. Often, the iced-over holes of previous anglers offer a good clue to where those edges are. If they can't be found and one is forced to fish directly over the brush, it's a matter of trial and error to find the depth where one can stay out of trouble and still attract hungry crappies and bluegills. These situations are ideal for some of the new brush jigs like the Northland Weed-Weasel and Lindy No-Snagg Veg-E-Jig. They won't interfere with hooksets, but will often slide across a branch rather than stick to it.
No discussion of southern ice-fishing would be complete without giving farm ponds their appropriate due. Acre-for-acre, they probably yield more quality crappies and bluegills than any other bodies of water. They can be found across southern Iowa and northern Missouri, as well as surrounding states.
Access to farm ponds usually requires a knock on a farmer's door. Present yourself properly and courteously, and most will happily permit you to fish their waters. Clean up after yourself and make sure you close any gates behind you, and you'll likely be welcome the next time, too.
Many landowners tend to protect their largemouth bass and catfish, but don't mind if an angler takes out a few bluegills and crappies. And when you strike upon the right pond, some real trophies are a definite possibility.
"Some have really good fish, some don't," says Waterloo's Randy Kollmann, who has probably fished as many different Iowa farm ponds as anyone. "Pond size doesn't matter. On one of my favorite ponds, you can take a 16th-ounce jig and cast it clear across in any direction. It's got 11-inch bluegills, and nobody fishes it. They just drive on by."
Kollmann concentrates his pond efforts in water at least 10 feet deep at the edge of the weedline when it reaches that deep, and usually finds that small jigs tipped with wax worms and small jigging spoons are effective, just as they are on larger bodies of water.
Give southern ice-fishing a try. It's better than you might think.
Editor's note: ON ICE TOUR – cofounded by Chip Leer and Tommy Skarlis – is an intensive effort aimed at expanding the sport of ice fishing through instructional articles, seminars, in-store and ice fishing contest appearances, and one on one exchanges with the public. Learn more about ON ICE TOUR and the greatest of winter sports at www.onicetour.com