Abu Garcia® C5 Mag-X: The Ambassadeur® Tradiyion Continues


SPIRIT LAKE, IOWA - Legendary. The Ambassadeur C series baitcasting reels from Abu Garcia are truly legendary. Following in the Swedish footsteps of the red 5000, the black 5000C and the current models of Abu Garcia baitcasters, the new C5 Mag-X is recognized as a classic from the first cast.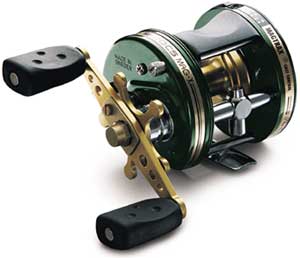 The newest addition to the C series has the convenience of magnetic brakes to fine-tune outgoing spool friction and significantly lessen the possibility of a backlash, even when casting light baits or fighting the wind. The adjustable Magtrax magnetic brake system is located on the top of the left side plate for easy manipulations to the spool friction. Combine the Magtrax system with the reel's centrifugal brakes and ultimate control is delivered from improved casting performance.
This high-quality baitcaster has a gear ratio of 5.3:1. The C5 Mag-X also features five stainless steel bearings for the smoothest casting C series reel yet. Synchronized level-wind keeps monofilament or braided lines flat on the spool. Instant anti-reverse provides powerful and reliable hooksets. Non-slip aluminum spool, centrifugal brakes, star drag and fast thumbar are just a few of the additional features of this new reel.
Two sizes of the forest green reel with gold trim and silver reel seat are available, the 4600 and 5600, in right hand models only. The 10-ounce 4600 C5 Mag-X holds 170 yards of 10-pound test monofilament and the 10.6-ounce 5600 model holds 205 yards of 12 pound. Both reels have the suggested retail price of $99.95.
To find out more about the Abu Garcia C5 Mag-X baitcast reel, or for the nearest Abu Garcia retailer, call Abu Garcia Consumer Services at 1-800-237-5539 or visit the Abu Garcia website at www.abu-garcia.com.