Unconventional Spooning
By Noel Vick with On Ice Tour

The jigging spoon. It is to ice fishing what soft plastic worms are to bass and streamers are to trout…effective, time honored, and constantly being reinvented.

Largely associated with gamefish, jigging spoons have been used for decades on walleyes, lake trout, salmon, and pike. But their use drops greatly when crappies, sunfish, and perch enter the fold – notice I said use and not usefulness. On Ice Tour has identified numerous jigging spoon applications for smaller fish species, and they'd like to share some with open minded ice anglers.

The Spoon and Its Role
The stereotypical jigging spoon is metal in composition and hangs vertically. Some have metal finishes while others sport flamboyant paints and even holographic images of baitfish. Most carry a treble hook, which dangles from the bottom, and a few offer single hooks. Shapes, sizes, and curvatures vary, but essentially, each and every model aims to imitate injured baitfish, and this mimicry is created through flash, color, sound, and vibration.

Plainly stated, jigging spoons are aggressive lures. They're built for searching-out active fish and drawing others from great distances. Sure enough, you can reduce spoon size and slow things down when fish seem sluggish, but under those circumstances, there are more suitable options.

All spoons are not created equal. It's important to choose a spoon size and shape to match the conditions at hand. This is especially true when pursuing discriminating feeders like bluegills and crappies. It's necessary to consider overall water depth to lure weight; lure color as it applies to water clarity; matching lure action to apparent fish aggressiveness; hook size to fish's mouth size; colors that match naturally occurring forage, etc.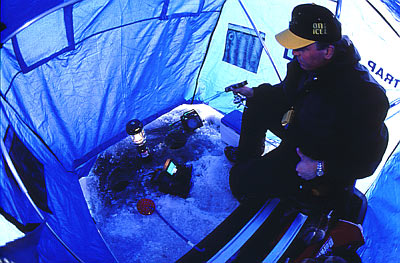 The remainder is broken down into "species categories", allowing us to make precise references and suggestions. In ice fishing, the subtlest details often make a difference.
Jumbo Perch
It's necessary to qualify perch as jumbos and non-jumbos, because anything smaller than a jumbo is bait. But in all fairness, jumbo means different things to different people in different regions - I consider anything 9-inches or better a jumbo.
Of the three – perch, sunfish, and crappies – perch are the most likely to welcome spoons. Their meat eating nature is closer to a walleye's than a panfish. And true jumbos eat some pretty big grub.
Upsized jigging spoons are one of our favorite perch weapons. Big perch love them, and contrary to popular belief, chunky spoons sometimes stimulate responses from lethargic fish. On Ice Tour dispels the rigid formula of always downsizing when times get tough.
Leech Lake (MN) guide, Brian "Bro" Brosdahl hooks some serious hogs on a 3/8th-ounce, Glow Perch, Northland Buck-Shot Rattle Spoon. Conventional wisdom asserts that Bro's spoon is too large and gaudy for jigging perch in only 10-feet of water. But if you'd seen what I've seen, the questioning would end. Gigantic perch, some 12 and 13-inchers, inhale Bro's immense spoon faster than a petite freshwater shrimp.
What we call Desert Storming is an effective method for rustling up jumbos, especially over sand. Take your spoon, which is garnished with a minnow head, and bang it on the bottom. The spoon kicks-up sand and causes quite a disturbance. Perch are drawn to the commotion, imagining they've approached a wounded minnow or agitated crayfish.
Speaking of crayfish, On Ice Tour's Chip Leer often tries to imitate the sound of crayfish clattering around on the lake floor. To achieve this, he adds a couple of Northland Buck-Shot Rattle Beads above his spoon. Not only do they add sound, but also a taste of color.
The same spoons are ideal for making short droplines. A dropline consists of de-hooked spoon attached to a short snell that ultimately ties into a hook or small lure – perch love them. The spoon portion draws fish in while the simplistic and natural hook and bait prompt 'em to feed.
Professional angler, Tommy Skarlis uses a customized dropline for times when perch seem less-than-interested. He removes the treble hook of a Lindy Rattl'r Spoon and replaces it with a six-inch segment of three or four pound test monofilament. To it, Tommy ties in an #10 or #12 Aberdeen hook and dresses it with Berkley Power Wigglers (wax worm looking things).
Chip's dropline is for normal perch feeding behavior, which is fairly positive. Beneath a hook-less Northland Buck-Shot Rattle Spoon, he works in a shorter three-inch section of Berkley Vanish (four-pound test) and a green/chartreuse #6 Northland Fire-Eye Attractor Hook. For bait, Chip impales a whole crappie minnow or the noggin of a fathead. The short three-inch leash is just enough to separate the dinner bell from the meal.
Crappies
Ah yes, the beloved papermouth. I dare say that sparse numbers of ice anglers regularly spoon for crappies. Chip and Tommy have been experimenting with spoons on crappies for some time, and with success worth mentioning. After all, we know that crappies attack things that flash, glow, and vibrate; so why not jigging spoons?
Crappies are opportunistic feeders. They graze on various microorganisms as well as baitfish. Finned forage is particularly important to large crappies and ones feeding, regardless of size, at dawn, dusk, and overnight. Therefore, we offer minnow-imitating spoons during low light periods and when serious slabs are on the prowl.
Chip and Tommy mesmerize crappies with propped baits. For example, Tommy discovered that the whirling propeller of a Lindy Pow'r Dart is a serious trigger. He pulls it through suspended schools of crappies. The irresistible sight and sound activates certain members and they follow.
A similar pulsing and spinning does the trick for Chip, but he works a Northland Whistler Bee, which is actually a modified jig; the flashing propeller makes it spoon-like. To it, Chip lip hooks a whole minnow.
You can also rely on downsized versions of popular jigging spoons. Northland's Forage Minnow now comes in a crappie-sized 1/16th-ounce model. Understanding that crappies respond favorably to glow-paint and the color pink, Chip favors the Glow Rainbow pattern. The smallest size Lindy Rattl'r Spoon is also readymade for hardwater crappies.
Bluegills
If your head wasn't shaking at the notion of spooning crappies, it's about to. The biggest and meanest bluegills in virtually any body of water feed on baitfish and cannibalize tiny bluegills. And as unconventional as it might appear, jigging spoons match this behavior.
Tommy goes into tinkering-mode. He takes the smallest Lindy Rattl'r Spoon and replaces its treble with a long-shank Aberdeen (#10) hook and loads it up with wax worms. Chip's choice is a single hooked Northland Forage Minnow (#8) with maggots. In both cases, the boys lean toward yellows and oranges, which are classic bluegill colors.
Our good buddy Bro supports these lure choices, but he elaborates. Bro takes his wax worm covered spoon and rips it violently. The intense action creates a cloud of worm bits and pieces. Bluegill-radar locks in and soon there's a school of excited fish around. Hopefully, bullish 'gills will strike what's left on the hook, but if that's not happening, he quickly lowers a System Tackle Fat Boy with a single waxy – his chances of hooking 'gills on the small jig are about 99%.
To employ such "non-finesse" tactics demands untypical panfish gear. Your rod needs to be stiffer, quicker, and shorter than usual. The new 26-inch, medium action Dave Genz Signature Lightning Rod rocks! Originally intended for walleyes, the boys find its hardier composition ideal for presenting spoons to perch and panfish.
You can disqualify super-ultra-light lines because they're too wimpy. Instead, spool-up Berkley Vanish or Micro Ice in four to six-pound strengths – both types maintain relative invisibility in these line weights. The added potency is better suited for pumping spoons, and you'll be prepared if a rankled walleye or northern pike arrives.
We understand that using jigging spoons on certain quarry is a little unconventional. However, if we flash and flutter and forget the norm, bluegills, crappies, and perch will soon be picking up good vibrations.
On Ice Tour is an intensive effort directed at expanding the sport of ice fishing. Cofounders Chip Leer and Tommy Skarlis offer public seminars and kid's clinics; appear at in-store events; exhibit at sport shows and ice fishing competitions; broadcast a weekly radio show and conduct hands-on product demonstrations. On Ice Tour produces an annual ice fishing publication (On Ice), and they can be found on the Internet at www.onicetour.com