Fishing the Lake Trout of Lake Erie
By Dave Adams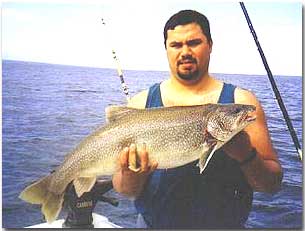 Slow growing, long living, and once constituting a large commercial fishery in the Great Lakes, the lake trout can reach an age of 40 years and weights up to 100 pounds. In 1946 commercial harvesting of lakers was 7,457,000 pounds. However, with the advent of pollution and the sea lamprey - commercial landings of lake trout went to 385,000 pounds in 1960.

More recently, the stocking of lake trout 25 years ago allowed an Ohio angler the opportunity to set a new record. Eclipsing the old record by four pounds, the lake trout record for Ohio now stands at 20.49 pounds.

Although a common fish in Lake Erie, the lake trout is not heavily fished. However, after waging a determined battle with a 20-pound fish that fights like a tank, the lake trout can transform any angler into a laker enthusiast.

How can you land one of these monsters of the deep? Capt. Jim Armstrong of Guaranteed Fishing Charters, who has turned lake trout fishing into an art, shares some of his tactics. "Lakers are usually caught at or near the bottom and with summer coming, lake trout will move to deeper water between 50 and 100 feet. On the eastern basin, some will be caught as deep as 150 feet. The use of downriggers is a must and the spoon is the preferred lure. During early summer, concentrate in the depths of 70 to 100 feet. A popular spoon is the "NK-28" (silver with blue or green stripe.) As summer progresses the larger "NK-Magnum" in the same colors works well, but move to depths over 100 feet. Conventional leads off the downrigger do not work for lake trout. Keep the spoon as close as two feet from the ball and do not exceed six foot." Jim has also been successful using silver dodgers and a cowbell dodger made by "Sutton." Trolling speeds, which are different than most anglers are used too, should be between 2.5 and 3.0 mph. Also, a popular lake trout technique used by deep-water trollers is the "bump-bump-bang." The downrigger ball is literally bouncing along the lake bottom, and the bang is a lake trout smacking the lure.

During the summer months, the Ohio angler can tangle with this deep-water fish at the eastern basin of Lake Erie. Follow I-90 into Pennsylvania and exit at No.11. Continue to Route 89 north and turn right at Route 5. Two miles down Route 5 is the PF&BC marina at North East. Water depths of 120 feet can be found within five miles of the shoreline. Capt. Jim Armstrong can be reached by calling, (814) 725-8989. On a final note, if the walleye action is slow on the central basin this fall or next spring, dust off that downrigger and go for the next gargantuan trout.