Trout Fishing in South Dakota


In South Dakota, the fishing season never closes! Which makes the pursuit of trout in the streams and lakes of the Black Hills a year-round sport. You can catch walleyes, northern pike, bluegills and crappies too-but trout top the list for Hills sportsmen.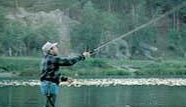 Dedicated fly fishermen know that September, October and November provide some of the best dishing of the year. Local fishermen say that the best trout streams in the Black Hills are Rapid, Castled, Spring and Spearfish Creeks.
It's a fact that some of the finest brown trout fishing on Rapid Creek lies within the city limits of Rapid City. (Recently, biologists electro-shocked a 100-meter stretch of Rapid Creek right behind Baken Park Shopping Center. They counted one 22-inch brown, three20-inch browns, 28 other browns 14 inches or larger, and scores of smaller trout-all in 100 yards).
Spring Creek, both above and below Sheridan Lake, has some nice trout. Upstream, there's two miles of brand new habitat enhancement and downstream is a walk-in stretch, which has been yielding some lunker browns.
But for big autumn browns, try Rapid Creek above Lake Pactola. In the autumn, trout seem to spend more time where creeks enter lakes, or where shallow and deep waters meet, such as rocky ledges. There's a walk-in trophy area just above Silver City. The trout there are big and they're smart…they've tangled with fishermen before.
Another excellent choice is French Creek in Custer State Park. Here, amid herds of buffalo, you can fish near a modern highway, or for the more adventuresome, hike into the French Creek Wilderness. French Creek is a necklace of pools and riffles. It takes discipline to thoroughly fish each stretch, because the next pool upstream always looks supremely trouty.
For classic beauty in the outdoors, it's hard to pass up Spearfish Canyon. Fast-flowing Spearfish Creek has an excellent population of wild, brown trout, plus there's the bonus of idyllic surroundings of spectacular canyon walls and spruce forests.
Castle Creek, a high-country tributary to Deerfield Reservoir, is the number one spot in the Black Hills to catch wild brook trout. The creek is narrow and deep, through mountain meadows, and has some crystal-clear mirror-surfaced beaver ponds.
Wherever you go, autumn generally means low, clear water conditions and wary trout. Approach streams softly, keeping a low profile to avoid spooking the fish. Mornings and evenings provide the best fishing conditions because they coincide with insect activity and low light levels. Overcast, rainy or snowy days are great for trout fishing. Here are some more tips for catching them.
Whether resting or feeding, trout nearly always lie facing the current. So approach from the rear, cast upstream, and retrieve your lure at the same speed as the current. Trout spend more time in the fast-water riffles at the head or tail of a pool, than in the pool itself. If you spot them rising in one area of a creek, they usually feed in that same location day after day. One more tip: try all the nasty, gnarly spots that other fishermen avoid because they're afraid of snagging their tackle.
You can buy a 1-day, a 3-day, or an all-year-fishing license according to your need. Get one at any sporting goods shop, hardware store, country store, outfitter, and county courthouse or at a local office of the South Dakota Game, Fish and Parks Department.
Here in the Black Hills, hard-bitten fly fishermen never put their rods away for the winter. Fast-flowing Rapid Creek and spring-fed streams like Crow Creek, Spearfish Creek or Hanna Creek never do freeze up. They are spring-fed creeks that don't cool as quickly as freestone streams, so they remain open water. And since trout are cold water fish anyhow, fly-fishing goes on through the winter.
Some of the top trout-getting flies are Adams, Mosquitoes, Humpies, Zugbugs, Wonder Bugs, Bitch Creeks and Montana Nymphs, sizes 12-22. Try a 6-weight line with 3X or 5X leader.
Altogether, there are 375 miles of trout streams in the Black Hills. About 120 miles are managed with hatchery trout, and 255 miles have all wild trout, browns and brookies.
Ice fishing on the lakes in the Black Hills begins as soon as the lakes freeze over and the ice is safe. That's usually about mid-December.
Fourteen mountain lakes make the Black Hills a popular fishing destination any time of the year. Ice fishing fans migrate to the Hills because of the mild winter temperatures and a bounty of rainbow, brook and brown trout. Rainbow trout are the most abundant in Hills lakes, with brown trout running a close second.
The key to ice fishing in the Black Hills is to find shallow water, where the fish are closer to the surface. Local fishermen feel the best trout lakes are Sheridan, Deerfield, and Pactola.
Sheridan Lake, located just southwest of Rapid City, remains at a fairly stable level, and freezes solid in January. Sheridan offers the most variety for fishing because it holds not only trout, but also yellow perch and some northern pike. It is stocked once a year in the spring with large rainbow fingerlings to reach catchable size the following year.
Deerfield, northwest of Hill City, is a popular fishing lake every season of the year. The higher elevation of Deerfield (5,900 feet) keeps ice on the lake all winter long. Ice fishing begins here around mid-December and ends as late as March. Fishermen especially relish "ice-off" time at Deerfield. This once-a-year event, when the winter ice begins to break up, makes for very hot fishing and there are a good percentage of whoppers. Deerfield holds rainbows; naturally reproducing brookies and every three years is stocked with splake (a char-brook trout hybrid).
Pactola Reservoir, just west of Rapid City, holds mostly rainbows, a few cutthroat trout, and some wild brown trout stock. Pactola usually freezes later in the season because of its large surface area and depths reaching 170 feet. The edges of Pactola, and narrow gulches, like Jenny Gulch, North Cove and Veteran's Point, freeze in plenty of time for great winter fishing.
Center, Legion and Stockade Lakes in Custer State Park are good for crappie and trout fishing. Both Stockade and Bismarck Lakes, near Custer, produce more lunkers in the wintertime that in any other season. Even it the fish aren't biting, the beautiful settings of Custer State Park will make your trip worthwhile.
Bait choices for Black Hills winter trout include earthworms, red worms, salmon eggs, grubs, whole kernel corn or mini-marshmallows skewered on a #10 or a #12 hook. But most ice fishermen seem to prefer small, lead-headed jigs like the Swedish Pimple. Try 1/8th of 1/4th-ounce sizes.
After a limit of five plump Black Hills trout, a man can head for a roaring fireplace and a hot toddy with the satisfaction that he's beaten Old Man Winter at his own game!
This article is printed with permission by www.blackhillsbadlands.com, visit their site for more information about South Dakota fishing.