Equally surprising is the price many manufacturers are asking for these two-handed graphite sticks crafted from various powders, resin and scrim. I'm beginning to think that something in the range of 500 bucks must be a bargain, since the really good rods cost $700 or more, at least that's what the manufacturers suggest.
And, what a fun trip this has been ... If nothing else, it proves old dogs can learn new tricks. Spey casting is fun, easy, graceful, and, believe it or not, allows for the transfer of many things you already know. One thing is certain, if I can learn to do the spey cast, you can, too. A friend of mine provided a couple of DVDs, one by Mel Kreiger, the other by Darek Brown along with a lesson on the water. With that, I was off –- reading, watching, practicing. I've learned a lot; fortunately, many things transfer from one-hand to two-handed casting, once the very different "feel" becomes habit.
Under his eBay banner of Angler's Roost Enterprises, John is offering four Spey models:
13-ft., 4-piece, 7/8 weight.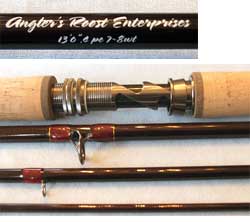 Fabricated from IM-6 graphite with reinforcing scrim in the deep self-seating ferrules, these rods feature accouterments usually reserved for the top rods of the competitive lines: high quality Portuguese cork grips, modern lightweight titanium anodized aluminum reel seats, stainless steel single-foot guides, tip-top and folding line keeper. The deep mahogany finish, complimented by matching dark wraps, makes these rods especially attractive.
I confess to all, the secret to a graphite fly rod is to be found in the rod maker's mind when he or she brings together a concept of the taper, wall thickness, and length. And then adds the graphite powder, rosin, and scrim that when mixed make the thing a rod, after being wrapped around a mandrel … and baked in an oven. Regrettably, many builders would have you believe there is method to their madness. Perhaps…
The way I see it is fairly simple –- if I had to use only two words, they would be castability and fishability in either your hands or mine. How a rod performs in the field and, most especially against Friend Fish, is a personal thing. Be that as it may, I will offer my opinion on what I consider to be the finest inexpensive Spey rods in the world.
The two Spey rods that I was privileged to play with (along with a few friends) included the 4-piece, 13-foot, 7/8 weight and the 3-piece, 12-foot, 7/8 weight. Please keep in mind that a long-time left-handed caster is writing this review. However, give credit where credit is due. After unpacking the rods, I at least had brains enough to assemble them outside. The first thing that struck me was the length: both were a helluva lot longer than the 9-footers I have grown used to over many years of pursuing the sport. Naturally, my first toss was one-handed. Two more and I realized that only Conan, the Barbarian could throw these rods all day with one hand. I also knew one other thing, at age seventy-four I have no desire to become the Governor of California.
I have always questioned whether or not knowledge transfers among disciplines or activities. I now know now that some do, at least in fly fishing. After many hours of practice, the rhythm of fly casting began to return, this time with two hands on the rod instead of one. Remarkably, I thought, "These rods are really light."
Spey casting is fun! And many of the techniques transfer making the one-handed caster even more dangerous to Friend Fish. Just wait until you show your buddies the Snake Roll cast as popularized in the movie, A River Ran Right Smack into It, or something like that…
Now that I've warmed-up your thirst for knowledge, let me assure you that this article is not about how to Spey cast. It's about the rods. At the outset let me suggest you skip this article if you believe (1) the more you pay for an item, the better it has to be; and/or (2) you feel good when everyone you know knows how much your toys cost. (It reminds me of a guy I know that left the price tag on the arm of his new couch for three months. I actually felt sorry for him: it was one of those pieces of furniture that is/was designed to look old when new.)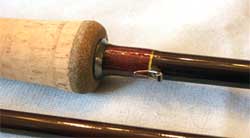 On the other hand, if you still value a dollar, consider yourself competent to make your own decisions about the worth of a product, and really don't give a rat's ass what the other fly fisher's think of your equipment, than this article is for you. In this, the day and time of the Messiah – a day when some wonder whether or not our economy can survive what seems to me to be the genius of absolute idiocy, dollars are apt to become scarce – at least in their value. To me, the difference between $855.00 and $125.00 is $730.00. That to me remains a lot of money; besides, if I don't need it for food, repairs of clothing, I can always use it to buy more toys.
The Spey rods from Angler's Roost are light, well-made and pretty. The reel seats are skeletonized, attractive and functional with very good cork. Personally, I love the single-foot guides that I believe help the cast besides saving a little weight. The finish is as good as they come with wraps that rival any on the market.
These are smooth casting rods that transfer the power of the cast to the line as well as any rod can be expected to do. I would rate these rods as medium-fast. Both models load easily and will do whatever the caster asks.
Both of the samples were cast against other competitors, most notably a Sage Z-Axis 8-wgt. Switch rod, Model 8110-4. To be sure, the Sage is a very nice rod. When compared to the ARE rods, the Sage is indeed more striking in color combination. It's interesting to note that advertising suggests the Sage weighs slightly more than 5.5-oz. while the 12-ft. ARE comes in slightly more than 6-oz. The two rods cast almost identically except for their like in Spey lines.
The Bottom Line: Do I think the difference in the two rods is worth $600.00?
(Sage - $725.00 retail; ARE – approx. $125.00 at auction.) The answer is absolutely NO! If you are looking for a delightful Spey casting rod, one that you will find satisfying, one you will want to show to others, try an ARE Spey rod. I think you will be surprised at what a dollar can still buy.
Give John a call at (716) 565-9838 or email him at jksanglersroost@aol.com. Better yet, visit his eBay store, JK'S Angler's Roost.