Flippin' for Bass


By Mark Tyler

Flipping is my favorite technique for catching big bass. You can use this technique year-round on many bodies of water; others are more limited to the springtime. At every event I always try and find a flipping bite because that's where my confidence is highest. All you really need to Flip is some moderate stain to the water (0-3ft visibility), and preferably some shallow cover. You can find this most of the time if you look in the right places. Small inlets, creeks and cuts can be deadly places especially after a rain. They collect bushes, logs and debris as run-off water runs down, and usually this water is muddier than the rest of the lake. No rain? Venture up the main creek feeding the lake, eventually you will find the right ingredients. I grew up fishing the California Delta, so I didn't have to search too hard for the right ingredients. But I have had tremendous success taking what I learned on the Delta, and using it on reservoirs that are not traditionally known as Flipping water.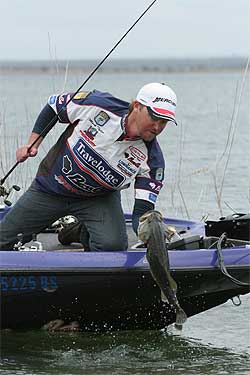 I use two different flipping sticks, each designed for a particular set of conditions. A 7 ½ foot Kistler Magnesium series is the best all around choice for a wide variety of conditions, and this is the one I use most often for light duty flipping. My bait selection for this rod almost always starts with a jig! If I can't buy a bite on a jig, then I will begin working through an array of soft plastics until I figure out what they want that day. I keep this rod spooled with 20# mono 80% of the time. Make sure your line lies super flat on the water. No coils! It helps you see your line move and detect strikes. I may go up to 25# if the cover is super heavy and the water is muddy. In rare circumstances when the water is clearer and I think the fish can see my line I will downsize to 17# fluorocarbon. Fluorocarbon disappears better underwater, but it is more brittle. For that reason I always like to try and stay with monofilament if I can. What about braid? That's spooled up on my second flipping stick. The work horse the Kistler 7'11" model. It's stouter, handles heavier weights, and is used when I'm really getting in the thick cover and need to get them out. Thick matted vegetation, buck brush, hyacinths, etc. Rigged with 65# braid and a ½ to 1 ounce Tungsten weight this rod will dig um' out of the gnarly stuff. For this thick type of cover, I like to use short compact baits with no tails or appendages hanging off them. For example, tubes, beavers, craw worms, and short fat worms work well because they slide through cover without hanging up. Lube your bait up with a slimy scent if you're punching through grass, it will really help slide the bait through as well. You can try a jig, but it is a little more work to penetrate heavy cover and keep it from getting hung-up or slimed with weeds. I've found soft plastics to be a little less aggravating for super-thick cover.
The best flipping tip I have, is to get the speed of the fall right. Over all my years of flipping, I determined this to be the single most important factor. Shape and color of bait selection are important, but the speed at which your lure comes crashing down into that bass' house seems to be more important on whether that bass bites or not. Fishing is not a science. It rarely stays constant. So one day may be totally different than the next. Change the weight (speed of fall) often to dial in the pattern for that day or current conditions. A lot of trial and error on the water could unlock a key that will get you catching more fish that day than anyone else.
Written by Mark Tyler for the Bass Anglers Guide Mark is pro angler currently competing on the Bassmaster's Elite tour and is the BASS record holder for the largest bass ever caught in a BASS event. The fish was caught flippin on a jig in the Ca Delta.