Shallow Water Ice Walleyes


The words "walleye" and "deep water" often go hand-in-hand, and for good reason. Jigging deep holes in rivers, working live bait along deep flats, and trolling crankbaits over deep water for suspended fish are all productive methods for producing walleyes. There are times however, when one needs to associate walleyes with a different word in order to produce action; that word is "shallow". As there are numerous "deep" bites for walleyes, there are also multiple "shallow" bites as well. One such period for anglers to key in upon for some fine shallow water walleye action is during ice fishing.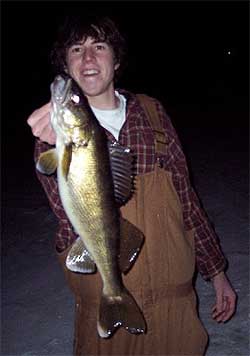 One of my favorite ways of catching walleyes through the ice is via tip-ups at night in shallow water; by shallow water I'm referring to depths of 2'-5'. Generally, this shallow bite is best before the ice thickness begins to exceed much more than a foot or so, although give the right conditions I've caught walleyes when there was more ice than water! I typically begin my search for flats or shorelines containing some sort of cover be it wood, vegetation, or a combination thereof. While cover is not always necessary for a spot to be productive, it is a good starting point when looking to identify the "hot bites" on your favorite lake, river, or reservoir. Other good area to check out are the saddles between islands or sandbars, shelves extending from the shoreline into deeper water, and shallow spots in close proximity to current breaks or eddies.
Generally speaking, the shallow water bite is best in low-light periods such as early morning or evening or at night. I prefer to begin drilling my holes and setting my tip-ups well before "primetime" in an effort to minimize the spooking of fish. In addition, once the run begins, it's best to be already set up and prepared to maximize your fishing success. I prefer Frabill Pro-Thermal tip-ups for two reasons for this style of fishing: one, they block any light from streaming down the hole allowing for a more subtle and natural presentation and two, they help prevent your hole from freezing which is especially important when the action is slow or the fish are being finicky. At night good tip-ups lights are a must to detect strikes early. While there are a variety of models on the market, I prefer the Arctic Fire tip-up lights are they are reliable, easy to install, visible from a long distance, and good on batteries – all important qualities when planning on spending an evening on the ice.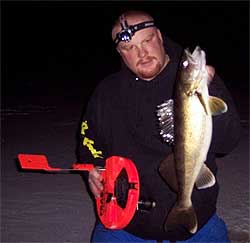 In addition to quality tip-ups and tip-up lights, a good headlamp, lantern, and flashlights are important to have on-hand. About the only time you'll need the extra light sources is when you do not have them – be prepared, it makes for a much more enjoyable and productive time on the ice. As I've mentioned in past articles, I always like to drill extra holes initially when setting up. This allows me to hole-hop easily should a particular area prove to be holding more action than another, again maximizing my fish catching time.
Fishing shallow water walleyes through the ice is an exciting way to score on some of the most overlooked action of the season. In addition, the bite is one of the better opportunities for scoring with a true trophy while on the hard water! When it comes to the big ones, let 'em go and let 'em grow. I'll see you on the water…
Name: Joel DeBoer
Email: joelthemuskyman@charter.net
Website: www.wisconsinanglingadventures.com