Swains Lake, NH - The Hidden Treasure


Nestled in the foothills of Barrington, New Hampshire lies a sweet gem of a lake perfect for pro and amateur alike. Swains Lake offers the accomplished angler the challenge of the large and small mouth bass while offering the novice the fun of yellow and white perch. Whatever your flavor this is a lake for everyone.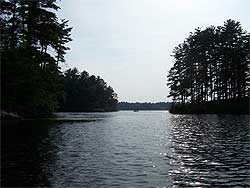 There is ease of access most notably off the Young Road near Beauty Hill, only a few minutes from State Highway Route 125. Once in the water it is easy to see why this the the lake for everyone. There are few obstacles to navigate around When they do occur, rocks are well marked to give plenty of warning. The channels are also clearly marked so one need not worry about going astray.
There are several islands that dot this lake and though it is reasonably small, it gives the presentation and the numerous cove like areas of a large lake making room for everyone.
Vegetation is easily followed to the fishe's lair uncovering the delight that you came for. There were lillys and grass, columbine growing giving plenty of healthy cover.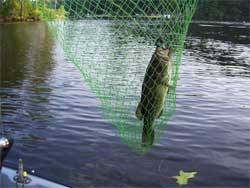 One is not disappointed when fishing this lake. One angler we encountered expects to catch a fish every 15 minutes or 4 per hour. We found this was not a hard goal to achieve. The fish were hitting much of what was offered; ranging from power baits to lures. Our catch numbered 3 small mouth bass and 3 yellow perch in just over 90 minutes.
Swains Lake also presented the surprise of Blue Heron, Canadian Geese, and the usual Mallard Duck.
The depths we encountered ranged from 4' to 30'. Visability was surprisingly good. Though a fresh water lake, it had a brackish appearance. We noted a healthy minnow population which will provide anglers opportunity in the future.
Though there were cross winds in the afternoon, these were not hard to contend with. They worked to our benefit while drifting through the shallows. Currents were mild and managable making navigation a breeze.
I would invite you to check this lake out if and exciting afternoon is what your looking for. Swains Lake truly was a hidden treasure right under our nose.