Gets Crappie to Bite with the Spike-It Color-C-Lector


Editor's Note: Stokes McClellan of Huntersville, North Carolina, is a tournament crappie fishermen who fishes the national crappie-tournament circuits and is on the B'n'M Poles Pro Staff. McClellan credits much of his success in crappie catching to the Color-C-Lector. McClellan is such an avid believer, that even when in the Color-C-Lector was off the market and not being produced, he went on eBay and bought all the Color-C-Lectors he could find. Stokes admits that, "The Color-C-Lector has been the biggest fishing teacher I've ever had. It's taught me how to choose the right colors under any water conditions to make crappie bite better."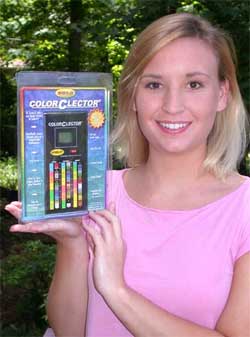 I believe color is the number-one ingredient required to get crappie to bite. Crappie can't see certain colors, depending on light penetration and water color. So, for a crappie to bite bait, it must be able to see the bait. For this reason and many others, I'm a strong believer in the Color-C-Lector. When I'm fishing, I've noticed if I can see crappie on the depth finder, and I'm catching crappie, and then for some reason the crappie quit biting, then usually the sun is in position so the crappie can see the jig. But then as the sun gets higher in the sky and penetrates deeper into the water, the crappie may not be able to see the color, or they may just prefer a different color. As I've experimented with color, I've learned that when the crappie quit biting, if I use the Color-C-Lector to determine what color jig I need to fish, I can get the crappie to start biting again.
Question: How did you first discover how helpful the Color-C-Lector was? McClellan: Here's a story that made me a believer in just how deadly the Color-C-Lector could be. My son Adam and I were fishing in February on a lake in South Carolina near Greenwood. We'd marked the crappie at 10 feet. I dropped the Color-C-Lector down, and it said we should fish green. We put dark-green baits on our B'n'M Poles and drug those baits for four hours. We didn't catch a crappie, but we knew the fish were there. A couple other crappie fishermen were on the lake practicing for a tournament. They said they'd win that tournament, because they were catching fish left and right. There was another fellow we met in the snack bar. When we left to go out to our boat, he followed us out. As we started to get in the boat, he asked, "Have you tried any blue-colored jigs?" I answered, "No." He smiled at me and said to try blue. Now remember, the Color-C-Lector had told us that green was the color we needed to be fishing.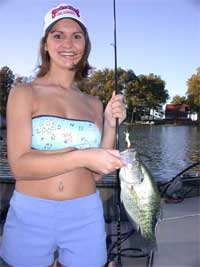 We went back to the place where we'd pinpointed the crappie, and we drug blue jigs around until the color just about came off. I thought the fisherman had lied to us. I put the Color-C-Lector back in the water and dropped it down to 10 feet. It still said we should be fishing green. But I noticed as I pulled the Color-C-Lector up, it read blue. When I looked at the wire holding the Color-C-Lector, I saw that at 4 feet, the Color-C-Lector recommended blue jigs. So I looked at Adam and asked him if he thought the fish were really that shallow. It was February, and the water was very cold. Although we had marked crappie at 10 feet, the Color-C-Lector told us that blue jigs would catch fish at 4 feet. I couldn't believe that at this time of year with the water this cold, that crappie would be only 4-feet deep, but we put on 1/32-ounce blue jigs and started pitching them out of the boat. We couldn't even get the bait on our eight rods out before we started catching crappie. In an hour, we caught 20 to 25 fish. Apparently, the crappie we spotted at 10 feet weren't biting, but the crappie were biting at 4 feet. We missed seeing the fish at 4 feet on the depth finder because of surface clutter. That day, I learned that if a fellow will tell me the color he's fishing or the depth he's fishing, I can figure out everything else I need to know to catch fish with my Color-C-Lector.
If you know the depth at which crappie are holding and you know the color of jig they want to take, nine times out of 10, you can catch those fish. If you want to catch crappie fish, use a Color-C-Lector to tell what color jig to fish at each depth. One advantage you'll find with this technique is that rarely will you ever have competition for the crappie if you fish in the middle of the lake. Too, you'll find the crappie you catch out there seem to be bigger fish. I believe the bigger a crappie is, the more it's a loner.
---
To purchase the Spike-It Color-C-Lector, please click here for detail