Add One Spoonful of Fun....


It's hard to picture myself fishing anywhere but out on the saltwater flats watching that first glimpse of the sun coming up over the eastern shore. I guess I consider myself a little bit spoiled living here near the Indian River in Florida.

There is one sure fire lesson I have learned over the years of fishing the flats. A long time ago, I decided that my best luck always came from using spoons on the flats. I have used and still use most every kind of lure possible out there fishing, but when the fish are giving me the "fin"…..I break out the ol' spoons. That will usually make them wish they hadn't opened their big mouth!

There are advantages to using spoons in the shallow water of the saltwater flats. Being lighter in weight than some other lures, spoons have that tendency to bounce off the bottom and jump around erratically like a wounded baitfish. I generally like the single hook spoon to be less apt to take on seaweed during the retrieve. The hook stays upright and gives it less chance of snagging the bottom. All of these reasons work great when you are fishing in a foot of water or less.

Color is always important when fishing spoons. Gold is always the color of choice, but silver and combinations are also good options. Johnson has always been the standard in spoons for as long as I can remember. Not many anglers are without a few spoons in their tackle box. My personal favorite comes from Captain Mike Hakala out of New Smyrna Beach, Florida. His Willow Spoons are equipped with reflective, holographic type of decals in many different colors. The pink and chartreuse have been steady producers in my tackle box.

Fishing spoons in a couple feet of water provides a unique opportunity of sight casting to your quarry. Redfish are well known "tailers" on the flats, along with marauding snook, trout, and jacks. There are many different species out there in the shallow water. Just about every fish there is looking for something to eat.....while something is looking to eat it! I cast to any movement in the water. You just never know what is lurking underneath.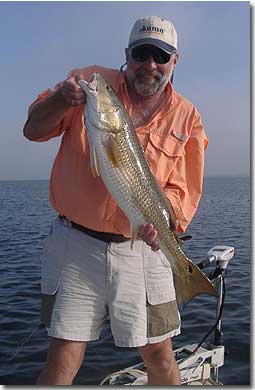 Try varying your retrieve from the jerky, sporadic approach to the very slow, cautious method. Jacks and Ladyfish love the fast moving retrieve. They are very fast fish and love to pounce on anything flashy in the water. Snook and trout are more aggressive and likely to take a short, jerking retrieve. The wary redfish takes better to a slower motion of the lure. Redfish are the lazier of the flats fish. When casting to a likely prospect, always cast beyond the fish and bring it back to it. I find that just as it nears where I think the fish might be laying, I slow it down and let it drop just in front of the fish before moving it again.. This works wonders on redfish that seem to think it might be a crab or something just as tasty. You must make yourself vary the retrieve to see what is working best that day. There are many different kinds of fish out there and they all have different likes and levels of aggression.
Spoons are an easy lure for the beginner angler. They have a natural motion when retrieving and it's easy to experiment with twitches and jerks while using them. There are many spoons on the market and everyone has their own favorites. No matter what your favorite spoon is, make sure you have several in your tackle box at all times. Spoons are a great way to break the ice with a wily fish!
Fishing is not just another hobby……It's an ADVENTURE!
Captain Charlie Conner
captaincharlie@fishtalescharter.com
http://www.fishtalescharter.com