Top Water Rules....


Watching that first hint of light coming up from the eastern shoreline is a spectacular experience. It doesn't matter how many times you are out there on the water at dawn, it's a thrill that overtakes you with the beauty of the sky and water. I fish the Indian River here in Florida and live this as often as I can.

There's something about fishing that early in the morning. Maybe it's the scenery or just the quietness around you, but you become part of that moment. Watching the calmness of the water out on the flats as the sun creeps up ever so slightly. You find yourself taking in every movement or sound around you at that time of the morning. Every ripple or splash on the water commands your keen eye and ear to see what might be the underlying cause of it.

This is the perfect time of the day for top water lures. Nothing can draw the attention of a redfish, snook or trout on the flats like it. There are many brands, types and colors of top water lures. Most of us have tried most of them at one time or another. They make different types of sounds and motions when in use and we all have our favorites. That feeling that there is gonna be an eruption on that lure at any second is excitement enough. Sometimes you can see it coming and other times it comes when you least expect it to happen. Keeps that ol' heart pumping for sure.

My favorite top water lure is the Storm Chug Bug. It's been a faithful lure for many years with me. I recently sent a photo of one of my favorite ones to Storm with all the scars and bent hooks on it. Unfortunately the next day, a nice snook snapped it off and took it to places unknown that morning. I faithfully always start with a red and white color. It has been the old reliable for most fishermen for as many years as anyone can remember. That color works on most fish, especially on the flats. Jacks, Bluefish and Tarpon are also fond of that color. Never be afraid to try something different….color or kind of lure. If something isn't working, they try another one.
The way you work a top water lure is important. It's what gets the attention of the fish and ultimately determines if it is gonna hit or not. Again, try different ways of retrieving it. Sometimes a slow, teasing retrieve will work fantastic, while the next time you may have to jerk the paint off the lure to get some action. Vary your retrieves until you find what is working for you. Most of the time, I find that the erratic, noisy method on the flats works well more often than not.

I love the popping sound that the Chug Bug makes. Some lures, like the Zara Spook and others, are more effective "Walking the dog". They zigzag along the water with each twitch of the rod and make both a great sound and motion to resemble a wounded baitfish. Everyone finds one that suits their purpose and relies on it for success. If you haven't given top water lures a chance, try some and I'm sure you become addicted like a lot of us.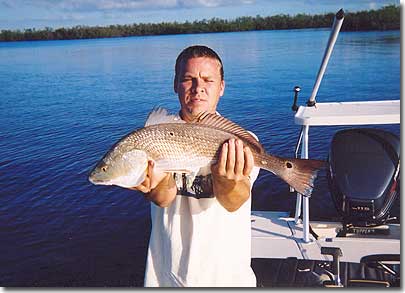 I've had much success over the years using top water lures. There is little that rivals that feeling you experience when that shallow water explodes with a gator trout slamming your lure. And even when one gets off and gives you the fin, you still feel like you've conquered it. The next time you are out there and see just a hint of light along the horizon…….tie on a top water lure…they rule!
Captain Charlie Conner
captaincharlie@fishtalescharter.com
http://www.fishtalescharter.com