Colorado - Snagging Season for Kokanee Salmon brgins in some areas


The snagging season for kokanee salmon has begun on some Colorado reservoirs and streams and will begin later on additional waters. Kokanee are regularly stocked in more than a dozen reservoirs. Each fall millions of eggs are taken from kokanee as they follow their instinctive urge to run upstream to spawn.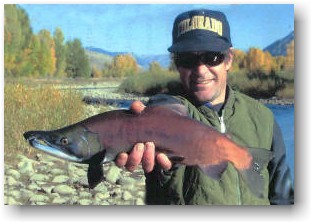 Colorado anglers are given the opportunity to snag the salmon as they make their spawning run. The Division allows snagging because it is a natural part of the kokanee's life cycle to die after their spawning efforts. During the spawning run anglers can take ten salmon per day with twenty in possession.
Kokanee were first introduced into Colorado in 1951 from flathead lake in Montana. A landlocked relative of the sockeye, kokanee spawn in freshwater streams, just as their ocean-going cousins do. But in Colorado, conditions are rarely right for successful spawning, so Division of Wildlife aquatic personnel help them out.
Kokanee provide excellent sport fishing, especially for summer trollers, on a number of our larger reservoirs.
In the summer, Kokanee have a silvery appearance. However, when it comes time to spawn, usually at ages three to four years old, they begin to change. The females take on a red-gray-white pattern while the males develop the hooked jaw and brick red color so often identified with the species. Both males and females have a dark greenish coloration on their heads when they mature.
Watch a video about kokanee spawning.