Cast Nets: Free Live Bait and a Workout


By Jon (J.E.B.)

Some of you probably have used a cast net before, and you probably know how useful one is. A 5-foot radius cast net could cost as low as $16. For those who haven't heard of a cast net, all it is is a round net with a thick cord around the outside, this strung with lead weights about 4in apart. The weights get the net to the bottom, and the main cord (for retrieving the net), in the middle of the net is a small ring where separate lines attached to the lead line come together at this ring and are attached to the main cord. When the main cord is pulled (after the net is thrown), it pulls the smaller cords, or lines, through the ring and being attached to the lead line, they pull this up to the ring, closing the net around any fish it may have trapped.

To throw a cast net takes a few days of practice, but once you get it you'll be catching all the live shad, shiners, suckers, logperch and whatever lives in the stream/river/lake you fish.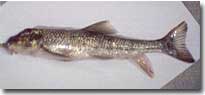 As you can see in the picture, a nice hog sucker I caught with a cast net - this one was actually my first sucker ever caught. I've caught many more since then, and they make a good live bait.
What I mainly catch with a cast net is bluntnose shiners, which I'm sure are mainly bottom feeders, by the position of their mouths, and the smell and the way their guts look.
Back to the nets. Throwing a 5-foot net it about five pounds, and to throw it a distance takes a bit of muscle work. Smaller than 5 feet is easy to throw, and if you're in the right spot you'll catch plenty. But one thing is, of course, don't use a net too small if the fish are scattered. You may catch more than a dozen if you hit a school, and of course you won't get anything if there are no fish.
One thing to remember: you will find more fish hanging in and around cover, but NEVER throw a net into/onto jagged rocks, tree stumps, timber, or anything it may snag in. I lost a net on a log or some structure on a drop off, and in the murky water I couldn't see past a foot and a half.
Snagging on limbs and jagged rocks will tear the mesh in your net, which you can repair, but is one thing no netter enjoys.
With most cast nets (I think) there are instructions on how to throw the net. There are many different ways of throwing a cast net, and you may even come up with your own method.
Cast nets work anywhere in water shallower than 6 feet, and wherever there are baitfish. Cast nets are useful if you fish for flathead catfish, pike, walleye, whatever you fish for with live baitfish.
If you don't have one, get a cast net and start fishing without the hassle of buying live bait.