Ohio's Channel Catfish : Lazy Summer Dyas and Nights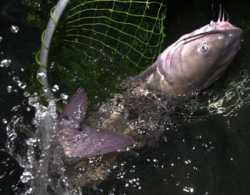 Channel catfish are fiesty In this lazy late summer weather. Channel cats spawn from mid to late June and are hungry and actively feeding after this period. Their vigor picks up from July until September and they can't stop eating. Being light sensitive, they'll feed mostly at night or following a rainstorm. Why are these cats so hungry? It takes a lot of food to build the large size that some of these fish attain. Some channel cats live as long as 25 years. The state record channel catfish taken from La Due Reservoir was over 37 pounds.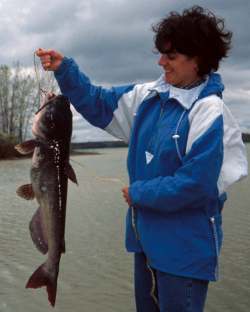 Ohio's rivers and reservoirs are known for some of the largest channel cats in the country. You'll find many channel cat 'monsters' exceeding twenty pounds. In reservoirs, many of these catfish are the result of the successful state stocking program. Channel catfish are native to Ohio, so only waters that do not naturally sustain them are stocked. Each year, typically 68 reservoirs are stocked with an average of 25 yearling channel catfish per acre (~180,000 fish for a mid-sized reservoir). You'll find channel cats in waters where other sport fish may not exist, because they can tolerate murkier conditions.
Where are the Channel Cats biting?
Reservoirs
Central: Buckeye, Delaware, Hoover, O'Shaughnessy Northwest: Bresler, Charles Mill, Clear Fork, Ferguson, Findlay 1 and 2
Northeast: Berlin, Highlandtown, Mosquito, Clendening, Tappan
Southeast: Piedmont, Seneca, Tycoon, Vesuvius, Wolf Run
Southwest: Acton, C. J. Brown, Caesar Creek, Cowan, East Fork, Loramie, Paint Creek
Rivers and Streams: Big Darby, Sandusky, Tuscarawas, Muskingum
Ohio River: Greenup, Markland, and Pike Island tailwaters
Lake Erie: Western Basin and Sandusky Bay
Fishing Methods
Serious catfish angling is done with bait. Try shrimp, chicken or beef liver, worms, and cut bait for bottom fishing, or throw in some 'stink bait' for the cats to bite, whether homemade (form a mixture of cheese, decayed meat or minnows, animal blood, oats, flour, and anise into small balls) or commercially prepared. Remember catfish aren't too picky: you can try night crawlers, animal entrails, frogs, grasshoppers, clams, crayfish, and also artificial baits, such as plugs, spoons, jigs, spinners and plastic worms. Remember catfish have small eyes compared to many other fish, so think big, colorful, and smelly. Keep your bait geared to the size of fish that you'd like to catch.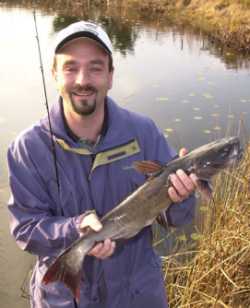 Try to get your hook close to the bottom, where the catfish spends 90% of its time. Try finding boulders and logs where the channel catfish are hiding. They use their barbels to locate food in deep water recesses. Or move your line up on cloudy days or at night, when the whiskery fish swims higher in the water.
If you're river fishing, look for channel cats near cut-banks and just after riffles (in the beginning of pool areas). Catfish like to get their mouths on the bait, so you'll likely feel some nibbling before the fish takes the bait. Have patience and you'll land a mess of keeper-sized fish.