Go Shallow and Light for the Hot Spring Ice Bite


By Fishing the WildSide's CHIP LEER

Decisions, decisions. Aren't they great?

Paper or plastic? Cash or credit? Fine-dining or small-town cafe?

It's the same in fishing.

Panfish or walleyes? Live bait or hard baits? Deep water or shallow water?

Make mine panfish and walleyes on live and hard bait under shallow late ice. It's a narrow window of fishing opportunity when unbelievable things happen in unbelievable places -- unless you've been there before.

Spring is shoving winter aside. Temperatures are rising, and it's comfortable outdoors. The snow has melted, but not the lid of ice that caps the lakes across the upper Midwest. Atop that ice, the fishing shacks are gone, as are all but a few anglers.

Underneath that ice, a rejuvenation of the ecosystem is taking place. Life is beginning anew as aquatic plants shake a leaf and invertebrates begin to dance in their yards. It's a spring turnover, much like the one many lakes experience in the fall.

A variety of fish species from baitfish to walleyes, perch, bluegills and crappies are quick to notice the new food sources and the growing difference in water temperatures. They're shallow, they're hungry and they're aggressive. It doesn't get much better than that.

If an area was good at first ice, chances are it's worth revisiting during the late-ice period. As well as shallow flats less than 10' deep that are large in size as this water will warm fast during the springtime's longer daylight hours.

The later the ice hangs around, the warmer the weather will get, and that's one of the best things about spring ice fishing. There's no better time to introduce new anglers to the sport or enjoy a family outing. I'll take a 40-degree day on the ice over a 40-degree day on open water in May any time.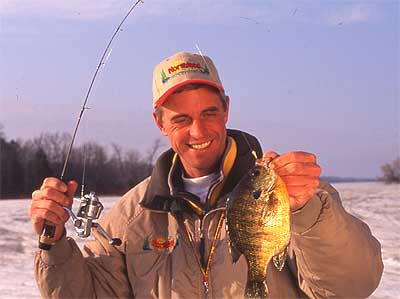 This spring is shaping up as an ideal late-ice situation. Snow cover will insulate the ice longer and slow the melting process. Once the snow is gone and the water has drained off the surface, it's time to get after it.
The pro staff at Fishing the Wildside has experienced all kinds of late-ice bites for all of the above-mentioned species. Fish that abandoned the shallows when the plant life went dormant and oxygen supplies dwindled in January will return to what is again an inviting environment.
Bluegills, sunfish and some crappies will show up in any areas where there are signs of newly re-generated green plant life and/or where the water has warmed the lake bottoms well enough to set-free millions of micro organisms for these fish to feed upon. Perch and walleyes, as a rule, will still prefer water that's 8-10 feet deep or so but will slide up into water as shallow as 2-3 feet if the water is warm enough and/or feeding opportunities exist.
There have been times when I've actually fished on the inside of bulrushes where no more than two feet of water existed between the bottom and the ice. Usually, these areas aren't far from more traditional shallow-water haunts like sand, grass or stubble flats.
Shallow water fishing presents opportunities and challenges. Opportunities are great for sight fishing, no electronics just staring down the hole and observing how fish react to your lures and jigging actions. There is no better way to perfect your jigging stroke than to play with different movements while a fish is watching. The challenge is however, the limited space between you and the fish.
Noise, you will want to keep it to a minimum. As for equipment there are some things I do to rig correctly for shallow water fishing. A medium to medium-light action rod will help absorb shock that the shortened amount of monofilament will not. A shorter rod is also easier to sight fish with as well. After a fish is hooked in the shallows often it will swim off to the side rubbing your fishing line against the bottom of the ice hole, therefore I strongly suggest Berkley Trilene Micro Ice in the appropriate line weight. Trilene Micro Ice was developed just for this situation and will hold up under these testing conditions.
Fish metabolism increases with the warmer water and therefore my arsenal of lures is usually made up of larger selections with broader profiles. The bigger baits give me the ability to horizontally attract fish from further away, which seems to be a bigger factor than when the fish are in deep water and attraction comes on a vertical plane. A key point to remember is that shallow fish are aggressive feeders, so move often and sooner or later you will attract the mother lode from afar on the horizon.
Panfish choices would include a Northland Forage Minnow Fry or a Bro Bug while for walleyes and perch a Northland Airplane Jig or Buck Shot Rattle Spoon are my first choices. If the walleyes are the least bit hesitant I will quickly switch to a Northland Eye Dropper under an Ice Buster Foam Bobber that can be trimmed to achieve proper neutral balance.
I also like to fish a dead rod with a small ice jig and a Berkley Gulp! grub or a piece of Power Bait while I'm working other fish over. The dead rod gives me the ability to give them a "slower" or "still" presentation while I'm gripping and ripping a more aggressive approach.
That's one of the other things I love about late ice outings. All winter long, we've been moving progressively deeper and presenting smaller lures in more subtle ways. Finally, when March rolls around, it often seems like the more action you give a lure, the more fish it attracts and the harder they whack it!
The choice is yours. You can hang around the garage and dream about the open-water days just around the corner, or you can get out and experience some of the hard-water season's most exciting and surprising fishing. Make mine shallow and light.
Editors Note: Fishing the WildSide On Ice, co-founded by Chip Leer and Tommy Skarlis, is an extensive effort focused on generating excitement for the great sport of ice fishing. For more articles, fishing tips, info on the latest and greatest ice gear or a schedule of Fishing the WildSide On Ice Pro Staff appearances, log onto www.onicetour.com or www.fishingthewildside.com