Hickory Shad are Making a Comeback in the Roanoke River


RALEIGH, N.C. (Feb. 19) – Hickory shad, harbingers of spring fishing, have made a remarkable comeback over the last decade and are now one of the most popular fisheries along the Roanoke River from late-February through March.

Kent Nelson, coastal region fishery supervisor for the N.C. Wildlife Resources Commission, said the reasons for hickory shad's comeback are not entirely clear, but a number of factors are possible.

"We believe that favorable spring spawning and ocean conditions, as well as limited commercial fishing and harvest restrictions, have played major roles in rebounding hickory shad numbers," Nelson said. "Also, anglers practicing proper catch-and-release techniques — where fish are landed quickly, handled little, if at all, and kept in the water while the hook is being removed — have had positive impacts on fish survival rates."

While specific reasons for their population explosion are elusive, early-bird anglers who have braved the cold winds of late February and March can attest that hickory shad are biting — and biting frequently on a variety of tackle.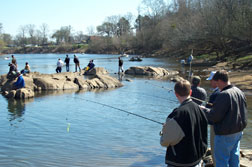 Hickory shad anglers line the banks and the jetty in Weldon hoping to catch their daily limit of 10 shad per day.
"Anglers typically fish for hickory shad on light spinning gear, although increasing numbers of anglers are trying their luck with flyrods," Nelson advised. "Shad darts are a favored lure when fished by casting upstream into the current and retrieving as it sinks and drifts downstream."
Nelson also recommends that fly fishermen use miniature, Clouser-type lures, preferably with a touch of flash added to the tail. However, anglers should remember to sink their lines, to keep their lures, and their hopes for a bite, from being swept away by the Roanoke's swift current.
Although the Roanoke is considered by many anglers to be the premier destination for reeling in a daily limit of 10 shad, fishing opportunities are abundant in many North Carolina coastal rivers for hickory shad and the larger American (or white) shad, including the Tar, Neuse, and Cape Fear rivers. Bank-bound anglers on the Roanoke frequently can catch fish along the shorelines adjacent to the Wildlife Commission's boating access areas at Weldon and Williamston if their timing is right.
"In the Roanoke, hickory shad begin appearing in the lower river near Plymouth in late February and early March, and subsequently, in the upper river near Weldon in mid-March, a couple of weeks before striped bass arrive," Nelson said. "Peak fishing near Weldon varies from year to year but is usually from late March to early April."