The Original CrabHawk


We are the makers of a new crab trap called the CrabHawk. http://www.crabhawk.com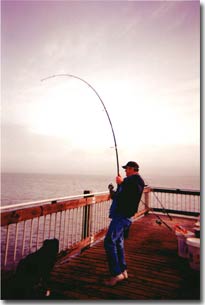 The CrabHawk is an exciting way of crabbing and fishing at the same time. Using a medium rob/reel combo with strong line, you cast the CrabHawk "out where the BIG ONES lay." Away from all the other people with ring/pots struggling for space and for the same crab. You get out where there's no competition but yourself.
The CrabHawk was designed with the sport fisherman in mind. You'll know when crab are eating the bait (preferably chicken over fish), because the bait-pole is attached directly to your line. So, when the crab eat or attempt to take the bait, the bait-pole moves, causing action on your rod tip - just like fishing! The CrabHawk automatically opens when it's thrown or when it hits the bottom and it always lands right-side-up. Nothing like plunking or waiting for time to go by to check the traps/rings to see if you have anything.......you'll know right away!
One of the greatest things about the CrabHawk is that it's "crab friendly." Unlike snares that rip the legs off when you pull to quick or to hard. It doesn't hurt the crab and you can release the unwanted crab without ever touching them.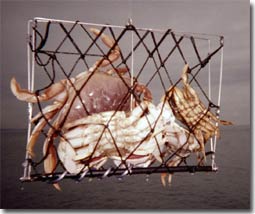 The CrabHawk is also perfect for RV's and boats as it is small (14" X 12") and lightweight. It is easily stored away with much less space used than crab rings, pots their coils of rope. The CrabHawk is very sanitary and when rinsed after use retails no foul odors.
As spring and summer crab seasons approach, don't be the left without a CrabHawk. It's the latest craze in crabbing and is quickly becoming a worldwide product. Come visit us at WWW.CRABHAWK.COM.
Thank you for your time and we can't wait to see you out there bringing in the BIG ONES!
Steven DeMars
Email: crabhawk@wcn.net
541-992-2251