Customer Service

What is a wish list, and how do I use it?
A wish list serves two purposes. It can be a way to send friends and family items you would like as gifts, or a great way to save your favorite items for future reference.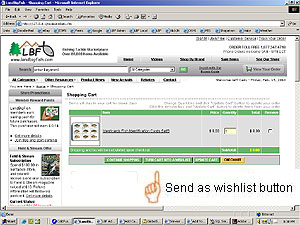 How it works
Just do your normal shopping, adding product into your shopping cart. On the shopping cart page, follow the "TURN CART INTO A WISHLIST" button. Name your list and save it. We will convert your shopping cart into a wishlist. You may have as many wish lists as you like. They will be accessible within the member's area. With each wish list, you can email to friends and family or add items into your shopping cart.
This is great for birthdays, holidays and your fishing buddies.










Do you still have questions?
Please contact us, and a knowledgeable Customer Service Associate will help you.
Customer Service Home