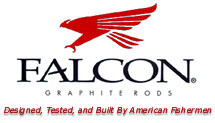 Company Information
You're about to discover a different kind of fishing rod, but before you can fully understand what sets a Falcon Rod apart from other rods, you need to know a little about where we came from.
We were the first people to design and build rods for specific types of fishing - one rod for Carolina rigs, one for pitchin' and so on. It seems obvious now, but we were the first to do it. The differences didn't stop there; we wanted our rods to be made of only the best material available - Portuguese cork handles, Fuji guides, and our own American-made rod blanks. And we build the rods with the best American craftsmen - many of whom have more than 20 years of rod building experience.
Pretty soon word started to spread about our rods, and it seemed like everyone wanted a couple, and Falcon Rods grew to what it is today - one of the best-known names in the fishing industry. But we never forgot why we started making rods. We make every rod like we're building it for our own personal use.
http://www.falconrods.com



View all Falcon products here at LandBigFish