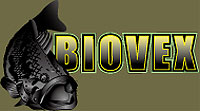 Company Information
BIOVEX CONCEPT
Our concept is to "transform the standard". Our goal is to provide quality and reliable lures to anglers by looking at lure fishing from a new viewpoint and creating something different and more effective in the lure industry.
TRUST OUR CRAFTSMANSHIP
Biovex lures focus on our original concept to develop high quality and result-oriented lures designed by Japanese lure designers. We receive feedback from our Biovex pro-anglers and customers from all over the world to create our lures.
BIOVEX SPIRIT
We believe in protecting nature and our fishing areas, contributing to local communities and volunteering to clean and preserve our environment. We make sure to take back used packaging, lines, hooks, trash, etcetera even it is not ours.
We encourage Biovex pro-anglers and our customers to clean and protect their fishing area in the spirit of sportsmanship, as a good steward to the environment and to preserve our wild spaces for the enjoyment of future generations.
http://biovexusa.com/



View all Biovex products here at LandBigFish