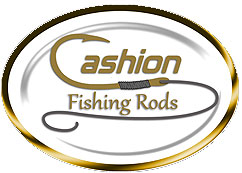 Company Information
If you are like the Cashions you have an undeniable obsession for fishing. Serious anglers understand that great equipment makes all the difference. That is why they build the lightest, most sensitive yet powerful fishing rods for enthusiastic anglers.
Cashion Fishing Rods was founded by Dr. Matthew Cashion, who received a Ph.D. in chemistry with a concentration in advanced materials from Virginia Tech. Upon graduation his ambition was to combine his knowledge of material science with his enthusiasm for fishing. With his understanding of technologically innovative materials, Cashion Fishing Rods has designed the best fishing rods for any type of fishing. At Cashion Fishing Rods they have a very simple philosophy, "we will build the best fishing rods to suit your fishing style". They build the lightest, most sensitive yet powerful bass fishing rods and saltwater fishing rods for anglers who love to fish.
Cashion Fishing Rods are AMERICAN MADE and they stand behind every fishing rod they build! Each fishing rod is comprised of only the highest quality components to ensure strength and sensitivity and they offer a limited lifetime warranty against manufacturer defect.
Cashion Fishing Rods takes a scientific approach to fishing rod building and pays close attention to every tiny aspect of the manufacturing process to ensure their fishing rods meet the demands of enthusiastic anglers. Bottom line, they build the best fishing rods available today. If you are serious about catching more fish more often a Cashion Fishing Rods is only a phone call or click away.
Warranty
Information and Registration
http://www.cashionrods.com/



View all Cashion products here at LandBigFish