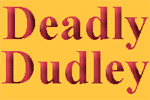 Company Information
Since Vandenborre introduced his original Deadly Dudley lure in 1999, he cemented himself a prominent place in local fishing lore. He came up with the design after watching schools of bay anchovies move erratically under the lights over Lake Pontchartrain.
He soon was producing the baits from his garage for himself and some of his close fishing buddies. But soon the success of the lure outgrew his garage operation. So he went into partnership with Dee Geoghegan and established V&G Lures, exclusively handling the line of Deadly Dudleys.
The secret action, some say, is in the concave bottom, which enables the bait, a never seen before action.
The Deadly Dudley swept south Louisiana, and then all of the Gulf States. It has won many tournaments for many trophy trout anglers.
His line of baits now features the Deadly Dudley original, the Deadly Dudley Jr. and the Terror Tail. Some of the best selling colors include the blue moon, salt & pepper with chartreuse tail, chartreuse. Two of his newest favorites are the Dandy Don and the Fearless Frank, named after local outdoors personalities Don Dubuc and Frank Davis.
http://www.deadlydudley.com



View all Deadly Dudley products here at LandBigFish