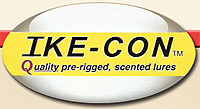 Company Information
IKE-CON Fishing Tackle is a 24 year old family-owned manufacturing company. We started in 1987 as distributors in the Chicago-land Area where we attended many of the Sports and Fishing Shows.
In 1990 we decided to break away from being a distributor and become a manufacturer after many years of feedback from customers and being an avid fishing family ourselves.
We started researching and developed an odorless, more durable plastisol which in turn produced vibrant non fading colors.
In 1991 we developed our unique, eye catching, identifiable, yellow style packaging along with adding a hook in the tail of our lures.
As the years passed demand grew for unique colors and more proven lure designs. We have expanded and produce over 100 color combinations and 18 lure designs. This is what separates IKE-CON Tackle from ANY other manufacture. More colors and more styles allow YOU the choices to catch more and bigger fish anywhere!
In 2007 we moved to a small town called Chetek in Northern Wisconsin, a place where we vacationed over the past 8 years with our 2 boys.
We will continue the tradition of manufacturing, premium, HAND-POURED, scented, pre-rigged lures. AMERICAN MADE! Along with providing prompt, friendly service.
Making your fishing more enjoyable and wishing you many tight lines this Season,
The IKE-CON Family <-- We are the ORIGINAL family owned manufacturer for the # 1 selling HAND-POURED, pre-rigged worms. Our reputation for manufacturing only premium, COMPLETELY-made in the USA lures is a reflection for our commitment to make the very best fishing lures.
Our pre-rigged "Simple to use" lures cater to any angler, young to old from Northern Pike to Bluegill. We invite you to experience how simple IKE-CON READY TO USE lures really are.
Increase YOUR chances to catch more and bigger fish. Our pre-rigged lures are excellent with slow trolling, flipping cover, Carolina rigging, skipping under piers or just a cast and slow retrieve is still unmatched for results. GUARANTEED ! ! -->
http://www.ikecon.com/



View all Ike-Con products here at LandBigFish